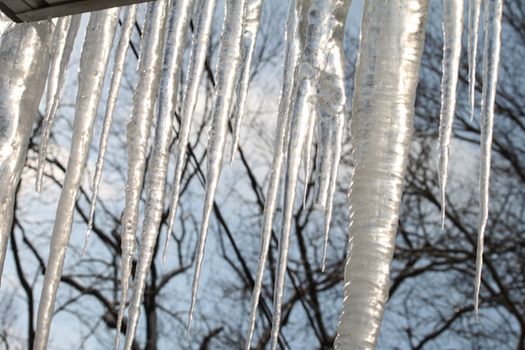 By Liz Clancy Lerner
We've had our share of icicles at the Lerner household this winter -- and all the work involved with removing them, breaking up ice dams, and removing feet of snow from the roof has taken much of our free time. And we know we're not alone.
The Capital Region has seen its share of home, barn and sports dome collapses because of snow. The press had a field day with roof rake stories. And James recently asked for recommendations for contractors for roof snow removal.
So, I talked with local home inspector Lawrence McGann of Spire Inspections for some winter home maintenance tips... because belaying my husband as he digs away at snow on our roof was fun, at first.
Ice Dams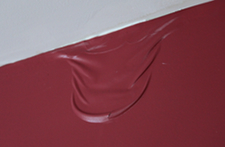 What are they? According to Larry, this is the time of year when ice dams form more easily on the eaves of roofs. It basically happens when snow melts and then that water freezes again -- forming the sections of ice and icicles, usually at the edges of roofs.
What damage can they do? These buildups of ice can be massive and when they fall they can "damage the roof, siding, windows and any item that may be below them." Watch out, cars.
Also, when the snow and ice continues to melt and freeze it can "actually push water back up underneath the shingles and tar paper and cause leaking on the interior walls of homes." And create these glorious paint bubbles (unfortunately that pic to the right was taken in my living room).
How to get rid of them: Larry suggests that when we get hit hard by snow, we should remove snow from 2-3 feet of the roof up from the eaves. The theory is that when the melting starts, the eaves stay clearer than the rest of the roof and prevents the ice damns from forming. "It's better than having to refinish interior walls" he says.
You can hire a contractor to remove the snow, get a roof rake to remove the snow (know where the snow will fall before you do this), or get up there and attempt the job yourself. (Though this is no suggestion to get up on your roof to remove snow. You can easily fall and get hurt.)
Some other methods that I've heard of include: spraying down the area with a garden hose that is attached to a hot water spigot, keeping your attic cool for prevention (so the heat doesn't melt the snow which will then get to the colder edge of the roof and freeze), or alternately, heating the attic for temporary melting relief.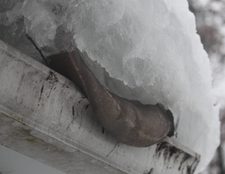 You could also follow the advice of v, who commented on James' roof contractor question, to "fill pantyhose or a tube sock with rock salt and lay it over the edge of the roof/dam. It melts a nice little channel for the water to escape."
I vouch for v's method, though you may want to try calcium chloride (sold at local home stores as products such as "Blizzard Wizard"), as it is less erosive on your roof than rock salt.
Oh, and using a torch or some sort of flame on the ice? Bad idea.
While you're in the home maintenance mindset, Larry offers some more winter home maintenance tips:
Carbon Monoxide Check
Larry suggests that homeowners check to see if their heating system has a side vented exhaust pipe, (through the side of the house). If it does, make sure that after a heavy snow fall that pipe is not covered or clogged. This causes the venting system to vent in the interior of the home, leaking carbon monoxide and flu gases inside.
On that note, he also suggests that this time of year it's particularly important to make sure your smoke and carbon monoxide detectors are working properly.
Furnace Filters
Larry also suggests changing the disposable filter on your hot air furnace. Doing this minimizes the amount of dust, lint, and pet hair and fuzz that can get caught on the interior parts of heating and air conditioning systems. This allows the furnace to be more efficient (and gives you a lot cleaner air to breathe).
One more we'll add to Larry's list: frozen pipes. Like a lot of these issues, prevention makes for a happier homeowner. A few things to keep in mind:
+ Turn off the supply to outside spigots, and then turn on the spigot to drain what's left in the pipe (you should do this at the end of fall).
+ If you have pipes up against outside walls, they should be insulated. You can get foam insulation that's slit down one side so you can wrap it around pipes -- it's cheap and easy to install.
+ Keep your basement (or wherever the pipes are) heated to at least 55 degrees.
+ When it gets really cold, you might want to leave cupboard doors or access panels open so warm air can circulate where the pipes are. Also, letting faucets drip a bit is supposed to help.
If you do get a frozen pipe, you can try using a hair dryer to thaw it. There's also electric "heat tape" you can buy that's made for the purpose. And if that doesn't work: call a plumber. (Remember: torches = bad.)
The Red Cross has more frozen pipe tips.
Do you have any winter home maintenance tips? Please share!
Hi there. Comments have been closed for this item. Still have something to say? Contact us.