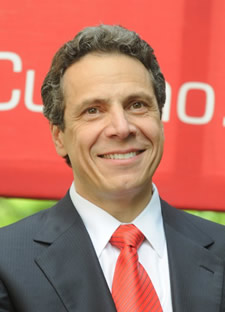 Of all the criticisms one could make of Andrew Cuomo, this is probably the weirdest (and dirtiest sounding): "public concubinage."
Edward Peters -- self-described as "one of the most widely-known lay [Catholic] canon lawyers in North America" and reportedly an adviser to the Vatican -- wrote earlier this year that Cuomo and First Lady-friend Sandra Lee live in "public concubinage" -- and as a result, Cuomo should not be allowed to receive communion. [NYT] [Canon Law Blog]
And Cuomo did just that at the Cathedral of the Immaculate Conception in Albany after his inauguration -- during a mass led by bishop Howard Hubbard, no less. Peters accused Hubbard of a "dereliction of pastoral duty" for not admonishing Cuomo and Lee "for their objectively and publicly sinful status." And Peters recently told a conservative news site that Cuomo's action "produces grave scandal within the faith community." [NYDN] [CNS]
The Albany diocese released a statement this afternoon about all this in which it basically told Peters to mind his own business (politely). And Cuomo said to reporters today: "For me, I choose to keep my religion and my religious practices private and not discuss it in the political arena." [State of Politics] [TU CapCon]
Not being read up on concubinage -- public or otherwise -- we did a little research. According to Wikipedia (so you know it must be true), it's defined as:
Concubinage is the state of a woman or man in an ongoing, usually matrimonially-oriented relationship with somebody to whom they cannot be married, often because of a difference in social status.
Well, there are certainly status differences here. She is more famous than he is. And a lot richer.
Earlier on AOA: Sandra Lee in Vogue
Hi there. Comments have been closed for this item. Still have something to say? Contact us.