By Kim M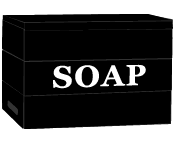 Here's something new: We're pulling out the AOA soap box each Sunday for people to praise, complain, suggest, joke, or make an observation about things they see going on in the Capital Region.
New Yorkers, and Northeasterners in general, have a reputation for being a comparatively unfriendly sort, leaving some to speculate that our wintery climate is to blame for our frosty personalities.
Personally, I think it's a bunch of hogwash. All of it.
I admit I haven't particularly enjoyed this winter. I can't remember the last time I left the house in a slutty pair of heels. I'll still take the snow over a surpressingly hot and humid day though, so don't misconstrue this as a complaint. Though I would be a little happier if I could just SEE OVER THE SNOWBANKS! Okay, maybe I am complaining. Whatever. Try and stop me.
The point I'd like to make is this: We are not cold, uncaring people. And our winters certainly do not make us unkind. All this snow has shown me what great neighbors I have.
I mentioned my neighbor, Jim, last year when I attempted to explain why I think that Troy is underrated. I'm pretty sure that I would be mummifying in my house right now if it wasn't for Jim and his snowblower. Not only has he taken care of the sidewalk for me, after one storm he even snowblew snowblowed moved the snow from around my car and my tenant's car, which was parked on the other side of the street.
But I already knew that Jim was awesome like that. What I didn't expect was for another neighbor, Kevin, to notice that my car hadn't moved during one storm. He was so concerned that he called my fellow uptowner, Billie-Jean, to check on me. (I had taken the day off of work, and I assume he ran the wrong doorbell because everyone assumes the owner lives on the first floor. Not this one. Yet.) Kevin had her number after working with us on an Uptown Initiative clean-up; now THAT is how you make a difference in a neighborhood!
I believe it was the very next storm that Billie-Jean shared a similar story about her neighbors with me. One afternoon she returned home to find that someone had taken care of her driveway for her while she was at work. As highly as Billie-Jean and I think of our neighbors in Troy's North Central, I know it's not just ours who watch out for each other. I can recall my favorite pain in the @AngelosTzelepis bragging about the cat litter and shovel he keeps in his truck -- and how he used it to help a girl who got stuck trying to park in his development. My buddy Dean is always facebooking about his on-going battle with his city's snowplows. He loves to surprise his neighbors by taking care of their sidewalks and driveways. It makes his day, and reading about it makes mine.
What about you? What has our winter revealed to you? Do you have any friendly neighbor stories to share? I know I'd love to hear them.
Kim loves Troy even more than you do.
Hi there. Comments have been closed for this item. Still have something to say? Contact us.