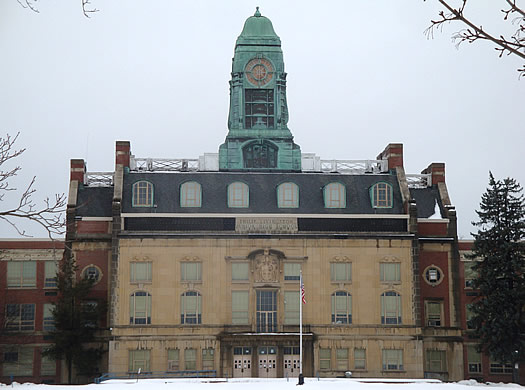 By Akum Norder
Look toward Albany's Arbor Hill from I-90, and above the trees you may see a tower, the green of old copper. It's the type of cupola that used to top important buildings, and it catches the eye because there's nothing else quite like it nearby. What is that up there, that structure, looking stately and a little lonely on the ridge of a hill?
It was once Albany's showcase school.
Philip Livingston Magnet Academy (when built, it was Philip Livingston Junior High) is a remnant of an era that thought city schools should be landmarks. Up close, it's massive: Two long wings stretch out from the central building, which is topped with the cupola. It has an air about it, as if it was built for a grand and serious purpose. And you know what? It was.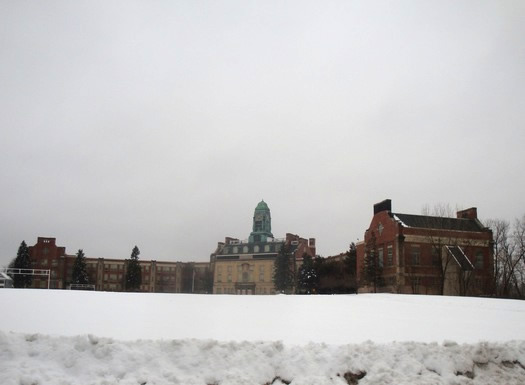 Constructed in the early 1930s, the school was named after Albany native Philip Livingston, a signer of the Declaration of Independence. A 1936 book on Albany schools called it "Albany's outstanding school building."
"It is the embodiment of the ideals of beauty and utility," wrote Charles Blessing in Albany Schools and Colleges Yesterday and Today. "The designers omitted nothing that might contribute to the comfort, convenience, safety and health of the student body. It is a triumph of science and art made possible by the cooperation of educators, architects, engineers and landscape artists."
Flourishes of language aside, Livingston was, apparently, quite impressive, even decades later.
Its last principal, Thomas Giglio, described the school's library as a two-story open space with a spiral staircase, a balcony and a beautifully painted ceiling. Grand and inspiring, it looked like something "right out of Harry Potter," he said.
The school was built as part of a Depression-era project to train workers in the building trades, Giglio said. Its interior brickwork features a variety of patterns, reflecting where people were taught different masonry techniques.
And the basement, he said, is cavernous: Built as a bomb shelter, it's two to three stories deep.
Because Livingston also had a full kitchen, staff there would cook meals for other district schools. The food would be transported by van to schools that lacked full kitchens, where it would be re-warmed to serve to students.
"It's a beautiful building that really has fallen into quite a bit of disrepair," Giglio said.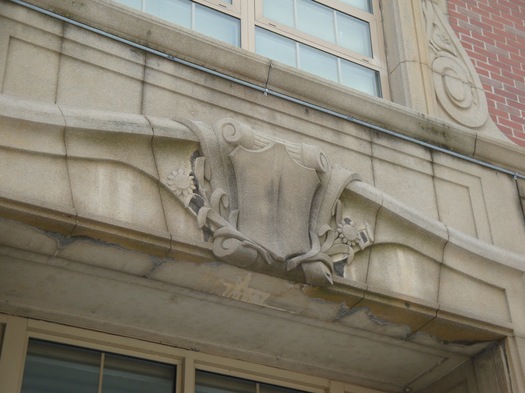 The need for renovations and declining enrollment combined to doom the place. As other Albany schools were rehabilitated or replaced, Livingston crumbled. In 1932-'33, its first school year, nearly 1,400 students attended Livingston. In its last year, the school had an enrollment of about 270. It graduated its last group of eighth-graders on June 25, 2009.
For a time, Livingston was considered as a potential home for one of the high school's four themed academies; the location would have focused on nanoscience, engineering, and environmental sciences. Science might have been a natural fit for the property; behind the school stretches the Tivoli Preserve, where middle school teachers used to take their classes for field study. The school board voted down that proposal in 2006.
And now? It's for sale.
The former Livingston school can be yours for $5,200,000. That works out to $21.07 per square foot, and includes about 14 acres of land.
Green Tech High, a charter school, stands next door.
One idea that's been tossed around: Make it a satellite campus of Hudson Valley Community College. A Times Union article reports that Mayor Jennings and HVCC officials have expressed "mutual interest" in the idea.
Giglio is now principal at Albany's Delaware Community School off Delaware Ave. He has a group photo of Livingston's staff on his office wall there and speaks fondly of his time at the middle school, where he started out as a student teacher and a substitute. "I think a lot of people refer to it as a landmark," he said.
These days, when Giglio sees Livingston from the highway, he points it out to his young daughter. "Look, there's Daddy's first school," he tells her.
____
Did you go to school there, or live in the neighborhood? What's it like inside? We're curious to know more.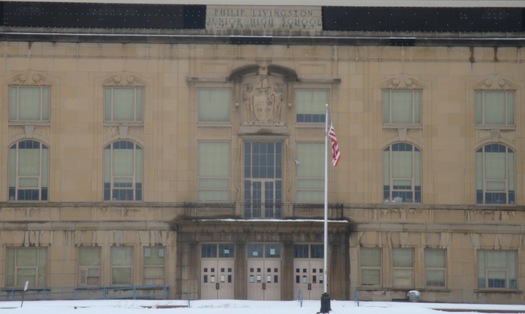 Find It
Philip Livingston School
315 Northern Blvd
Albany, NY 12206
Hi there. Comments have been closed for this item. Still have something to say? Contact us.