By Akum Norder
To a history and architecture geek like me, Linda Ellett is a superhero.
The century-old tiled fireplace stood out like a broken tooth. Its central design was supposed to be a three-tile panel of a reclining Roman soldier, but the first tile -- the soldier's head and chest -- was missing. The team restoring this California home asked: Could Linda, founder of L'esperance Tile Works outside of Saratoga Springs, re-create the missing tile?
Fortunately the panel's original creators, the American Encaustic Tile Company, had included a picture of the full panel in their 1902 catalog. Working from a grainy catalog picture -- and drawing from the style of the two remaining tiles -- Linda recreated the missing piece, accounting for variables such as the shrinkage of the clay and the darkening of the glaze during firing, to match the originals in both line and color.
Tile restoration combines artistry with sleuthing and mathematical exactness. And it's only one part of the amazing work going on at L'esperance Tile.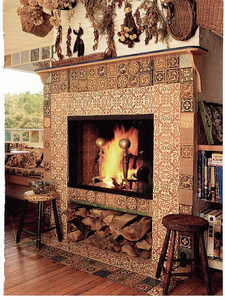 Lansingburgh native Linda Ellett founded L'esperance Tile Works in 1979. She and her husband, Don Shore, have been involved with restoration projects at historic homes and state capitols across the country.
Along with reclaiming and restoring designs from the past, they do custom work, and they create original and contemporary tile designs -- art that doesn't just hang on the wall; it becomes the wall. They create accent pieces, too, such as magnets, trays and holiday ornaments.
L'esperance started in Albany but moved up to an old schoolhouse in Rock City Falls 12 years ago when they outgrew their Sheridan Avenue space. (Rock City Falls, a hamlet in the town of Milton, is the Capital Region community voted "Most Likely to Share a Name with a Stray Cats Album." Okay, I just made that up.)
In New York's Capitol, L'esperance has reproduced a historic fireplace for the lieutenant governor's office. They've done projects for the Metropolitan Transit Authority, including the restoration of the Columbia University and Ocean Parkway subway stations. Their tile appears in the homes of notables such as Bill Gates, John Cusack and Sean Connery (though Linda says they're still waiting for their party invitations).
But my favorite pieces might just be the trilobites.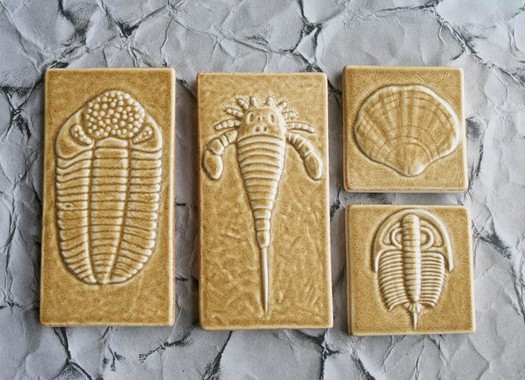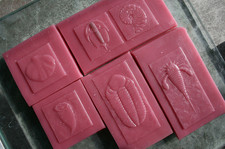 A retired earth science teacher in Ballston Spa wanted something a little different in her kitchen. Why not a backsplash set with tiles featuring New York fossils?
Taking inspiration from images in the state earth science Regents study guide, Linda created the fossil designs in wax, then used the wax to make plaster molds for the clay tiles. She has a Flickr set that shows the design process.
Mr. Trilobite and friends are now available as tile ornaments and magnets, and L'esperance also sells the tile sets, in case you, too, feel that nothing says "home" like trilobites in the backsplash. Last Christmas season, the New York state fossils were their best-selling holiday ornaments. And for some reason that warms my heart.
Making tiles: the process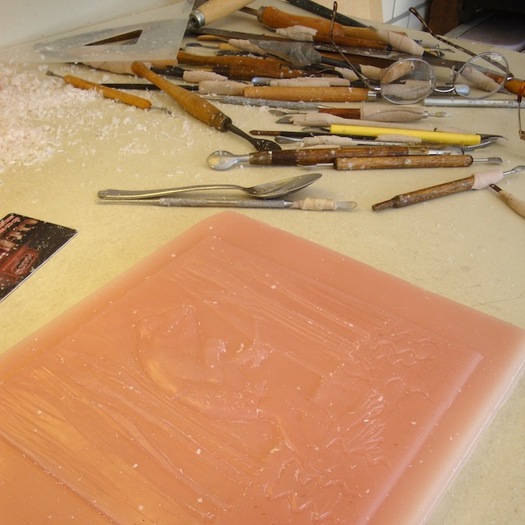 Let's start with the church candles.
Candles that have reached the end of their ecclesiastical lives are melted down to make the wax panels Linda uses for carving her designs. She adds colorant to the wax, to help it better show detail when she's carving.
The design table feels like the soul of the L'esperance operation. Linda's designs come from a range of inspirations: antique postcards, science textbooks, scenes she's seen on her travels. With sunlight pouring in the windows, and amid occasional visits from Abbey the cat, Linda carves her design into a wax panel, which is then set in plaster to make a mold.
Now hold that thought, and move over to the clay.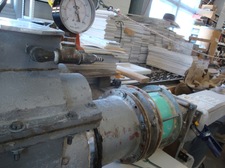 Blocks of clay are sent through a press, which pulls the air out and squeezes the clay into a ribbon. This ribbon is sliced into tiles and put into a warmed drying space. Then the tiles are held to a wet wheel to smooth their edges.
At this point field tile (plain glazed tile) goes straight to the kiln; decorative tiles have a date with the homemade handpress, where they meet with one of Linda's plaster molds before kiln-firing.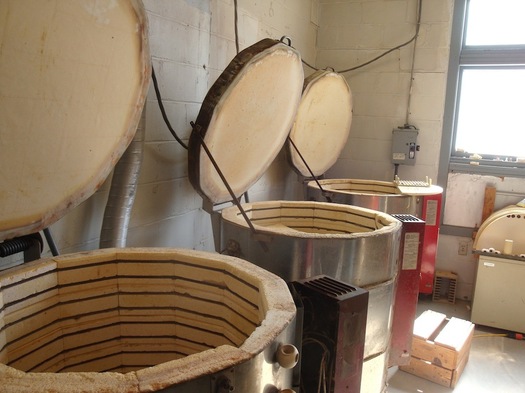 Then the tiles are ready to be glazed and refired.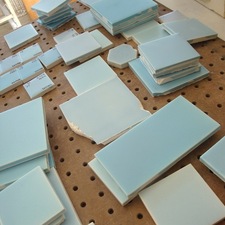 Even creating plain tiles for a historic setting can be a laborious process: Needing replacements, a client in Louisiana sent them a piece of 100-year-old tile, and L'esperance is creating new tile to match it. Their color-testing tile set shows shades of blue inching toward the goal, taking into account the kind of light the tiles will be seen under. Blues, especially, seem to change shade in different light. And, of course, when they mix a glaze the color they see is not the color of the final result: Glazes change when fired.
Like everything else at L'esperance Tile, it's fastidious work. Linda calls it fun.
Finding their products
L'esperance Tile sells both decorative tile and field tile (plain glazed tile). The company doesn't maintain a showroom in Rock City Falls, but its tile is available locally through Green Conscience in Saratoga Springs. Their Etsy shop features their art tiles; their seconds and overruns go on eBay. And they sell directly through their website.
They have national distribution through Waterworks, a high-end bath and kitchen design showroom; L'esperance makes Waterworks' "Vintage" line.
Product images courtesy of L'esperance Tile Works.
Find It
L'esperance Tile Works
1118 Rock City Road
Rock City Falls, NY 12863
Hi there. Comments have been closed for this item. Still have something to say? Contact us.