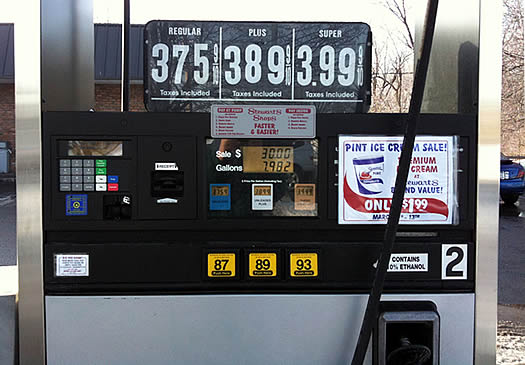 Gary Dake, the president of Stewart's Shops, dropped a tweet last week that made us stop for a second:
Yesterday we sold 550,000 gallons of gas at an average margin of a 2 cent loss per gallon.
Yep, a regional chain -- with 271 gas station locations -- was selling gasoline last week at times for less money than it cost to buy and deliver it.
Curious about how that could happen, we called up Stewart's spokesman Tom Mailey for some background.
Mailey says there's "no typical margin" for Stewart's on a gallon of gas, but "it's never a huge number, [it's a] tight margin." And as the price of crude oil and gasoline goes up, the price the chain pays for gasoline also goes up. And as that price rises, so too does the price at the pump. No surprise there.
So, how does Stewart's end up selling gasoline for less than it cost to buy and deliver it? Why not just raise the price to cover the expense? "[Because] you probably couldn't get [the price] high enough to get there," Mailey says.
He explains that Stewart's sets its prices every day by looking at what's going on in the markets -- both the wholesale market for gasoline, and the local retail market. It shifts prices overall based on the wholesale market, but it also adjust prices at individual locations based on what nearby competitors are charging (last Friday Mailey said the company shifted prices at about 25 percent of its stations). And sometimes the wholesale price swings faster than the prices in the local market.
Mailey says there were at least two days last week that Stewart's sold gasoline at a loss.
There was a good AP article this week that explains how all this works in greater detail. And as Consumerist pointed out a few years back, gas stations owner usually just scrape by (or take losses) on the upswing of a price spike -- but sometimes make it up on the way back down by lowering prices slowly.
There's been a lot of volatility lately in both the crude oil and gasoline markets, in part because of the unrest in places such as Libya. As Mailey remarked about the current situation: "This is uncharted territory for everyone."
Stewart's sells about 3.8 million gallons of gas a week. Mailey says the company doesn't have a storage facility -- it buys gasoline as it needs it, much of it through a terminal at the Port of Albany.
Of course, just because Stewart's takes a loss on the sale of gas doesn't mean it's totally losing out. The gas pumps bring customers who also stop inside for higher-margin items like milk or coffee or Peanut Butter Pandemonium.
The average price of gallon of gas in the Albany area on Wednesday was $3.703, according to Gas Buddy. The national average was $3.507.
By the way: Gary Dake is worth following on Twitter (@GaryDake). He's only been tweeting for a few weeks, but a lot of his tweets have included interesting bits about the Stewart's business.
From 2008: How much is New York's gasoline tax?
Hi there. Comments have been closed for this item. Still have something to say? Contact us.