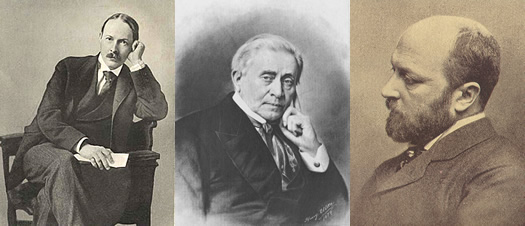 By Carl Johnson
Last week, AOA wrote about Bill Pettit, whose library consists of Moby Dick. Lots of Moby Dick.
A century ago, a prominent Albany institution suggested a slightly broader collection -- an entire library of books written only by Albanians.
In 1902, Cuyler Reynolds, librarian of the Albany Institute and Historical and Art Society, set out to describe the notable contributions of Albany's citizens to literature and knowledge. He produced a book -- Albany Authors -- detailing the collection of Albanian works that were "set apart at the head of the first flight of stairs" in the Institute.
"How few Albanians know that were they to discard all other books and form a library at home of such books as citizens [of Albany] had written they would have what could be termed a handsome library -- one equal at least to that in the average home. It would contain a long row of books (38) by Bret Harte, nearly as many from the pen of Henry James, a shelf filled by the popular novels of military life by Gen. Charles King, a number by Harold Frederic; works of such men as Amos Dean, Peter Bullions, Joseph Henry; several volumes of poems by John Godfrey Saxe, Alfred B. Street, Wiiliam Allen Butler and the works of many others only a little less known."
Reynolds defined "Albanian" broadly: "The librarian has decided that the length of residence does not establish the fact, nor does place of birth determine." So while his list included Joseph Henry, whose Albany ties are unassailable, it also included Bret Harte, who lived here only as a child. Perhaps Reynolds was prescient, for today Harte's name is more likely to elicit recognition than Henry's, though just barely.
Bret Harte
Bret Harte was born in Albany in 1836 into a family of little means, and was moved to Brooklyn when he was 9 years old. His most famous works dealt with the West, and today he is best remembered for "The Outcasts of Poker Flat," set a long way from the banks of the Hudson. But given his huge popularity at the time, Reynolds can be forgiven for claiming him for our own.
Henry James
Henry James, though born in New York City in 1843 and best known as an expatriate American writer, came from one of Albany's richest families. His grandfather made millions in real estate and banking in Albany, profiting greatly from the Erie Canal, and his father was a graduate of Union College who became a prominent theologian. His family ties to the capital city were as well known as his writings, including "Daisy Miller," which propelled him to international fame.
Charles King
General Charles King was a West Point graduate who parlayed his experiences during the Indian Wars into a string of novels and even screenplays for silent movies featuring his acquaintance Buffalo Bill Cody. Now forgotten as an author, his father had been an Army engineer who worked on navigation of the Hudson and in his youth served as an editor of Thurlow Weed's Albany Evening Journal. Charles, while born in Albany, lived here only in his infancy.
Joseph Henry
Joseph Henry deserves far more acclaim, both for his Albany connections (born in Albany, reared in Galway, schooled at and then teaching at the Albany Academy ) and his accomplishments (founding experiments in electromagnetism, aeronautics and acoustics, first Secretary of the Smithsonian Institution). He was widely acclaimed as the leading American scientist of his day, and is remembered still with a splendid statue outside the original Albany Academy building, and the name of the unit of electrical inductance, the Henry.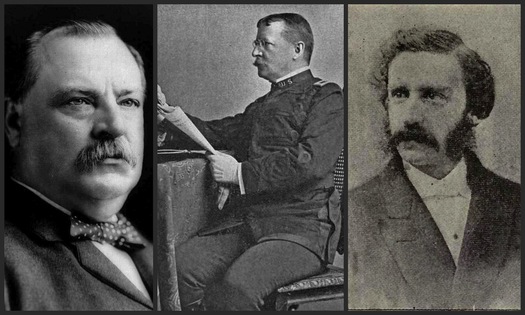 Grover Cleveland, Charles King, Bret Harte
Other notables -- mentioned and not mentioned
Other notables on Reynolds's list: Verplanck Colvin, who surveyed the Adirondacks; Grover Cleveland, who was governor before he was president; and Cuyler Reynolds himself.
It's extremely curious, however, that Reynolds excluded Herman Melville, the author of Moby Dick, who lived in the heart of Albany on Clinton Square early in life and attended Albany Academy before his widowed mother moved the family to a home in Lansingburgh, where he learned surveying, taught and began his first two novels.
Carl writes about "random pieces of history from New York's Capital District" at his blog, My Non-Urban Life.
Cuyler Reynolds image from Hudson-Mohawk Genealogical and Family Memoirs via the Albany Institute of History and Art
Joseph Henry image by Henry Ulke via NOAA and Wikipedia
Henry James image from Short Story Classics (American) Volume Three via Wikipedia
Grover Cleveland image from the Library of Congress via Wikipedia
Charles King image from The Project Gutenberg eBook of A Wounded Name via Wikipedia
Bret Harte image from Overland Monthly's August 1920 issue, via Wikipedia
Hi there. Comments have been closed for this item. Still have something to say? Contact us.