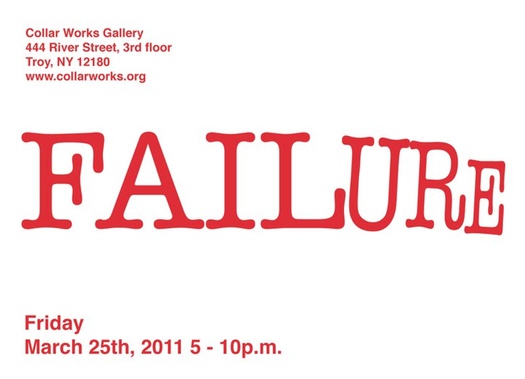 By Liz Clancy Lerner
Failure is like a sucker-punch to your self esteem, and something most people don't like to talk about. But it's a topic that Yaminay Chaudhri wants out in the open. "There's a lot of human dignity in learning to keep moving and getting back up," she says.
An architect turned artist, Yaminay is a graduate student in studio art (with a focus in combined media) at UAlbany. She's the curator of Failure -- a show that's taking place tonight at Collar Works in Troy.
It features work from local artists -- videos, journal entries and greeting cards -- all on the topic of failure. It will also have a "wall of shame" -- an invitation for you to contribute.
What is failure?
It's so subjective that I can only tell you my personal take on it. For me it's the inability to move forward, to change. Being stagnant is failure. Messing up relationships with people you care about is failure. Letting yourself down, OR having unrealistic expectations is failure.
Why focus on failure?
Because no truly original work of art can be born without having failed a few times... you have to take risks, be willing to make mistakes, and to fail if you want to make meaningful art. Also because no one talks about failure. American and now global culture seems to be obsessed with a binary idea of winners and losers. There is no in between, there is no room to experiment. There is no room to admit that we have feelings and that it's not sustainable for everyone to be on top... to live the American dream...
Additionally, I think looking at TV programs and the projected culture of insane competition from American Idol to Gossip Girl or Survivor, there is a real pressure to not be a "loser," and to be more than "just average." Can you imagine a room full of alpha males -- or diva females, for that matter? It would be terrible!
Would you describe a few pieces from the show?
Here are two images of work included in the show.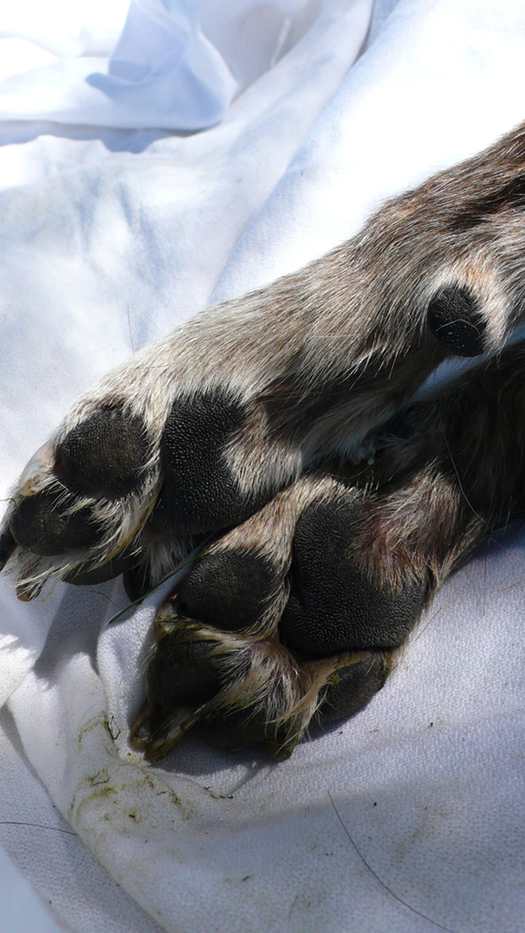 The first image by Kathy High is a still from her video, "Lilly Does Derrida: a dog's video essay", which is about human-animal mis-communication. It is a particularly poignant piece when we think about how human progress has been proportional to the destruction of the natural world. The video is melancholic... full of emotion and a quiet feeling of loss.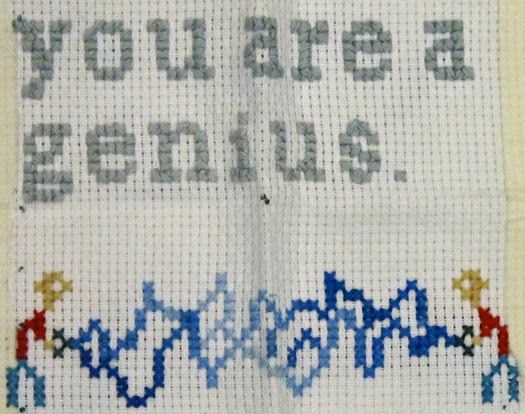 The second image is of embroidery done by Paulina, a 7th grader from Brooklyn. I have 11 more gems from her classmates that hang like tiny sages in the gallery space, reminding the grown-ups of childhood lessons easily forgotten. These works were made in reponse to a project by Jen Hunold.
How did you come up with the idea for the show?
The idea of exploring "failure" as a theme for discussion came from Shane Aslan Selzer, an adjunct faculty member at UAlbany. She recruited a few grad students to help her organize FAILUREtalks: the blog, and symposium. The latter actually took place [Tuesday] and it was a huge success. We drew a crowd of some 70 people and had artists present their work to the larger community of local students faculty and artists from the capital district.
The show at Collar Works (which I am curating) is a spin off of this symposium. I thought it would be a good idea for Collar Works to create a corresponding show on the topic especially since so many of the people who run Collar Works were so closely involved with the symposium. The idea for the show is to offer a series of windows into the psyche of personal and historic failure through several intimate works in video and sculpture. It's an interactive event... that will allow visitors to actually share their own stories and images at the gallery.

What do you hope people will learn from the exhibit?
The exhibition includes a diverse range of voices, including twelve 7th graders from Brooklyn! People will take away different things... But I do hope people will leave feeling (better) able to communicate about personal stories that are so often hidden under layers of social pressures. It's going to be a loose and experimental evening -- a musician will write a song for the occasion at the gallery too... it should be fun!
What can be learned from failure?
As Beckett says, "Fail again. Fail better." Life is full of struggle and process... there's a lot of human dignity in learning to keep moving and getting back up.
The show is tonight only and will feature artists Kathy High, Derek Paul Boyle, Mindy McDaniel and Tim Baker. There will also be artists contributing to the wall of shame: Brian Mungavin, Jennifer Hunold, Jenny Kemp, Suzanne June Boatenreiter, Greg Skochko, and a group of 7th graders from Brooklyn.
Find It
Collar Works
444 River St.
Troy, NY 12180
Say Something!
We'd really like you to take part in the conversation here at All Over Albany. But we do have a few rules here. Don't worry, they're easy. The first: be kind. The second: treat everyone else with the same respect you'd like to see in return. Cool? Great, post away. Comments are moderated so it might take a little while for your comment to show up. Thanks for being patient.