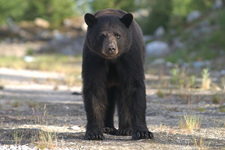 The DEC reports that 1,064 bears were "harvested" in New York State last year. That's down about 400 from 2009 (the second-highest total year on record), but it's just about the average number during the past 10 years.
There were eight reported bear kills in the core Capital Region last year. Five in Saratoga County -- four in Hadley, one in Edinburg. And the other three were in Albany County -- one each in Berne, Rensselaerville and Westerlo. There were 21 in the Capital Region in 2009, and 17 in 2008.
A little farther out in 2010: Greene County (49), Schoharie (14), Warren (34), Washington (1).
The DEC says black bears are "thriving" in the state and "represent a great resource for all New Yorkers." No word on how the bears feel about that, but sources within the ursa administration report they'd feel a lot better about it if they were also allowed to have guns.
Oh, deer: The DEC also reported today that more than 230,000 deer were killed by hunters in the state last year.
Earlier on AOA: Don't feed the bears
photo: Flickr user peupleloup