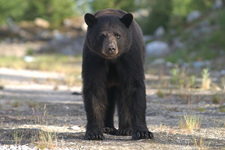 Once just a bad idea, feeding bears in New York State is now against the law. From the DEC:
Specifically, the regulation bans intentional feeding of black bears, and, after previous written notice from DEC, also prohibits incidental or indirect feeding of black bears through food attractants such as garbage, refuse or bird seed. The regulation grants DEC the authority to require removal of these and other food attractants when bears become problematic.
The DEC reported last year that bear populations in the state are growing. And every year a few wander into parts of the Capital Region where you wouldn't necessarily expect them (hello, Troy and Delmar).
Feeding the bears -- or any wild animal -- sets up everyone up for problems. As Roland Kays, the curator of mammals at the State Museum, told us a few years back:
The other thing that can drive populations really high is feeding the animals. It's really important that people appreciate the animals and the rare glimpses they get, but not feed them because that causes numerous problems. You know, if you have a coyote that's used to coming into a backyard looking for food, then maybe it goes into your neighbor's backyard and they have a one-year-old kid or a dog or cat and you potentially have a problem. That hasn't been a big problem here, but it has in other regions with coyotes.
So please don't feed the animals. You're causing problems for all your neighbors. And by trying to help the animal, you could end up getting it killed. What happens is that a bear becomes a nuisance and it gets shot. And the person whose fault that was was the person who started feeding it.
And keep an eye on those picnic baskets -- we understand the smarter-than-average bears have a keen interest in them.
photo: Flickr user peupleloup