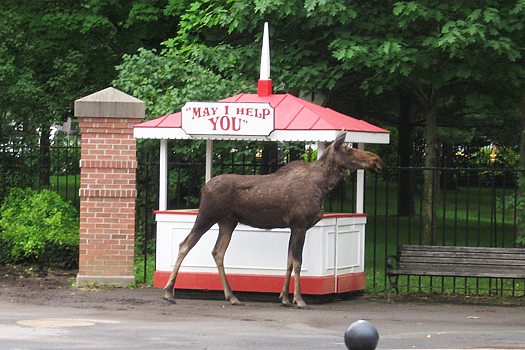 Where are the wild things? Lately, it seems the answer is here. And by here, we mean our backyard. And your backyard.
Over the last month, there have been moose sightings in Saratoga and East Greenbush, a bear spotted in Troy and reports of rabid foxes. Every few weeks someone drops into AOA to post a comment about a fisher sighting. And we seem to be hearing about coyotes a lot more, too.
So, what's going on? We called up Roland Kays, the mammal curator at the New York State Museum, for some answers. He studies urban wildlife.
Roland says some of these sightings are probably just part of the cycle of young animals heading out on their own for the first time. But he says there's a bigger story here, too: wild animals are moving into our neighborhoods. And that's a good thing.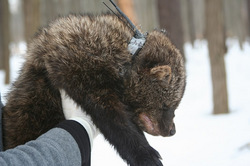 Over the last month there have been news reports of moose, foxes and bears showing up in what people would probably consider non-wild parts of the area. And we've heard anecdotally about fishers and coyotes. So, what's going on?
Well, this is the kind of thing that's happening all over the country and all over the East. It's surprising for people to see [these animals], but it's been happening a little bit more every year.
A lot of people are getting used to seeing deer in their neighborhood. And now some other animals like foxes and moose and fishers and coyotes are starting to follow the deer into these areas. So each new species is a little bit surprising. But it's starting to become an increasing trend throughout the region.
So, is it that populations of these animals are increasing -- or are they just spreading out?
They are generally increasing throughout the region. And for a lot of these animals, the really prime habitat out in the surrounding areas is full -- so a young animal gets kicked out and goes looking for a new place.
At the same time, some species are finding urban areas to be prime habitat. These are usually prey species that are coming to urban areas to escape predators. So, the herbivores show up. They increase in numbers. And then the predators show up.
Whether [these urban areas] are really prime habitat or not is hard to say. Certainly there a lot of risks for animals in urban areas. And whether the payoff of the food outweighs the risk is still an open question.
We've found that for coyotes, the Albany area is what would you call a population sink. The animals were coming in from surrounding areas and not surviving well -- mainly because of hunting and cars.
So you mentioned the prime habitat is filling up -- why are these animals being so successful?
Well, that's what they do! (laughs) They've been fine-tuned by evolution to do well in these habitats.
Part of it is that for some species there's less persecution by Man. So, you've got things like Canadian geese, deer and turkeys -- those are sort of three flagship species in the East that between habitat destruction and hunting, they were driven down. And now Canadian geese are a pest species -- and some would considered deer to be a pest species, as well.
At the same time a lot of our forests have recovered. We have quite healthy forests in New York State, even pretty close to Albany. So there's quite a lot of good habitat out there for wildlife.
So what else might people be surprised to hear is kicking out in the bushes backyard?
Well, there's a lot that goes on at night that people don't know. So people walk around their neighborhood and see the rabbits that come out at dusk. And I think increasingly people are seeing foxes.
Some of the things that surprise people are some of the larger predators like coyotes and fishers -- they're particularly sneaky, have very good hearing and are really good at sneaking around backyards without being seen.
Something like a bear or moose -- they're not very good at sneaking around. When they show up people usually know pretty quick. They're big. They're often out in the daytime. And not as sneaky.
So, what are the implications of having these wild animals in closer contact with people?
I think for the most part it's positive -- people can see wildlife near their houses, which a lot of people think is a good thing.
"You know, if you have a coyote that's used to coming into a backyard looking for food, then maybe it goes into your neighbor's backyard and they have a one-year-old kid or a dog or cat and you potentially have a problem."
But there are some nuisance issues, especially if the wildlife becomes too abundant. So, for example, if the deer population gets to be really high, you have problems with them eating your garden and walking in front of your car. Likewise, if the raccoon population get really high, they get into your garbage and potentially contracting rabies. So having them there is great, but when things get out of balance there are problems.
There are two main reasons why that can happen. The first is that there are no predators there, so there's no natural cap on the population. So I think it's a good sign to have the fishers and coyotes there to keep a lid on the herbivore populations.
The other thing that can drive populations really high is feeding the animals. It's really important that people appreciate the animals and the rare glimpses they get, but not feed them because that causes numerous problems. You know, if you have a coyote that's used to coming into a backyard looking for food, then maybe it goes into your neighbor's backyard and they have a one-year-old kid or a dog or cat and you potentially have a problem. That hasn't been a big problem here, but it has in other regions with coyotes.
So please don't feed the animals. You're causing problems for all your neighbors. And by trying to help the animal, you could end up getting it killed. What happens is that a bear becomes a nuisance and it gets shot. And the person whose fault that was was the person who started feeding it.
OK, so if people don't feed the bears, is it possible that people and these animals that are moving into urban areas to all get along?
Yeah, I think so. I think it's a promising time. It gives people the chance to enjoy nature. And it increases habitat for animals. And by having the full set of species, it also is a healthier ecosystem than just having the deer or the mice that become too abundant.
----
This interview has been lightly edited and condensed.
Earlier on AOA: Your new neighbors, the fishers

moose photo: Lynn Drew/NYRA Photo | fisher photo: Roland Kays
Say Something!
We'd really like you to take part in the conversation here at All Over Albany. But we do have a few rules here. Don't worry, they're easy. The first: be kind. The second: treat everyone else with the same respect you'd like to see in return. Cool? Great, post away. Comments are moderated so it might take a little while for your comment to show up. Thanks for being patient.