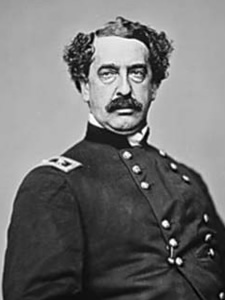 Tuesday was the 150th anniversary of the start of the Civil War, which prompted a bunch of stories about Abner Doubleday. Yep, the guy who supposedly invented baseball (but didn't).
The Ballston Spa native was second-in-command at Fort Sumter in April, 1861 -- and fired the first Union shot in the war (after a night of bombardment by the Confederacy) [NYS Military Museum]. Wrote Doubleday years later in a memoir:
In aiming the first gun fired against the rebellion I had no feeling of self-reproach, for I fully believed that the contest was inevitable, and was not of our seeking. The United States was called upon not only to defend its sovereignty, but its right to exist as a nation. The only alternative was to submit to a powerful oligarchy who were determined to make freedom forever subordinate to slavery. To me it was simply a contest, politically speaking, as to whether virtue or vice should rule.
The action at Fort Sumter followed an invitation from the Confederate forces, arrayed to pummel the fort with shells, to surrender -- the Union commander very politely declined. The Union troops eventually did surrender. [NYT]
Doubleday would go on to become a major general and fight at the Battle of Gettysburg. He took over command of his corps after its general had been killed, and his outnumbered men held off Confederate forces long enough for backup to arrive. [Saratogian]
After the war, Doubleday was sent to San Francisco to head up recruitment efforts there and was involved with the founding of the city's first cable car company. He was later stationed in Texas before retiring in New Jersey. [Military History About]
The house where Doubleday was born in Ballston Spa is still there. [Saratogian]
About not inventing baseball: John Thorn, baseball's official historian, writes in a new book that the myth of Doubleday being the inventor of baseball was the work of "unprincipled advocates with ulterior motives" -- in Doubleday's case, the sporting goods magnate Albert Spalding. [Baseball America] [TU] [NPR]
Hi there. Comments have been closed for this item. Still have something to say? Contact us.