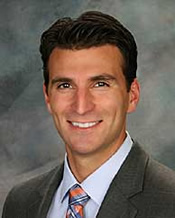 Eric Fisher -- the UAlbany grad who was the guy in the famous Fountain Day photo -- is now an on-camera meteorologist at The Weather Channel. When we talked with him in 2009, he was at WGGB in Springfield, Massachusetts. (He was a really good sport about the photo.)
And based on the search referral traffic we've been getting for his name, he's becoming a viewer favorite on The Weather Channel. Yes, person who googled "eric fisher sexy weatherman" -- we're talking about you.
By the way: we never were able to get in touch with the woman in that photo -- the elusive Tatiana Shvacus.
photo: The Weather Channel
Hi there. Comments have been closed for this item. Still have something to say? Contact us.