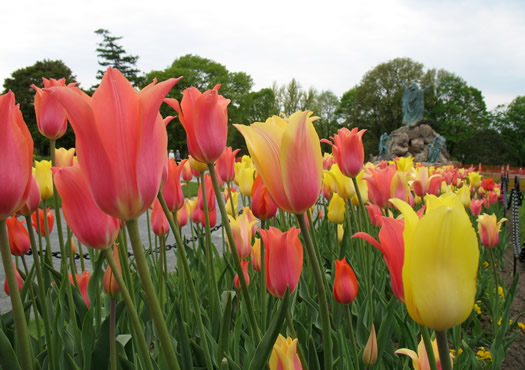 Here are a few things to keep in mind, look ahead to, or take care of this week -- from the weather (cloudy), Temple Grandin, the dirty life, Cinco de Mayo, tulips, video games, and music...
Weather
Here's the paraphrased forecast:
Monday: Cloudy. Windy. Rain in the evening. Highs near 60.
Tuesday: Cloudy and rainy. Highs around 60.
Wednesday: Cloudy and rainy. Highs in the upper 50s.
Thursday: Sunny. Highs in the upper 50s.
Friday: Sunny. Highs near 60.
Weekend: Sunny. Highs in the mid-60s.
As long as it's sunny by the weekend...
Temple Grandin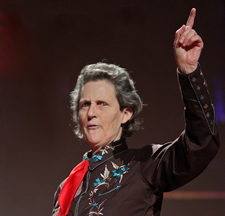 Animal scientist Temple Grandin will be at the Palace Wednesday evening. Grandin is a remarkable person. She's on the autism spectrum and says her ability to "think in pictures" has allowed her to have a unique understanding of how animals negotiate livestock handling systems. Almost half of the cattle in this country are now processed in facilities based on her designs, which have been hailed as being more humane because they lower the stress levels of the animals.
In more recent years, Grandin has become an advocate for people on the autism spectrum. A movie starring Claire Danes last year chronicled Grandin's struggle to find her place in the world as non-neurotypical person (the movie is pretty good).
7 pm - $12
Also at the Palace this week:
+ The classic movie series will be screening It Happened One Night Monday night. 7 pm - $5
+ Friday night: Captain Sig & the Hillstrand Brothers from The Deadliest Catch. 8 pm - tickets start at $31.75
The Dirty Life
Writer Kristin Kimball will be at The Linda Thursday evening. She's the author of The Dirty Life, a memoir about moving from New York City to a plot of land near Lake Champlain to start a sustainable farm. 6 pm - $10
Cinco de Mayo
This Thursday is May 5th -- Cinco de Mayo. In some parts of Mexico, the day commemorates the Mexican army's victory over French forces at the Battle of Puebla in in 1862. In the US, it's become a celebration of Mexican heritage -- and, thanks to beer and liquor companies, an excuse to eat guacamole and drink margaritas.
Tulip Festival
It's coming up this weekend. A few of the events start Friday -- but most of the action is Saturday and Sunday. This year's music lineup is headlined by Cold War Kids.
Game on
The annual GameFest symposium and exhibition at RPI is this Friday and Saturday. Twenty student teams will be demonstrating video games they've designed. Also, on Saturday: Brian Reynolds, the chief game designer for social games giant Zynga (the company behind FarmVille), will be giving a keynote.
Arts and Sciences
+ The New York State Writers Institute brings authors Andrew Foster Altschul and Jonathan Segura to the Book House at Stuyvesant Plaza for a reading Tuesday evening. Altschul's new novel is called Deus Ex Machina, about a Survivor-style realty show gone wrong. He's also the books editor at The Rumpus. Segura is the author of Occupational Hazards, about a troubled crime reporter in Omaha. He's also a reviews editor at Publisher's Weekly. 7 pm - free
+ Barbara Smith will be speaking at Union College Tuesday evening. The title of the talk: "Black Feminism: My Next Chapter." 6 pm
+ Also via the State Writers Institute: poet, musician, journalist Ed Sanders Thursday night on the UAlbany's uptown campus. He was a member of The Fugs -- and has a new memoir: Fug You.
+ This year's Master of Fine Arts Thesis Exhibition is now open at UAlbany's art museum through May 15. There's an opening reception this Friday at 5 pm. The museum's open Tuesday-Saturday -- your best bet is probably Tuesdays (open until 8 pm) and Saturdays (noon-4 pm).
Music and whatnot
+ A touring production of the musical Hair is at Proctors this week, Tuesday through Sunday. Tickets start at $20.
+ Guster will be at Northern Lights Wednesday. 8 pm - $25.50 ahead / $27 day of
+ Wednesday at Jillian's: the "Digitour," a tour of musicians who have gained attention from YouTube. 8 pm - $10-$15
+ Thursday at EMPAC: Euphorie, "a project based on interactions between video, sound, movement and accidents of life as a 40-minute theatrical performance driven by low-tech tools." 8 pm - $15
+ Comedian Stephen Lynch will be at The Egg Thursday night. 7:30 pm - $29.50
+ Thursday at Red Square: "folk circus" The Lucky Jukebox Brigade, with Oobleck. doors at 8 pm
+ Sirsy is at Putnam Den Thursday night. 9 pm
+ The New York Theatre Ballet will be at The Egg Friday night. 8 pm - $24

These are a just a few things for this week. Know of something people should be looking forward to this week? Please share!
Look for our "Stuff to do this weekend" post on Friday.
Proctors, The Palace, and EMPAC all advertise on AOA.
Grandin photo: Flickr user jurvetson
Hi there. Comments have been closed for this item. Still have something to say? Contact us.