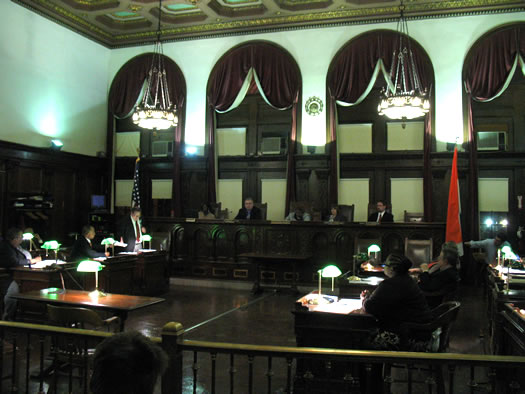 It's been six months since Jen Pursley and Mike Guidice had to give up their backyard chickens after someone complained to the city. And now they're on the verge of getting them back. Legally.
Monday night the Albany Common Council passed an ordinance that makes it legal to keep backyard hens in the city. But it was close.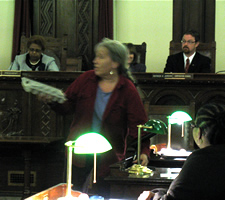 The discussion over the backyard chicken issue had become surprisingly contentious over the last few months. At a committee meeting last month opponents had raised a bunch of concerns about the ordinance, ranging from public health to the potential burden the permitting system would impose on the city's codes department to the effect chickens might have property values. Those concerns surfaced again Monday night as council members spoke before the vote.
Public comment Monday night ran strongly in favor of the ordinance. One of the speakers -- Betsy Mercogliano from the Albany Free School, which has legal a chicken coop (educational variance) -- at one point went around handing out eggs from her coop to members of the council.
Supporters of the ordinance figured they probably had seven votes in favor of it -- but a deciding eighth vote wasn't a sure thing. That swing vote came from Frank Commisso Jr, who represents the 15th ward (way uptown, around the Pine Bush). And after all the passionate debate about this issue, Commisso was kind of low-key about the whole thing. He said during his comment:
I don't feel terribly passionate about [the ordinance] either way -- I've had a few constituents reach out say "yes," a few say "no." ... I don't think the government should be telling people "dont have birds in your backyard." And meanwhile, even if your neighbor gets birds and you don't want them, then you can override that [the ordinance includes a neighbor consent provision]. So, this law is completely written on the side of the neighbor.
And he was the eighth "yes" vote, putting the ordinance over the top. Here's how the full council voted:
Yes Calsalaro (sponsor), Smith, Conti, Fahey, Golby, Konev, O'Brien, Commisso
No: Bailey, Freeman, Jenkins-Cox, Rosenzweig, Sano, Herring, Igoe
Post game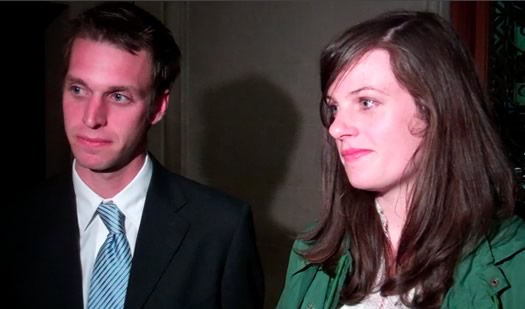 Mike Guidice and Jen Pursley
After the vote, Mike and Jen were happy (obviously) -- and looking at the wider picture. Said Mike about the engagement the chicken issue generated:
Chickens are small -- but what we proved tonight is that a small group of residents who stay persistent, who stay positive, and work with their public officials, can change things. So chickens is the first step -- what's next? Abandoned buildings, summer youth programs, alternative transportation infrastructure -- there's all these things our city needs to do in order to give it a competitive edge for the future. So here we've learned tonight, everyone who was in that chamber, that we can change things if we put our minds to it and stay persistent and organized. So I'm looking forward to continuing that.
The ordinance still needs a signature from Jerry Jennings -- and there have been rumors of a possible veto. The mayor has 10 days to do that once he gets a copy of the ordinance. [both @JCEvangelist_TU, who live tweeted the meeting]
Said Mike of a potential veto: "We won tonight and I think we should savor that. And I think just how we approached the Common Council with persistence, with facts and with positivity, we should approach the mayor in exactly the same way -- and I don't see how he could veto it."
And they're looking forward to getting their chickens back. Said Jen: "We just cleaned out the coop this weekend. We're ready."
Earlier on AOA:
+ Sunday Soapbox: Of government and chickens
+ Pecking at the Albany backyard chicken issue
+ The proposed Albany chicken amendment (it's since been adjusted)
+ Changing Albany's chicken laws

Hi there. Comments have been closed for this item. Still have something to say? Contact us.