Albany residents Michael Guidice and Jen Pursley keep a handful of chickens in a coop in their Grand Street backyard. Or, they did -- until last week, when code enforcement officers knocked on their door and let them know the chickens would have to go.
Now Michael and Jen, along with 1st Ward Councilman Dominick Calsolaro and a handful of supporters, are working to change Albany's law -- and show people that keeping urban chickens can be a small step toward a sustainable downtown.
It was actually legal to keep chickens in Albany until 2001. It was also legal to keep ducks, pigs, cows horses and any other farm animal. But a pet rooster in Pine Hills changed all that.
"The rooster belonged to a child over on North Allen Street," says 13th Ward Councilman Dan Herring. "The lots there are small and the rooster was bothering neighbors." So Herring proposed city ordinance #115-31, and the council passed it in December of 2001. Here's what it says:
No person shall keep, harbor, or shelter any farm animal or fowl within the City of Albany. For purposes of this article, farm animal or fowl shall include cows, cattle, horses, ponies, donkeys, mules, pigs, goats, sheep, chickens, ducks, geese, or other animals or fowl usually known as "farm animals or fowl," but not solely limited to the aforementioned and not including common household pets.
So, no chickens.
The law does allow for an "educational variance." Under that variance, the Albany Free School, which has been keeping chickens since the 1970s, continues to operate a chicken coop. Jen and Michael live next to the Free School and were hoping they'd be covered by the variance. It turns out they're not. They've had their coop for 10 years but recently, someone squawked.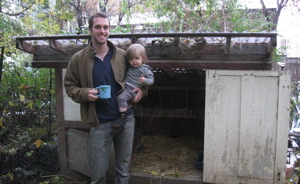 For now they've moved their chickens to the Free School coop, but for Michael and Jen, the issue is bigger than their own chicken coop.
Says Michael: "We realized the other day that we could probably arrange to get our coop covered under the variance, because we use our chickens to help teach kids from the Youth Organics program, but we thought this is an awesome opportunity. We actually, as a city, have all these amazing, vibrant organizations working on the issue of sustainability and this could be a way to show that and to take our city towards coding that allows more sustainable practices -- so why not actually make this a citywide issue. Why not actually change this for the better."
The idea of sustainability is big in the Grand Street neighborhood, where Mike and Jen live. In addition to the Youth Organics program and the Free School, there's also a community bread oven. And the neighborhood will soon be home to the Radix Center, which will be dedicated to teaching people about sustainable practices like composting, aquaculture and reclaiming soil in the city.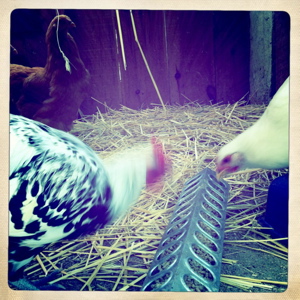 The case for chickens
Cities like New York, Chicago, Austin, Texas and Portland, Oregon have laws that allow hens to be kept in city limits.
"Chickens are perfect for city life," says Jen. "They're small, easily contained, relatively quiet and clean if you just provide minimal maintenance."
For Jen and Mike, keeping them increases their own self sufficiency and helps teach their kids where their food comes from. "We involve our kids in cleaning the coop and getting the eggs. You know, people are so far removed from where the food comes from. The only thing they carry is salmonella, and all you need is a little education about washing your hands and washing the eggs."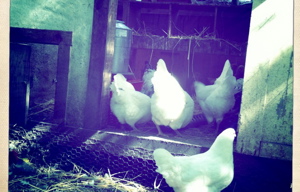 The case against chickens
But is one person's bid for a sustainable city another person's -- well -- smelly chicken coop next door?
"Sustainability probably won't carry the day on this one," says Dan Herring. "I have a feeling that if it is actually presented to the public, the number of people not wanting to live next door to chickens will outweigh the people that want it. I don't remember anyone coming to oppose the ordinance when we first proposed it. When we were writing the law we got an opinion from the SUNY School of Public Health that said that farm animals can cause a public health problem in cities. I'm sure you couldn't get more responsible than the people who are proposing this, but not everyone will be, and it will be costly to oversee."
Harold Van Schoick, the liason for Buildings and Codes in Albany, says there haven't been many violations of the current ordinance. "We get a few -- usually a few months after Easter, as the chicks kids get for presents grow up."
Van Schoick used to live on a farm. Having never lived near chickens we asked what it's like. "They do smell." But Van Schoick says they had thousands of chickens on the farm and the fewer chickens you keep, the less of a problem the smell becomes.
The next step
The group supporting urban chickens here found a Portland, Oregon law that outlines guidelines and restrictions for keeping chickens.
"Portland has very progressive coding in their city that allows for a lot of sustainability minded resident programs," says Michael. "We borrowed from a law there which includes permitting fees, so it could be income for the city, and includes specifics about enclosures and the structures in which chickens can be kept and eliminates roosters from being kept."
First ward councilman Dominck Calsolaro is rewriting the Portland law to make it more appropriate for Albany, and will propose it to the Common Council for discussion on December 6th.
"When the current law was enacted," Calsolaro says, "we went from everything to nothing -- from allowing all farm animals to an overall ban. Maybe we should have looked at something in between. The Portland law is pretty well defined, and requires permitting and health department inspections. It has to be clean and you need to have space. I'm just bringing it up for discussion."
Jen, Mike and their supporters are looking for like-minded people in other wards. "We need people to sign and carry petitions and drum up support."
"Ordinances like 115-31," says Mike, "came about when the ideas of liveability, sustainability, localism and local agriculture weren't so prevalent. Back then when people were thinking 'Am I going to live in a city?' those weren't things they considered. So I don't really think it's fighting against a law that people really want."
Earlier and elsewhere:
+ There apparently is a bit of a backyard chicken boom right now (with some doubts). Urban chicken advocates say there are a handful of reasons to have a few hens out back (you know, in addition to the eggs).
+ As Naomi reported last year, it is legal to keep chickens in Troy -- but not in Albany or Schenectady.
+ Here's a video tour of Emily Armstrong's chicken setup in South Troy
+ One of the Emily's hens was recently chicken-napped
chicken photos courtesy of Michael Guidice and Jen Pursely
Hi there. Comments have been closed for this item. Still have something to say? Contact us.