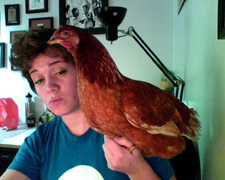 Emily contacted us last night after what appears to be a chicken-napping in her South Troy backyard. She continued via email:
The kids near my back yard said it was a woman who looked like a crackhead, and she was muttering something about eating it. I drove all around my area asking people if they'd seen anyone carrying around a chicken. Most people thought I was joking.
A little girl a block or two from my house said she'd seen her round the corner onto 4th St. After a while I just had to give up. I think the most frustrating thing is that she is a pretty light chicken, not good for much food, and if someone is hungry they could stop by the Unity House or Joseph's House.
That's a photo of Emily's missing hen on the right (click for a larger view).
Emily posted a video this past summer giving a tour of her backyard chicken setup. Chickens are allowed in Troy (but not in Albany and Schenectady).
As strange as it may sound... if you see someone carrying a chicken around South Troy, please contact Emily. She's @ChateauOfADoubt on Twitter.
Earlier on AOA: Summer with Emily Armstrong
Hi there. Comments have been closed for this item. Still have something to say? Contact us.