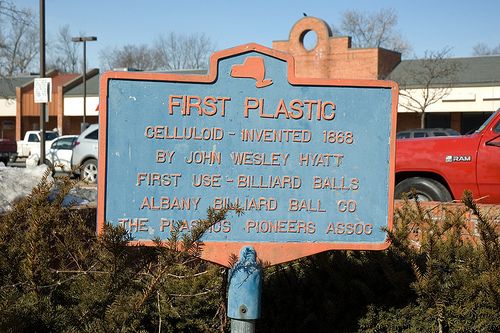 By Carl Johnson
"There's a great future in plastics. Think about it. Will you think about it?"
That's what Mr. McGuire said to Benjamin Braddock in The Graduate. That classic movie line was uttered almost exactly a century after John Wesley Hyatt first envisioned a future in plastics -- right here in Albany.
It started with an accident -- and a billiard ball.
John Wesley Hyatt was born in Starkey, New York, on the west side of Seneca Lake in 1837. When he was 16, he went to Illinois and became a journeyman printer. He (and later, his brother Isaiah) came to Albany and worked in printing. Hyatt was very interested in invention. He applied for some 200 patents -- including one for a knife sharpener in 1861.
As a printer, Hyatt worked with collodion, a cellulose nitrate solution used in printing images. The New York Times reported years later that "one day a bottle of collodion overturned, and it was after watching the solidification of the collodion that he got the idea of making celluloid." He filed for a patent in 1865, describing it as a "horn-like material" which would later be called "celluloid."
The story goes that Phelan and Callendar, a major manufacturer of billiard tables in New York City, offered a $10,000 prize for the creation of a composition ball to replace ivory. According to the Times, Hyatt entered that competition in 1863. He continued working as a printer for several years, living at 32 Chestnut Street and later at 149 Spring Street. But by the end of 1869, Hyatt had developed his invention into a number of other commercial products as well, all being manufactured in Albany.
The new Hyatt Manufacturing Company shared space with the Osborne & Newcomb factory at Broadway and Livingston, where the companies made checkers, dominoes and billiard balls from the new miracle product. By 1871, Hyatt had moved his billiard ball works to 19 Beaver Street, just west of Broadway, and his brother, Isaiah Smith Hyatt, took up the checker and domino business as the Albany Embossing Company, a few blocks south at 4-6 Pruyn Street. The material was also apparently put to pioneering use in dental plates, by the Albany Dental Plate Company .
The fame of the Hyatt Billiard Ball Company spread quickly. In 1871, the New York Times effused over the firm:
"who make billiard balls of a composition which, when colored, can hardly be distinguished from ivory balls, and which, in addition to many other advantages, are claimed to be much more durable. They certainly have this one superiority over ivory balls, that whereas ivory is always apt to be unequal in density, giving a tendency to irregular direction and to 'wabbling,' the composition balls have an unerring center of gravity from the mere fact of their being composition -- every component part being thoroughly mixed and disseminated throughout the ball." The Times went on to describe the manufacture of the composition balls: "These balls are composed principally of "gun cotton," reduced to a fine pulp and molded. . . After molding, the ball is put in a globular press, and reduced about one-third in bulk. . . Three months elapse from the day of molding till the time when a ball is ready to be sent to purchasers. The balls cost about one-half the price ordinarily charged for ivory balls."
Here's a look at some Hyatt Billiard Balls.
Hyatt seems to have lost control of his Albany operations to his investors, including Albany machine shop operator and brass founder Peter Kinnear. Slowly, another Hyatt invention, bonsilate, a mixture of finely ground bone and sodium silicate, took the place of celluloid in billiard ball manufacture, and in a new venture, The Bonsilate Button Company.
Hyatt still had positions with the various companies, but had moved to Newark, New Jersey, where he turned the dental plate business into the Celluloid Manufacturing Company. In Albany, the companies continued to churn out billiard balls, dominoes and buttons on Grand Street, on a site now covered by the South Mall Arterial. At some point early in the new century, the Albany Billiard Ball Company moved to a large factory well out of the heart of the city, on Delaware Avenue at Southern Boulevard. When that factory finally closed down and the site was redeveloped in the 1980s, the Plastics Pioneers Association put up an historic marker denoting the location of "First Plastic / Celluloid - Invented 1868 / by John Wesley Hyatt / First Use - Billiard Balls / Albany Billiard Ball Co."
Unfortunately, the marker is miles from downtown Albany, where celluloid was actually invented and first produced.
Carl Johnson writes about history and other fun stuff at Hoxsi.org and mynonurbanlife.com.

Find It
Former site of the Albany Billiard Ball Company
Delaware Ave and Southern Blvd
Albany, NY 12209
Hi there. Comments have been closed for this item. Still have something to say? Contact us.