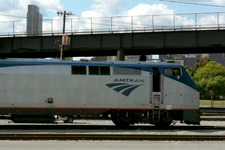 New York State is getting more than $354 million from the feds for rail upgrades around the state -- including right here in the Capital Region. [US DOT]
The feds are touting the money as funding for high-speed rail. That may be true in some cases -- a section of the Northeast Corridor is being upgraded so trains can travel 160 mph -- but it's probably more accurate to say the money is going to projects that could lead to high-speed rail. Here's the key local bit from the press release:
New York - Empire Corridor Capacity Improvements: $58 million to construct upgrades to tracks, stations and signals, improving rail operations along the Empire Corridor. This includes replacement of the Schenectady Station and construction of a fourth station track at the Albany - Rensselaer Station, one of the corridor's most significant bottlenecks.
The Empire Corridor is one of Amtrak's busiest routes. The rest of the New York State money is going toward funding a bypass in Manhattan intended to clear up congestion there, and a bit is going toward the study for a new station in Rochester.
Today's $2 billion in federal grants come from a chunk of high-speed rail funding Florida gave back last year. Governors from other states -- including New York -- basically said at the time, "If they're not going that eat that, pass it over to us." [Cuomo admin]
Earlier on AOA:
+ Will high-speed money train make a stop here?
+ Albany-NYC: strong potential for high-speed rail?
Hi there. Comments have been closed for this item. Still have something to say? Contact us.