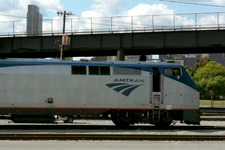 The Obama administration announced today its intent to spend "$53 billion over six years to continue construction of a national high-speed and intercity passenger rail network." The announcement is short on details about where this funding will be directed, but during the next fiscal year it says $8 billion will be focused on routes that fit one of these descriptions:
* Core Express: These corridors will form the backbone of the national high-speed rail system, with electrified trains traveling on dedicated tracks at speeds of 125-250 mph or higher.
* Regional: Crucial regional corridors with train speeds of 90-125 mph will see increases in trips and reductions in travel times, laying the foundation for future high-speed service.
* Emerging: Trains traveling at up to 90 mph will provide travelers in emerging rail corridors with access to the larger national high-speed and intercity passenger rail network.
This system will allow the Department - in partnership with states, freight rail, and private companies - to identify corridors for the construction of world-class high-speed rail, while raising speeds on existing rail lines and providing crucial planning and resources to communities who want to join the national high-speed rail network.
We're guessing Albany/New York City would probably fall in the "regional" category.
A planning/policy org recently ranked the Albany-NYC route as being among the top one percent of all routes in the nation with the most potential for high speed rail. (The route is already the fifth-most traveled in the Amtrak system.) The post here on AOA about that ranking prompted some interesting conversation -- including people who weren't necessarily sold that high-speed rail would be a good thing for the Capital Region.
Earlier on AOA:
+ Albany-NYC: strong potential for high-speed rail?
+ The slow line to high-speed rail
+ The best way to get from Albany to NYC?
Hi there. Comments have been closed for this item. Still have something to say? Contact us.