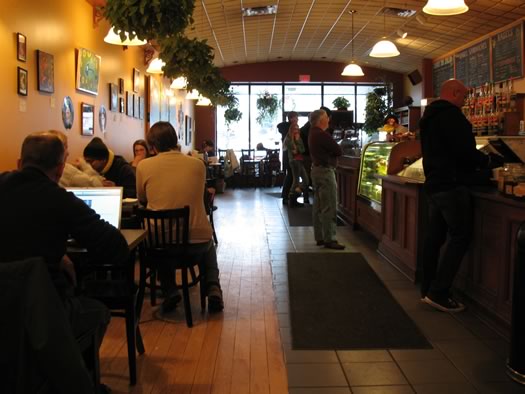 Much of AOA's work is not done in a traditional office. We'd guess that probably about 65 percent of our work is done in cafes, libraries, a car parked near a wi-fi spot, places like that. In fact, the text you're reading right now -- cafe.
All this time spent out and about has given us a chance to survey various non-office working spots in the Capital Region.
Here's a quick take on a bunch of them...
This is not comprehensive. It's not systematic in any way. Some impressions are based on just a few visits. Others on hundreds. Your mileage will vary. Disagree? Great, please share.
Uncommon Grounds - Albany
1235 Western Avenue, Albany | website
Crowd: Lots of college kids. Retired people. A bunch of professionals around lunch time.
Good: Bagels (usually -- they can be inconsistent). Lots of bustle as background. Music is usually pretty good. If you get a bagel with a schmear and a drink, you can eat here for less than $5.
Bad: Tables are small. Not a lot of plugs. It gets crazy busy at lunch time. The back is dark. After any more than an hour or so you will reek of roasted coffee. The wi-fi is sometimes turned off from noon - 2 pm.
Uncommon Grounds - Saratoga
402 Broadway, Saratoga Springs | website
Crowd: The whole Saratoga scene.
Good: Good bagels (including the cheddar jalapeno that's unavailable in Albany). Lots of space. Nice.
Bad: Gets crazy busy and loud.
Saratoga Coffee Traders
447 Broadway, Saratoga Springs | website
Good: Usually pretty calm -- often a good refuge from the UG across the street. There's an old-school candy section in the back.
Bad: Kind of small. And sometimes a place that's empty is worse than a place that's busy.
Panera
various locations | website
Crowd: Big cross-section. Lunch is a lot of professionals and moms. The afternoons often have a lot of out-of-office professionals -- drug reps, sales people, people like that -- sometimes having meetings. Students tend to be older.
Good: Many of the locations have good space, with generally good light. Tables are usually (relatively) big. Plugs are often easy to find. The food is OK. Free and easy refills on drinks.
Bad: Wi-fi is limited to 30 minutes between 11:30 and 1:30. Lunch rush can be crazy. The food is kind of expensive. The music is awful -- just really bad. It's gotta be some of the worst elevator music ever. We've heard outright soft-rock violence committed against all manner of song. Panera should be embarrassed by its music.
Starbucks
various locations | website
Crowd: Depends on locations, but we tend to see more students than at other places.
Good: Tables are often an OK size. Plugs are usually not too hard to find. There's free, all-day wi-fi now (and it works pretty well). The music is often not terrible. Starbucks has almost defined its own genre of music -- and it's easy to mock -- but compared to a lot of other places, it's not bad.
Bad: Drinks are expensive. Food selection is limited. There often seem to be a lot of "campers," so it can be hard to find a good table. There's a lot of variation in locations. For example, the location at the south end of Wolf Road is dark and pretty much a no-go for us -- the location at the north end of Wolf Road is brighter and more hospitable.
Professor Java's
217 Wolf Road, Colonie | website
Crowd: Wolf Road cross-section, students.
Good: Central location for meeting people. Food's OK. A pretty good number of tables.
Bad: Some of the space can be really dark.
Ultraviolet Cafe
292 Delaware Avenue, Albany | website
Crowd: Delaware Ave neighborhood cross-section. Students.
Good: Good windows that look onto the street. Food's pretty good.
Bad: Very small, so you hear and feel everything. Tables are small.
Flavour Caffe
228 4th Street, Troy | website
Crowd: Troyalty.
Good: Friendly, good neighborhood feel. Food's OK. Good windows.
Bad: Not a huge number of tables (though we've never been there when it's so busy this has made a difference). On a few occasions the wi-fi has seemed to be a bit slow.
Hudson River Coffee House
229 Quail Street, Albany | website
Crowd: Kind of what you'd expect from the surrounding neighborhood.
Good: An interesting space (it's a former telephone company building). Friendly. Comfortable. Late hours.
Bad: Small enough that you can feel people coming and going.
Tierra Coffee Roasters
1038 Madison Avenue, Albany (the former Muddy Cup) | website
Crowd: Tends a bit toward the funkier slices of Pine Hills.
Good: Big windows, so there's lots of light.
Bad: We've had limited experience here, so that acknowledged -- dodgy wi-fi, inconsistent service. This place has changed hands recently, so some of this might be improving.
Albany libraries
various locations | website
Crowd: There are often a lot of kids. Also some older adults.
Good: The new buildings are really nice. Free wi-fi (and you don't have to buy anything). A surprisingly large number of plugs.
Bad: Limited hours. There's no food. The spaces can be kind of noisy in a distracting way. Sometimes it's kids goofing around. But other times it's people like an older guy complaining loudly about why the library computer won't load his Facebook profile.
Yep, Uncommon Grounds has advertised on AOA.
Say Something!
We'd really like you to take part in the conversation here at All Over Albany. But we do have a few rules here. Don't worry, they're easy. The first: be kind. The second: treat everyone else with the same respect you'd like to see in return. Cool? Great, post away. Comments are moderated so it might take a little while for your comment to show up. Thanks for being patient.