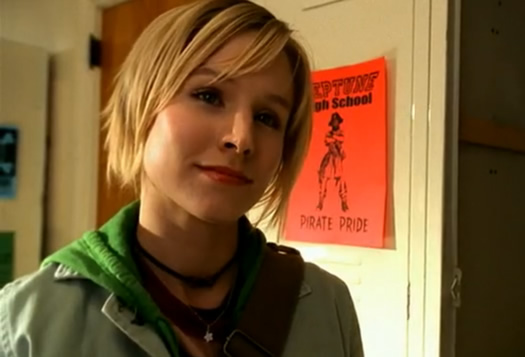 We joked this morning that the Saratoga High School yearbook story would have been better as a Veronica Mars episode.
This got us thinking about other Capital Region news stories that could be better as TV shows...
Saratoga yearbook girl: Veronica Mars
As we said, this would be a perfect Veronica Mars episode -- the classic teen fear of school-wide embarrassment rolled into a mystery. And there's a ready made lineup of suspects: the girl who wants to be a pop star and everyone's jealous of her, the girl's parents, the yearbook staff kids, the yearbook adviser, the school admin. And, of course, there'd be a twist. As Chris said, it wouldn't end up being about the girl -- but the guy whose photo was on the other side of the page. And as Hollie concluded, Mac would have helped solve this case with no problem.
Same-sex marriage legalization: The West Wing
If we didn't know better, we'd think we had already seen this episode. The righteous call by President Governor Bartlett to do the right thing. Sam trying to frame the argument for marriage equality with just the right phrase. CJ trying to keep the press from revolting over having to wait for the Senate. Josh trying to count votes and persuade the legislature. And then Toby tracks down guest character Roy McDonald, who in this episode would be the deciding swing vote, and McDonald makes a small speech about the compassion he's learned from his grandsons. And the best part: this being The West Wing, the measure would be sure to pass.
Potential state worker layoffs: The Office
Watch as morale-killing uncertainty about employment is turned into awkward hijinks by a misdirected, but ultimately kind of lovable, boss. Don't miss the episode where Michael and Dwight build a man cave in the basement of the office building.
Track season in Saratoga: The Real Housewives of Saratoga County
A reality show -- and the producers wouldn't even have to make up stuff. Start with: Marylou (obviously). Add: Michele Riggi and all her dogs, a hot jockey wife, and someone just arrived because of the GloFo chip fab. Mix with: martinis.
Jimmer: Friday Night Lights
The realistic, yet heartwarming, drama about a middle class kid who works against the odds and expectations to become a basketball star. All the while he struggles to stay true to his small town roots, and avoid the lure of illicit caffeine. With a full heart and clear eyes, Jimmer can't lose.
Veronica Mars still: Warner Bros.
Hi there. Comments have been closed for this item. Still have something to say? Contact us.