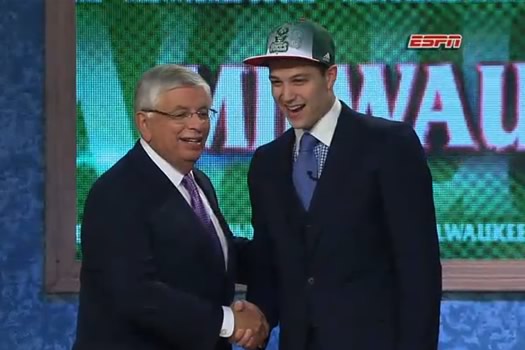 Jimmer Fredette was selected with the 10th pick in the NBA draft by the Milwaukee Bucks -- but he's headed to the Sacramento Kings via a trade.
Sacramento's roster is thin at the guard position, so Jimmer should have opportunity. The Kings have a few very talented young players -- notably guard Tyreke Evans -- who also have reputations for being... difficult. So it could all be interesting.
Sports Illustrated's Michael Rosenberg wrote before the draft about it being important for Jimmer to land in the right situation -- and he didn't see Sacramento as that spot:
The highest I have seen him in mock drafts is No. 7 to Sacramento, which would be a disaster on several levels. He would presumably take Tyreke Evans' job at point guard, which would probably tick off Evans; Evans isn't really a point guard, but neither is Fredette. Evans would move to shooting guard. If you think he and temperamental center DeMarcus Cousins would be happy with shot-happy Jimmer as their shooting guard, you're nuts. Plus the team might move, and Fredette would be saddled with two savior labels -- top-10 pick, and likable guy on an unlikable team. No. Please: No.
For a somewhat more entertaining projection, Grantland -- Bill Simmons' new site -- imagines movies Jimmer could star in with the Kings' cast.
Earlier on AOA: 28.5 facts about Jimmer Fredette
screen capture: ESPN