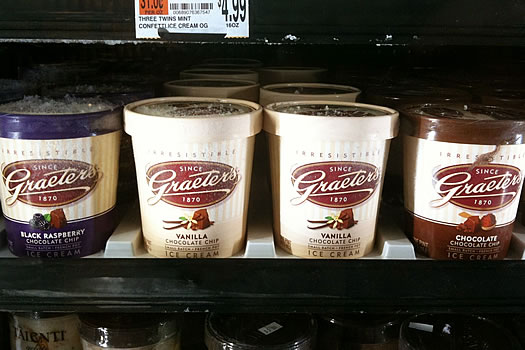 We were poking around The Fresh Market in Latham this past weekend, casually scanning the frozen foods section when we stopped dead in the aisle, mouth dropped open: The Fresh Market carries Graeter's ice cream
What is this Graeter's you speak of?
Graeter's is some of the best ice cream you'll ever eat.
The Cincinnati company has been making ice cream using the "archaic" French pot method for about 140 years. The method gives the ice cream a terrific density, yet it retains a remarkable plasticity (it's hard to describe). Add in fantastic-tasting ingredients, and you have great ice cream.
Sure, you can believe us -- or you can believe Oprah. As a billionaire quasi-religious figure we're reasonably sure Oprah can have pretty much anything she wants. If there are monks making amazing ice cream from yak milk on a mountain in Bhutan, Oprah could have it delivered. Of Graeter's she said: "This is the best ice cream I ever tasted."
Until recently the only way to get Graeter's was to go to greater Cincinnati (including such northern suburbs as Dayton and Columbus), or have it shipped. But the family that owns the company opened its first new plant since 1934 last year, increasing capacity 4x. That new supply is now headed all over the country.
A Graeter's pint at The Fresh Market is $5.49. Expensive, but it's a quality item. And it's about half the price of having it shipped.
Oh, and get the vanilla chocolate chip. Yep, just regular chocolate chip. It's unbelievable.
Hi there. Comments have been closed for this item. Still have something to say? Contact us.