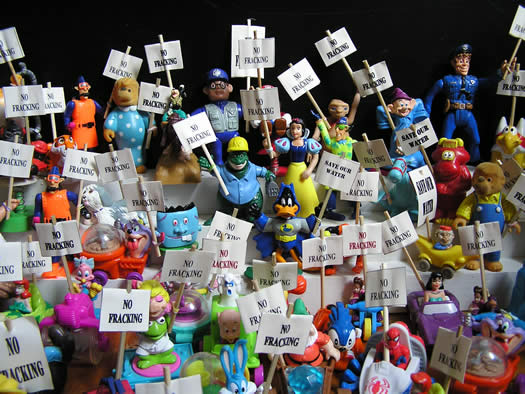 After tracking the spread of the little anti-fracking protests from Schenectady to Albany to Troy, we now know who's behind the tiny campaign.
Her name's Nancy. She's from Schenectady. She outed herself in a comment last week -- and we followed up with a few questions...
First, Nancy's comment from last week:
Hi Everyone! I've been putting the little anti-fracking figures around the area. I certainly hope that you've been enjoying them. I came up with the idea while contemplating two issues. I have lots of these toys and didn't know what to do with them. I really didn't want to just throw them away. I was thinking about that and at the same time I was upset that so many people haven't even heard of hydro-fracking. I decided to turn these toys into my own little army of anti-frackers.
When I've watched people's reactions to them, three things seem to happen. They smile, point them out to their friends and often someone asks them, "What is fracking?" I love the fact that people are curious and educating their friends about hydro-fracking. If nothing else, it makes them curious and hopefully will listen more carefully the next time they hear someone talk about it.
After verifying that Nancy is the person (or, at least, one of the people) behind this campaign (we asked her a question about one of the anti-frackers we found), she was nice enough to answer a few questions:
How'd you end up with all these toys? How many do you think you've now placed around the Capital Region?
These toys are left over from when I used to buy boxes of toys to sell at flea-markets. I've probably put around 500 of these around the Capital Region [Nancy says she has about 1000], including inside the State Capitol [see below]! I gave some to someone to put in Guilderland, but I'm not sure if she did it yet.
Why fracking and not some other issue?
I've been really frustrated at how many people still don't know what hydo-fracking is, so my goal is just to get people curious enough to learn about hydo-fracking and hopefully, they will then work against it in New York.
What sort of reaction have you gotten from people who've seen you
placing the toys?
While I try not to let people see me do it, many people have. They always smile and give me a thumbs up.
I hope you've enjoyed them!
Interview questions via email -- answers were edited.
____
Nancy sent us the photo at the top of this post. She assembled the group of little ant-frackers for a "rally" on the steps of Schenectady city hall this past weekend.
Update: AlbanyJen passed along this photo from the Capitol on Friday: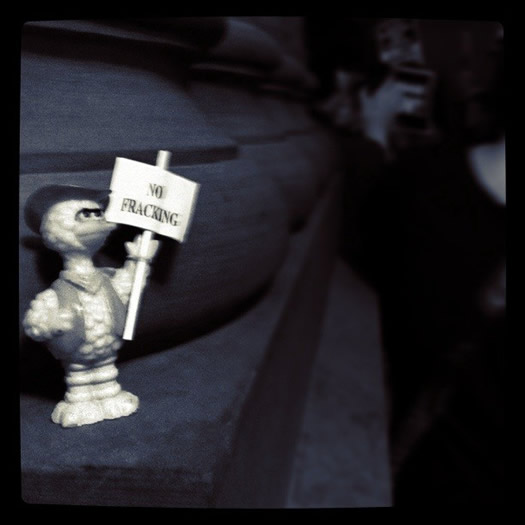 Hi there. Comments have been closed for this item. Still have something to say? Contact us.