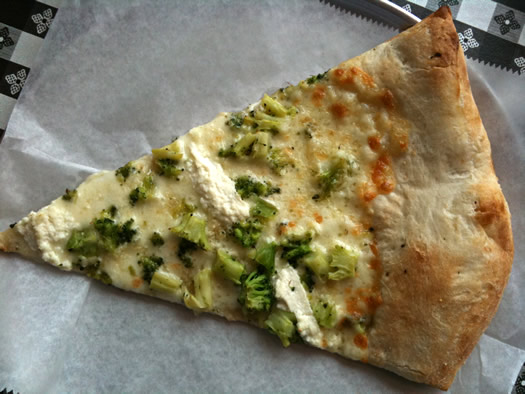 By Daniel B.
This is a town where pizza loyalties run deep.
For some, they've been going to The Fountain since they were a kid, and to these folks that is the very definition of pizza, no others need apply. Depending on the neighborhood you grew up in, The Fountain could be replaced by The Orchard, Smitty's, The Purple Pub, DeFazio's, Popes, Ralph's, etcetera.
Others have come here from downstate, and are continually frustrated that nothing they try even comes close to the pizza heaven they've left behind. Luckily, I don't think we host a major population of displaced Chicagoans or New Havenites. Nor do we have a lot of people hankering for the Old Forge pizza they remember growing up in Pennsylvania.
So with all of these considerations, how can I possibly put one slice above all the rest? Especially when it failed to win the Tournament of Pizza (in which it competed three times)? Well, there are several reasons. But there is one thing that clearly sets Pizza King apart from the rest of the pack, and that is focus.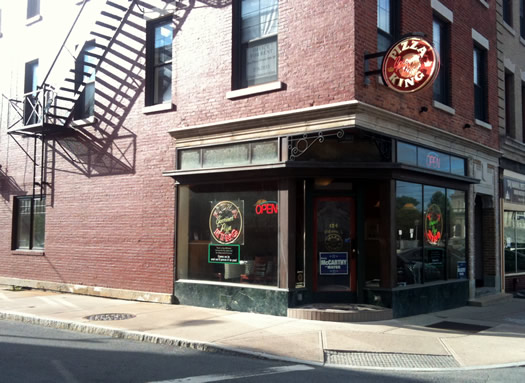 Here's a radical idea: Pizza King only makes pizza.
There are no wings, no subs, and no strombolis. There is no pasta, no eggplant parm, nor shrimp scampi. There are no burgers, no fries and no fried chicken. The Pizza King will not make you a salad.
That gives them focus. Nay, that gives them a laser sharp focus to make sure that it's their pizza that is as good as it can be. Because if their pizza isn't great, there is no other reason for people to come back. And the Pizza King makes it wonderfully. Since they don't have to think about fryers or griddles, there are no distractions. They get to spend all their time and energy on perfecting one thing.
And here it's all about the slice.
Let's be clear about this. Are there better places to get a whole pizza? Yes. A whole pizza is an entirely separate creature. One eats a whole pizza right out of the oven with your family and friends. Toppings play a much larger role. Slices are different. Slices you eat alone. The pizza is made and then it sits, until ultimately individual slices get reheated. To some, this is an insult to good pizza. To others, there is a remarkable alchemy that happens to the crust and the slice when it gets heated a second time.
The slices judged in the Tournament of Pizza do not go through this, otherwise surely the results would have been different.
In truth, you have a lot of options to choose from at Pizza King. Personally, I thought they were robbed in the sausage round last year, with their spicy sliced version falling prey to the robust ground sausage from Marino's. But if sausage isn't your thing, they have three different kinds of Buffalo chicken pizza, white pizzas, eggplant parm pizzas, and even a chicken marsala pizza that mysteriously has a cult following among its patrons.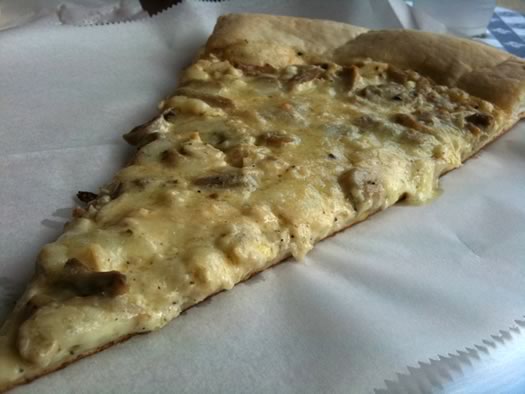 But you don't need to stray too far from the simple cheese slice to see what makes Pizza King special. And that is their crust.
It's a good thing their crust is so delicious, because there is plenty of end crust on the slices. If you don't like crust, this is not the pizza for you. But I believe all great pizza starts with great dough.
Theirs is flavorful.
When a slice has just come out from being reheated in the oven, the end crust is hot, with a crisp exterior and a satisfying moist chew. It's yeasty and comforting, and I would be perfectly happy just eating it on its own. As a result, I see their slices with a large swath of end crust to be two special treats sold as one unit.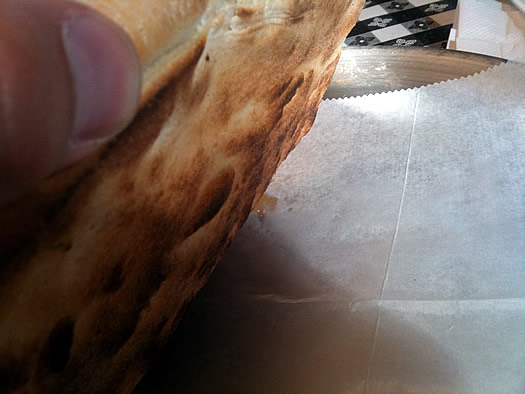 The bottom crust does exactly what you want a bottom crust to do. On its second heating it crisps up to easily support the weight of a slice, but it does not sacrifice thinness to do it. The underside of the pizza also picks up added flavor and char from the oven floor, since these pizza experts do not have to rely on the dreaded pizza screens.
This is incredibly thin crust pizza, but not so thin as to be a cracker. It is entirely in proportion to the rest of the slice, so that it adds its own flavor and texture but doesn't dominate the experience.
If I could change one thing about Pizza King's pies, it would be their sauce. I think they are just a wee bit too heavy handed, which prevents the cheese and sauce and crust from forming into one cohesive layer. But this is really nit picking, since I take almost any opportunity I can to come to this pizza outpost and get a great slice all the time.
After all, why else would anyone come here?
Daniel B. is the proprietor of the Fussy Little Blog.
Find It
Pizza King
122 Jay St
Schenectady, NY 12305
Hi there. Comments have been closed for this item. Still have something to say? Contact us.