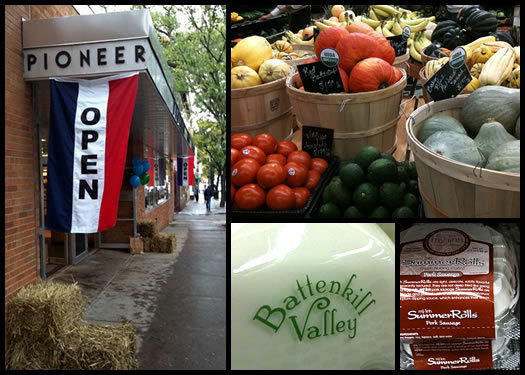 By Leah the Nosher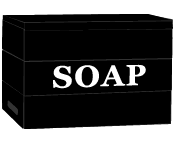 This week, the Capital District community saw yet another email from the board of Troy's Pioneer Food Market.
They simultaneously reached out to and scolded their co-owners, saying, "If you don't spend more money, we won't stay open." They assure their members that they "share their concerns" that the co-op's product mix has shifted away from organic and natural foods, that they have ordered the general manager to shift the products back, while simultaneously "authorized [him] to reduce expenditures." They also share that after being in development since 2007, and after being in operation since October of 2010, the Pioneer Market is just now "applying to become a WIC (women/infants/children) vendor to better serve the Troy community."
What's wrong with this picture?
I wrote about my concerns in a comment here on AOA earlier this week.
Don't get me wrong, I'm all for a community-based food initiative that improves life in a city that's had more that its share of hard knocks, but this week's announcement from the Pioneer Food Market board brought up some old concerns about the Collar City's attempts at gentrification.
The Pioneer Food Market, "Troy's Community Food Cooperative," shares its block with a family homeless shelter and is just a few blocks away from a day shelter. The market is one block from one of the busiest bus stops in Troy, and sits a block from the entrance to the tunnel from the Route 2/Waterford bridge. A little more than 23 people of individuals and families living in the City of Troy subsist below the poverty line. And yet, Pioneer Food Market does not accept WIC and its board thinks their members might need an explanation for what WIC stands for.

Four blocks down from the Pioneer Market, DeFazio's Italian Market has stayed open for generations, and at the end of the same block, the Troy Pork Store survived for 90 years before closing its doors in 2008. Troy houses two thriving Farmer's Markets, busy, rain or shine, selling "organic and natural" products. The Rensselaer County Department of Social Services provides coupons to recipients of WIC and food stamps for fresh fruits and vegetables at these markets. And yet, Pioneer Food Market continues to struggle.
Many collars, blue and white, are long gone from the Collar City. Troy's booming manufacturing days are a distant memory. Despite this, there is much for the city to be proud of. Hope seeps in around the edges at the the outpouring of pride that is Flag Day, at the Italian American Community Center Annual Festa, the Victorian Street Walk, the Antiques District and The Arts Center of the Capital Region. The Erie Canal may be gone, but from Testos toBeirut, from the Troy Farmers' Market to Brown's Brewing, to the Eddy Foundation and Northeast Health, Troy is working to make a better future. Developers are looking at ways to bring new life and new people to the Collar City, including the new plans for downtown that open access to that riverfront that has long been the lifeblood of the city. And that's good. Right?
Schenectady enacted similar development goals through its Downtown Schenectady Improvement Corporation, anchoring the development with Proctors. But, here's the rub: Schenectady's now-flourishing development project did not occur in a population center. Troy's proposed development does. So, developers, businesses and city planners have two choices: they can embrace the current population or they can displace the population in an effort to replace it with a wealthier, gentrified elite who don't even know what WIC stands for.
Those of us who know and love Troy continue to watch the gentrification efforts in the city with a mixture of support and suspicion.
I would like to suggest this: creating a better, safer Troy doesn't mean ignoring the needs of a population that has lived there for generations, whether they share your social class, your values, or not. A better, safer Troy means a better life for its existing population.
For Pioneer Market to exist long enough to draw in the longed-for replacement population, maybe its first goal should be engaging the population that's already there. And with the stark reality of poverty so close by, what positive changes could be made if a "Community Food Cooperative" began doing the honest work of serving a population that truly needs a downtown market in walking distance where they can purchase affordable, fresh food?
So, with genuine hope that Downtown Troy will get the neighborhood market that it needs, here are a few ideas to help with Pioneer Food Market's new commitment "to better serve the city of Troy":
+ Reach out to Cornell Cooperative Extension to learn more about their Eat Smart New York program and work together to do nutritional outreach for the community.
+ Seek a partnership with Cornell Cooperative Extension's Roots to Wisdom program and Troy Community Gardens Capital District Community Gardens. Roots to Wisdom is flourishing in Schenectady County, selling its organic produce at the Schenectady Greenmarket and the Niskayuna Co-op. There is potential for Pioneer Food Market to be the bridge that joins Cornell Cooperative Extension and Troy Community Gardens, possibly in conjunction with the Commission on Economic Opportunities (CEO) and Troy or Lansingburgh High School, to build a program that will serve Troy's youth.
+ Partner with Joseph's House, the family homeless shelter with whom Pioneer Market shares its block. Give the home donations of bruised fruit or encourage co-op members to buy an extra canned good for the families living in that shelter with their children. Work with local churches and synagogues to be a part of their efforts in doing good works for the community.
+ Initiate healthy food demonstrations in the nursery schools throughout the City of Troy run by Unity House's Unity Sunshine Program. Work to provide assistance to the residents of Unity House's battered Women's shelters in the form of discontinued toiletries or regular meals at the end of the day from the Hot Bar.
+ Stock diapers, formula and affordable household supplies. It is unclear why these staples would not be carried at this local market, much as they are at Honest Weight Food Coop and the Niskayuna Coop. Regardless of the co-owners personal feelings regarding formula feeding or disposable diapers, Pioneer Market's primary goal right now needs to be staying in business long enough to help the population of Troy thrive. The market and its owners will not succeed in doing so if they continue to impose their values onto the greater community's reality. If the board and co-owners truly cannot stomach the idea in the long term, they can seek a partnership with Healthy Families of Rensselaer County in running breastfeeding workshops at a mutually agreed upon location or in making donations of cloth diapers to families.
+ Become WIC certified. Now. Pioneer Marker, its board, and its co-owners need to take a good, hard look at their community goals and values, asking themselves why a charter for a market in downtown Troy has been in existence since 2007 but is only now seeking WIC certification.
Maybe by enacting a few of these suggestions, or others like them, Pioneer Food Market: Troy's Community Food Cooperative, can become a true community food cooperative, building relationships that extend beyond socioeconomic class and value-based assumptions.
So Pioneer Market, I wish you well. I think you can succeed. But, you need to embrace Troy as she is. If you partner with other established community organizations, you will be able to work toward that collective goal of helping your city and her people reach the potential of what Troy can be.
Leah the Nosher is the author of Noshing Confessions. A cantorial soloist and educator, Leah serves as the High Holy Day Cantorial Associate at Congregation Berith Sholom in Troy, NY. From 2005-2007, Leah worked in Troy as a Family Support Worker for Healthy Families of Rensselaer County, for whom she built and managed a directory of Community Resources, and presented at the PCANY statewide conference in 2006.
Say Something!
We'd really like you to take part in the conversation here at All Over Albany. But we do have a few rules here. Don't worry, they're easy. The first: be kind. The second: treat everyone else with the same respect you'd like to see in return. Cool? Great, post away. Comments are moderated so it might take a little while for your comment to show up. Thanks for being patient.