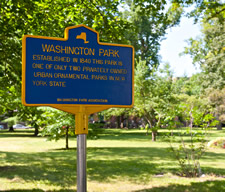 Troy's fenced-off Washington Park is one of the state's only two privately owned and maintained residential parks (Gramercy Park in Manhattan is the other). And it was founded in 1840. So, it's all very historic. And now there's one of those markers pointing that out.
The Washington Park Association will be unveiling the sign Wednesday afternoon at 1:30 pm -- and, here's the good part, it will also be opening up the park to the public during the reception that afternoon. So if you're nearby, you can check it out (you know, from inside the cast iron fence).
Bonus bit: Most of those official yellow and blue New York State historical markers all over the place are pretty old -- in fact, the program's more or less ended during the middle of the last century ("concerns for the risk of trying to read small roadside markers in the emerging age of high speed automobile travel caused the State to focus only on large signs"). New signs are actually commissioned and financed by private entities. There's a foundry in the Catskills that makes them.
Earlier on AOA: A lamp post near Washington Park was recently graced with a somewhat different marker -- a yarnbomb.
photo: Neil Grabowsky
Find It
Washington Park
Washington Place
Troy, NY 12180
Hi there. Comments have been closed for this item. Still have something to say? Contact us.