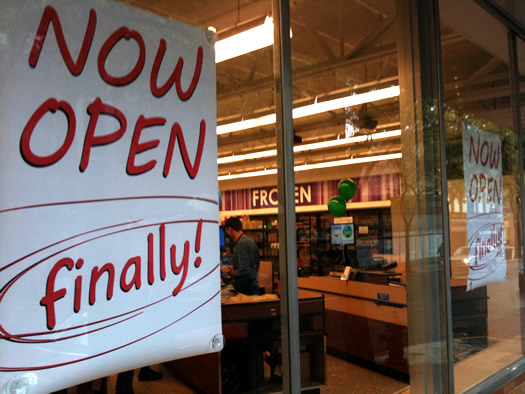 By Mike Avent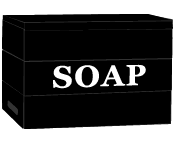 This past Sunday on the Soapbox, Leah offered suggestions to the struggling Troy Food Co-op -- and used the market's situation to look at the broader issue of gentrification in Troy. Her post prompted a lot of discussion, some of it pointed. Here's a response from one of the co-op's board members.
My name is Mike, and I have been a board member of the Troy Co-op for about 6 weeks. I write to explain our situation and ask for help. Frankly, we need all the help we can get.
There is a misconception that the co-op has narrowly averted a series of catastrophes since opening, and that the latest email represents another bullet to dodge. The reality is that the co-op has never been on firm footing. In some ways, every day we've been open has been a minor miracle. I believe we opened the co-op with the minimum amount of capital needed to get the doors open. We have been in a slow moving crisis ever since. Undoubtedly, board and owners patted themselves on the back for a job well done when we should have scrambled as if the fate of the co-op depended on it.
We're not out of time yet, but there is no margin for error.
We opened with higher debt levels, and lower equity investment than the typical co-op. The badgering of owners for money, which I equate to institutional panhandling, has been an unsuccessful attempt to remedy the equity shortfall.
I don't want to spend much time talking about everything that's lead us to this point. I think everyone involved recognizes there have been mistakes. I'm not here to throw anyone under the bus. There's plenty of blame to go around. It's important for anyone who wants to get involved to know where we are right now.
Of course we're not perfect, and we can always be better when it comes to outreach, but I live in downtown Troy, and the last time I checked my home is neither ivory nor tower. I know who my neighbors are and want to do everything I can to get their business.
You wouldn't know it from hearing people talk, but the co-op has accepted SNAP (Supplement Nutritional Assistance Program; AKA "food stamps") since shortly after we opened. The co-op is very pro-SNAP. Our SNAP sales are one of our most reliable revenue streams. Everyone involved would love to see those numbers increased. Another of our most reliably performing departments has been the prepared foods section, which includes the hot foods and our deli sandwiches. These sales are indicative of our efforts to appeal to the residents of downtown Troy.
Of course we're not perfect, and we can always be better when it comes to outreach, but I live in downtown Troy, and the last time I checked my home is neither ivory nor tower. I know who my neighbors are and want to do everything I can to get their business.
Accordingly, the co-op has reduced our prices where we could, has carried more generic brand items, and has expanded our prepared foods section. Unfortunately, we will never be able to match the prices or variety of Hannaford or Price Chopper, and for those on a tight budget that alone may be enough to preclude the co-op as a shopping destination.
The reality is we have attempted to appeal to our neighbors while maintaining enough specialty goods to draw those who want a "normal" co-op experience. Such a balance has proven to be extremely difficult in a 4,000 square foot space. This identity crisis pops up in every meeting we hold, and every blog post about the co-op. Some claim we haven't done enough to engage the community, others say we haven't done enough to be a true "co-op." It's something the board has never stopped wrestling with, and probably never will. I believe this will be one of the major discussion points at our August 2 owner's meeting.
As mentioned in the letter to the owners, we are applying for WIC. Applying for WIC is neither a simple nor quick process. We have been in discussions with various public minded entities regarding our eligibility and what we need to change to qualify for the program. I spent an afternoon walking the store with a checklist to determine the eligibility of the products the co-op currently stock. I and other board members have spent hours working on application papers. After the application, on-going training and compliance efforts are required. It's quite a bit of work, and our research shows that at best WIC is a break-even proposition. I believe we should have been offering WIC since day 1 to better serve our neighbors. We want people in the doors as frequently as possible. We are trying to make it right as quickly as we can. However, it is unlikely that we will receive a significant boost to the bottom line due to WIC participation.
The 10 percent discount program only served to increase the rate of our losses. Complaining that it is gone is complaining that the co-op will remain open. I am of the belief that it should have been ended months ago. I think it has convinced the board and the staff that a single 4,000 square foot store cannot compete on price against chains with dozens of 40,000-square-foot stores.
We have worked with Cornell Co-operative Extension, and regularly donate food to St. Joseph's House and other charities rather than throw it away. The simple fact is that while it might be good karma to do those things, our suppliers and lenders don't accept payments in karma. (If you know of any who do, please have them get in touch with me.)
Our staff has been cut to the bone. The man we hired to be our general manager is long gone. Many of the employees hired with particular roles have become generalists by necessity. When an employee leaves, the money saved has typically been rolled into our budget to fund the continued operating losses. We have cannibalized ourselves. Our current general manager, Bruce has done a heroic job juggling the half dozen hats he's been left with. For all the failings of the co-op, it's been an absolutely superhuman effort on the staff's part. It's also important to recognize that the staff depends on this business for their livelihood.
Not to sound ungrateful, but we need far fewer suggestions that start with "You should..." and far more suggestions that start with "I will..."
The board of directors has been gouged right along with the staff. We are volunteers, most of us working stiffs just like anybody else. Part of the board decided not to return when their term was up in June; they were replaced in the election in which I was elected. Since I became a board member in the middle of June, three additional board members have resigned and their seats are now vacant. I won't ascribe motives to any of them; their reasons are their own. Of course I wish we had more people, but I don't begrudge anyone for moving on. Running even a successful business is stressful.
We simply don't have the manpower to do the things we need to do. The board doesn't have the time or know-how to run a market on our own. Our staff is doing their best, but lucky to be keeping their head above water as more responsibility has been shuffled onto fewer and fewer people. We need talented and experienced grocers. It is to our collective discredit that it has come to this.
We also need new board members. Don't expect thanks, perks, or compensation; do expect high stress, long meetings, homework to take home, and the occasional demonization as a clueless elitist. If that sounds like your cup of tea, please drop me a line at mike.avent@gmail.com.
Not to sound ungrateful, but we need far fewer suggestions that start with "You should..." and far more suggestions that start with "I will..."
The only way we turn this thing around is with our owners and other interested members of the general public. They are our last ace in the hole. If we don't all pitch-in in a big way, there is no cavalry coming over the hill to save us. While last week's email was first and foremost a cry for help, it was also to make sure that everyone is aware of the kind of trouble we are in. If the worst occurs, we don't want anyone to say they didn't know the severity of the situation when the doors are closed for the last time.
Until that day comes the board and the staff will be doing our best to turn this thing around. You are most welcome to join us.
We will be holding a meeting on 7pm on August 2nd at Christ Church Methodist, 35 State Street in Troy.
In addition to serving on the board of the Troy Food Co-op, Mike Avent is a corporate attorney at Nixon Peabody LLP in Albany with a focus on venture capital.
Hi there. Comments have been closed for this item. Still have something to say? Contact us.