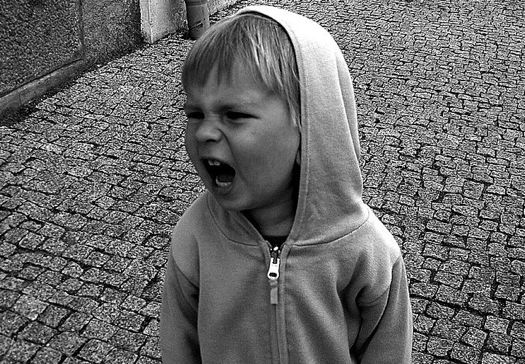 By Leah the Nosher
I was sitting in the Panera in Latham Farms doing work for class. I sought the air conditioned sanctuary of free WiFi and a predictably decent, cooling yogurt-berry smoothie. I buckled down to the task of wading through academic articles, having deposited children with grandparents and dispatched husband to work.
The three year old bouncing around the room, running up and down the aisles chasing imaginary aliens, was totally killing my buzz.
I took a deep breath. I said nothing. I tried to remember how much I value those two seconds of quiet at a table when my child is jumping up and down on something that is not me. But there was this niggling voice in the back of my head whispering, "I drove across two county lines and a river and cashed in a favor with my parents, so that I could sit here and get work done. Please, please, please, corral your kid."
Where do we draw the line as parents and as members of a greater community? Where is the line between "children should be seen and not heard" and "children should be see and heard with zero restrictions on the glory that is all forms of childhood and parenting?" How do we remember that one person's adorable is another person's obnoxious?
You see, in Panera, I didn't want to be that adult. The one who gives me a glare and lectures me on how I should start spanking my 1 ½ year old when she is melting down in Price Chopper. The one who stage whispers, "I certainly had better control over my child than that," when my 4 year old is dancing in front of the dressing room mirror in Target, rather than instantaneously heeding the call to come. The one who gives a disapproving look, gasps, and scoffs when I nurse my child in a restaurant, any restaurant, anywhere in the Capital District.
Yes, I am that nursing mom who doesn't cover. No, you can't see my nipple, or anything else but the back of my child's head when I'm nursing. You could imagine that there is nipple with a breast attached to it while watching happily kicking toddler feet if you were so inclined, but I figure that's your own head and your own business.
Anyway. I digress. Let's flip this around.
I have a general love of, "it takes a village," and a sincere wish for my child to be accepted as a child vs. a mini-adult in the restaurant, in the sanctuary of our house of worship, on the Lawn at SPAC. However, if my child is screaming in despair in a quiet place, if she is running around like a banshee in a restaurant, doing downward dog in the middle of the altar, crashing a motorized car into your lawn chair during the ballet, I'm going to do my utmost to step up and remove her from the situation. In my brain, to not do so would be negligent parenting.
But those are examples of what my standards of good parenting look like. My personal standards also include not indulging the tantrum in the Price Chopper by giving it attention or acquiescing to the request. I prefer to stay in the store, to finish picking up the dinner ingredients we need for tonight, and then head out to the parking lot. I also hold dear the standard that 4 year olds get to dance in front of mirrors in Target, the standard that imagination is awesome, and the choice that I'd generally rather coerce than control my child. Note the emphasis on "my".
As to restaurant behavior, I'm running on the assumption that if you'd rather be eating without kids present, you would have chosen a restaurant without a children's menu.
And I'm going to nurse my kid on demand.
Sorry about that. I'm running on the assumption that whatever the setting, you would rather I did that than let her scream.
Here's the catch: if you think I should be removing myself to the bathroom or my car to nurse, if you think that my nursing discreetly while showing less skin that the women at your table in V necks is not enough, well, then we're just not going to agree on much anyway. So, why should I care what you think in the first place?
So, that is the essential question: why do we, as parents, care what others think?
And this is the essential answer: because sometimes one of us gets an hour or two kid free to get some work done in the Air Conditioned Sanctuary of Free WiFi that is the Panera in Latham Farms, and we want to be supportive of that notion.
This is what I propose: I hereby declare that I shall assume each and every parent is doing the best they can with what they've got.
I promise that I shall not bring my children into restaurants after 7 pm. In addition, anytime it looks like my child is inclined to have a tantrum in the grocery store, just so you'll feel a little better, I promise to put a big sign on her head, saying, "She has a fever and we're picking up her medication; we'll be out of your hair in just a minute." If I bring my child to SPAC, she shall have no toys that make noise, she will ask only adorable questions about the ballet's plot, and if she does need to run around, we'll bring her up by the Beer Tents.
I shall, however, nurse wherever I damn well please in accordance with the rights afforded me by New York State. I do promise not to judge you for being aghast, if you promise not to judge me for being a mammal.
I promise to take a deep breath and to keep my assumptions to myself.
We'll all promise to assume everyone, each one of us, is doing the best we can with what we've got, as we grit out teeth as the toddler wails on the airplane taking off from Albany International, repeating silently to ourselves, "It take a village, it takes a village."
Leah the Nosher writes NoshingConfessions.com and is the mother of two angelic little girls who never do anything untoward in public, ever.
More Leah on the Soapbox:
+Pioneer Market and the gentrification of the Collar City
Photo: Flickr user mdanys
Say Something!
We'd really like you to take part in the conversation here at All Over Albany. But we do have a few rules here. Don't worry, they're easy. The first: be kind. The second: treat everyone else with the same respect you'd like to see in return. Cool? Great, post away. Comments are moderated so it might take a little while for your comment to show up. Thanks for being patient.