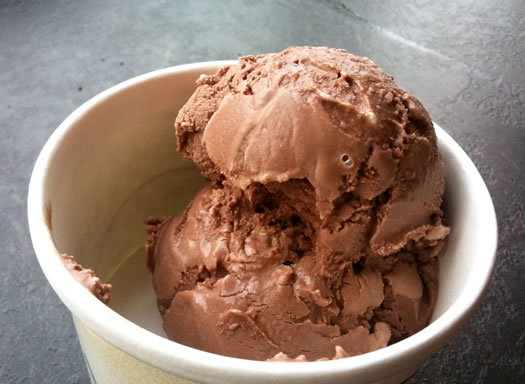 This summer we've paid a few visits to Chatham to indulge in what may be the best ice cream in the greater Capital Region: Golden Organics.
Why do we think it's so good? Here are five reasons. Plus one more.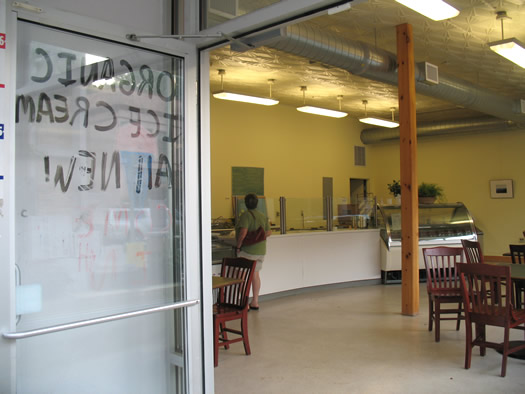 1. Organic and grass-fed milk
The ice cream at Golden Organics is made with 100 percent organic, grass-fed milk. Those two things do not mean the same thing, and they don't always go together. A farm can call itself organic if it uses organic feed and doesn't use antibiotics, but it's possible the cows on that farm will never see grass.
Golden Organics' co-owner Ella White says grass-fed is important to them for a couple of reasons: it makes for richer, better tasting milk (and ice cream) -- and the cows are allowed to go out on the pasture, so they have a better life.
The milk currently comes from a co-op with dairy farms in New York and Pennsylvania. Ella says they'd like to buy milk from Columbia County, but there isn't enough available right now. They're hoping that changes in the future.
2. High quality, fair-trade ingredients
Golden Organics tries to get as many ingredients as they can from suppliers in a 500 mile radius. Their strawberries, blueberries, blackberries and peaches are grown locally and their nuts come from Tierra Farm in Valatie. But even when they can't buy local, they look for high quality fair trade. "The companies we purchase organic ingredients from make sure everyone gets the amount of money they need to continue to produce their product," says Matt White, Golden Organics' ice cream maker (and Ella's husband).
The vanilla comes from Madagascar, the chocolate comes from Ecuador via a company in Germany, and Matt says the company that provides their cinnamon is from Indonesia and donates 5 percent of its proceeds to protecting orangutan habitat.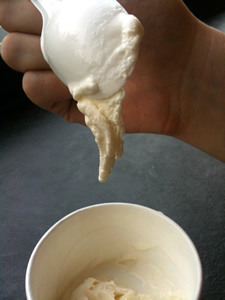 3. Texture
The ice cream at Golden Organics is denser than most -- almost chewy (in a good way). Part of that has to do with the fact that it's 16 percent butter fat -- which you only find in "super premium" ice creams. It's also a result of how it's made. Golden Organics is a "low overrun" ice cream -- that means it has less air in it compared to most other ice creams. The resulting texture is dense, but pliable. It kind of stretches when you pull it off the spoon.
4. Recipe history
A good history makes everything more fun. Golden Organics' started two generations ago, when Matt's grandfather had an ice cream shop north of Boston. His uncle took over where his grandfather left off -- and now the scoop has passed to him. Matt uses many of the same recipes, so you'll often old-school flavors such as cinnamon, peppermint stick, ginger and blackberry.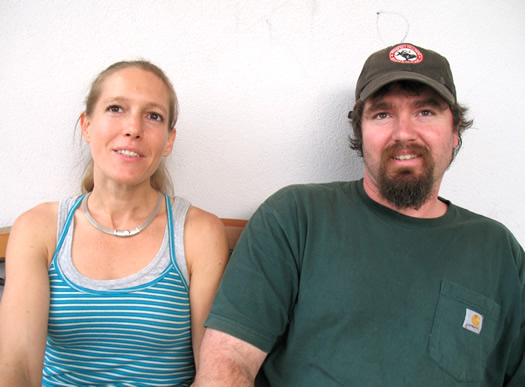 Ella and Matt White
5. The blackberry story
It's a typical love story, really. Well -- maybe not. It goes something like this:
Boy makes fantastic ice cream.
Girl comes to shop and tries ice cream. Girl falls in love. With ice cream.
Girl comes back to shop. Often.
Boy likes girl.
Mutual friend sets boy and girl up on blind date.
Boy and girl get married and make fantastic ice cream together.
Ella frequented Matt's former shop in Western Massachusetts to get her favorite flavor: blackberry. She was interested in the ice cream, Matt was interested in her. "He spied me and thought I was interesting," she says. A friend set them up -- against Ella's wishes. "I fought it for a while, but eventually I was talked into it and we went out on the only blind date I've ever been on." Well, maybe not totally blind. He'd already made her ice cream.
And yes, there was blackberry ice cream at the wedding.
6. Oh, yeah... here's another one: it's delicious
Here's the best reason of all. This ice cream is good. Really good. Like you're sitting at home on your couch in Albany or Troy or wherever and you remember the last time you had it and suddenly you're all "Hmmm.. road trip?".
Whether it's the grass-fed organic milk, three generations of experience, the old-school recipes, the 16-percent butter fat -- or the whole combination -- it works.
Right now you can try Golden Organics flavors at their shop on Main Street in Chatham, right across from The Crandell. Eventually they're hoping to sell other organic, grass-fed products there as well. While they're happy to be serving ice cream in their shop, Matt and Ella say they see the future of the business in distributing ice cream to other outlets. So they're working to get their ice cream into gourmet and health food store shelves -- including co-ops in Albany and The Berkshires.
In addition to the Chatham shop, you can currently find Golden Organics ice cream at Spoon in Lenox, Massachusetts, Breezy Hill Orchard in Staatsburg and The Blue Plate in Chatham.
Find It
Golden Organics
59 Main Street
Chatham, NY 12037
Say Something!
We'd really like you to take part in the conversation here at All Over Albany. But we do have a few rules here. Don't worry, they're easy. The first: be kind. The second: treat everyone else with the same respect you'd like to see in return. Cool? Great, post away. Comments are moderated so it might take a little while for your comment to show up. Thanks for being patient.