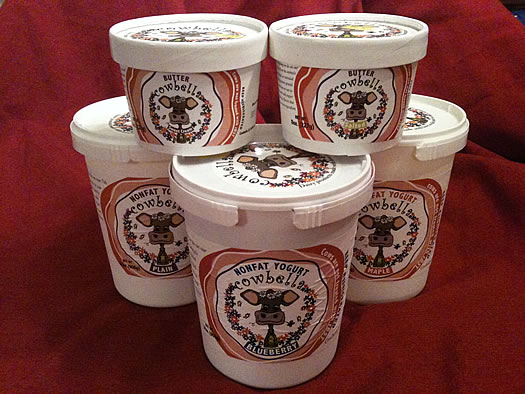 By Daniel B.
You aren't off the hook from eating local this month just because Irene blew through the region. Yes, she brought with her devastating rains that wiped out many local farms. Schoharie County was especially hard hit, and there are a couple a benefits later this month to raise money in support of the Schoharie County Community Action Program.
Still, all the news out of Schoharie County isn't bad. Cowbella made it through. When Gail Peake and Shannon Mason's ancestors established the Danforth Jersey Farm almost 200 years and seven generations ago, they chose a safe site. That means despite the floods we can all still enjoy their butters and nonfat yogurts produced under the Cowbella label.
Consider yourself lucky, because these ladies are doing it right.
I don't know when yogurt took a wrong turn. At one point it was a healthful food, but today if you look at the ingredients in yogurt they are more like candy. Dannon's Fruit on the Bottom Blueberry has more sugar than an equivalent volume of soda. It actually lists four different sweeteners: sugar, fructose syrup, high fructose corn syrup, and fructose.
Even organic yogurts can contain "natural flavor" which as described in this chapter from Fast Food Nation aren't terribly natural.
Then there is the question about where the milk comes from to make the yogurt.
We are quite lucky in the region to have several small yogurt producers. The smallest may be Berle Farm in Rensselaer County that has only six cows. The names of the cows are actually printed on the jars of organic whole milk yogurt. A quart of it will set you back $5.49 at the Honest Weight Food Co-op.
In comparison, Hawthorne Valley Farm in Columbia County is a behemoth. The names of their 60 dairy cows wouldn't fit on the carton (but their cows are indeed named). Also their organic whole milk yogurt may have been supplemented with milk gathered from one of three nearby family farms. You can buy a quart of it for $4.59 also at HWFC.
Cowbella fits snugly in the middle of these two in size, with a herd of a few dozen purebread Jersey cows. You can read more about their animal husbandry practices on their website, but suffice it to say, their cows are given the good life you would expect cows to have on a small family farm.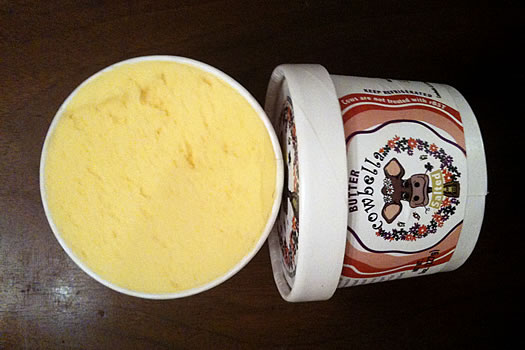 Since Jersey cows make delightfully fatty milk, the family started skimming off this rich golden cream and churning butter by hand. Seriously, you have to check out the color of their butter. It's amazing, and comes not just from the fat but also from the cows' grass-rich diet. They sell sweet, salted and a variety of flavored butters if you are into such things. Eight ounces will set you back $3.29 at HWFC.
So what do you do with all that skimmed milk? Make yogurt.
I gathered up all the flavors I could find: plain, maple and blueberry. What makes these yogurts extra special is that all the flavorings are also source from local producers. The maple syrup comes from Buck's Maple Barn, also in Schoharie County. The blueberries come from a woman named Peg Dunbar in Otsego County.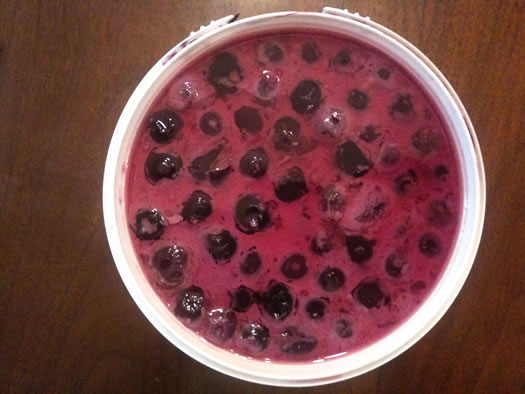 Take a look at those blueberries.
All of the yogurts are light and tangy. The plain ($3.50) would be a great foil for some locally made granola or even straining at home to make your own Greek-style yogurt. The maple ($4.50 @ HWFC) was the silkiest of the bunch, but I suspect it was made with Grade A maple syrup, which gives it a nice balancing sweetness, but not the assertive maple flavor I love from our state's extra dark syrups.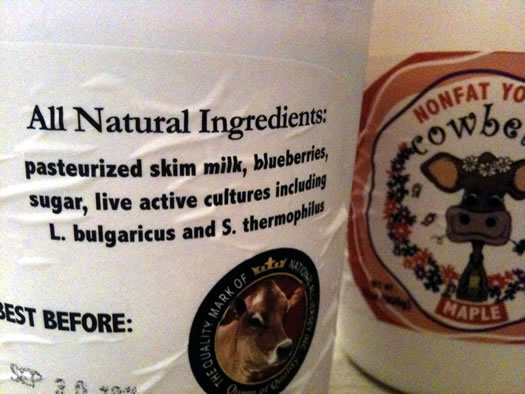 But of everything that Cowbella makes it was the blueberry yogurt ($4.50 @ HWFC) that was my clear favorite. Those blueberries are large, juicy and full of the sweet tart flavor one expects from this super fruit. And there are only four ingredients: skim milk, blueberries, sugar and live cultures.
Blueberry is just one of the seasonal flavors. Cowbella has recently released a raspberry and a peach. So if you want to try blueberry, you best hurry. But I suspect their other fruit flavors will be equally delicious.
These quarts of yogurt are available at the HWFC and at local area Hannaford.
Daniel B. is the proprietor of the Fussy Little Blog
Earlier and elsewhere:
+ Elsewhere: The TU's Chris Churchill wrote about the family behind Cowbella this past weekend.
+ On AOA: Upstate is yogurt country
Hi there. Comments have been closed for this item. Still have something to say? Contact us.