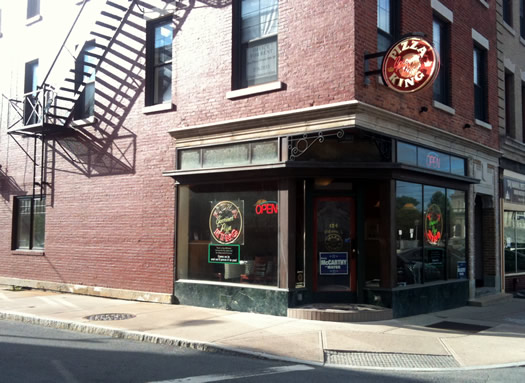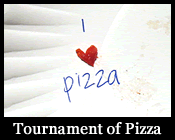 Crowd voting for the 2011 Tournament of Pizza field ended last night -- and the results are in.
Here's how the brackets shape up so far...
Four of the slots in this year's tournament were chosen by TOP judge emerita Renee McAllister. The returning bracket champs also got an automatic bid -- though in the case of Albany and Saratoga, the champs (Pasquale's and Nunzio's) aren't able to return as champs because the shop's closed/changed hands.
Albany
crowd: Hill Street Cafe - Albany
returning: (open)
renee: Pie Hole Pizzeria - Albany
committee: TBD
The Hill Street Cafe gets its first shot in the TOP after a tie with The Fountain for 1st place in the crowd voting for the Albany bracket. The selection committee gives the nod to Hill Street because The Fountain has already had multiple opportunities to compete (2009 and 2010).
Saratoga
crowd: Marino's - Saratoga
returning: (open)
renee: Mama Mia's - Saratoga
committee: TBD
Marino's is back in the tournament for the first time since 2008. It lost to the D'Andrea's that year in the first round.
Schenectady
crowd: Pizza King - Schenectady
returning: Marino's Flying - Schenectady
renee: Mario's - Niskayuna
committee: TBD
Return of the King! PK is back for its fourth appearance. It got knocked out in the second round last year by eventual overall champ Marino's (Schenectady).
Troy
crowd: Giuseppe's - Watervliet
returning: DeFazio's - Troy
renee: Joe's Tavern - Cohoes
committee: TBD
Giuseppe's is voted back for its second TOP appearance. And we're happy to have them back. They lost in the first round last year to eventual overall runner-up DeFazio -- but they competed with class.
Final brackets will be out at the end of September. Results will start shortly after that.
Hi there. Comments have been closed for this item. Still have something to say? Contact us.