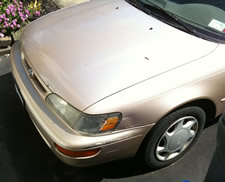 A question from AOA Greg:
We have a 1996 Corolla for which we're trying to find a final home. It's been a great car, but it's finally reached that point where the repairs would cost more than it's worth. (Steve at Larry's Foreign Auto advised us it was time to find a new car. Yep, his advice probably cost him work. Yet another reason why Steve is the best.)
So we're thinking there are three possibilities here:
1. Try to the sell the car on Craigslist. Maybe there's someone who'd want it. Might be tough, because it needs significant repair and it's old. Not the option we'd prefer.
2. Sell the car to a junk car service.
3. Donate the car to a charity.
Our preference is to donate the car -- sure, we'd like the money, but the sum would probably not be large. If we can help out a charity, great.
So, suggestions for local junk car services or charities looking for car donations?
Got a suggestion for Greg and Mrs. Greg? Please share!
Hi there. Comments have been closed for this item. Still have something to say? Contact us.