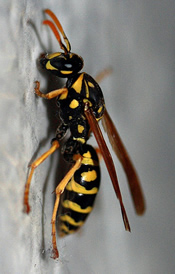 Miriam emails:
I know you covered mice issues a while back but we have a wasp nest we can't reach with death spray and we're trying to find a good exterminator to come and destroy the little yellow jacketed ninjas who keep creeping into our house. Any suggestions?
A ninja infestation? Could be tricky.
Got a suggestion for Miriam? Please share!
photo: Flickr user DGriebeling




Hi there. Comments have been closed for this item. Still have something to say? Contact us.