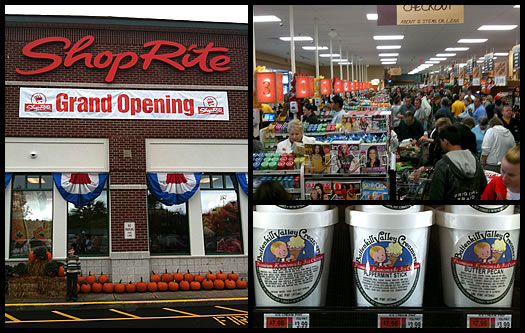 By Daniel B.
Our chief senior special supermarket correspondent checks in with a report from the grand opening of the new ShopRite in Niskayuna on Sunday.
What makes ShopRite different from all other markets? That was the primary question I focused on trying to solve as I wondered why this ordinarily quiet section of Niskayuna resembled Walmart on Black Friday.
Maybe it was even worse.
Traffic was snarled on Balltown Road headed up to the corner of Nott Street where the entrance to the newly christened ShopRite Square is located. Despite the throngs of people descending upon this newly arrived grocer, the parking lot at the nearby Price Chopper was also totally full.
The ShopRite parking lot however was over full. As people circled around trying to find a spot, you could see the road rage in their eyes. Cars were parked illegally all throughout the lot, and I was lucky to get a spot in its furthest recesses, behind the store between the dumpsters and the loading bay.
Inside proved to be a treasure trove of delights, but only for the most intrepid shoppers.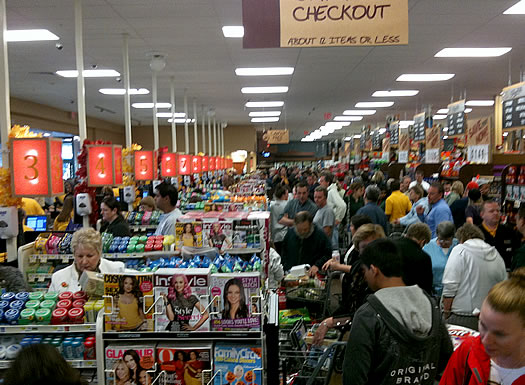 Depending on your point of view there were either not enough shopping carts -- or far too many. Not everyone who wanted a cart could get one. But on the other hand, I couldn't imagine how much more difficult it would be to maneuver through the store if there were more carts on the floor.
Also wandering the store were the ShopRite personal shoppers, filling orders for those who choose to shop online. They were zapping products with mobile devices as they filled up shopping baskets. Perhaps they were helped by the free, open and fast wi-fi that is available to shoppers.
As it was, in many parts of the store, shoppers were pushed along as if being carried by a tide of humanity. The fish counter and meat section where two of these areas. In support of the grand opening ShopRite was selling whole live lobsters for $4.88 per pound. It worked -- the fish counter was mobbed, and I couldn't get near it. Although I did fall in love with the crates of dried salt cod beside the counter.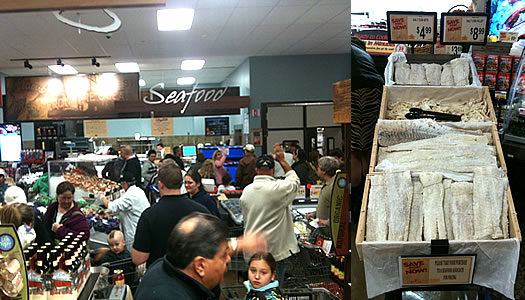 The butchers were selling whole beef tenderloins for $4.88 per pound as well, and Australian lamb chops at half price ($4.99 per pound).
As I heard a lady say, "This is not a great day for comparison shopping."
Invariably ShopRite will be added to the annual supermarket price comparison in the spring. It will be interesting to see how they stack up on a common basket of goods.
Local items
What is interesting today is ShopRite's mix of products.
In a large grocery store that operates across six states with hundreds of locations, one might expect to see the same identical national brands as any other large regional market. And while all of those national brands are present and accounted for, there is a persistent smattering of small local business throughout the store.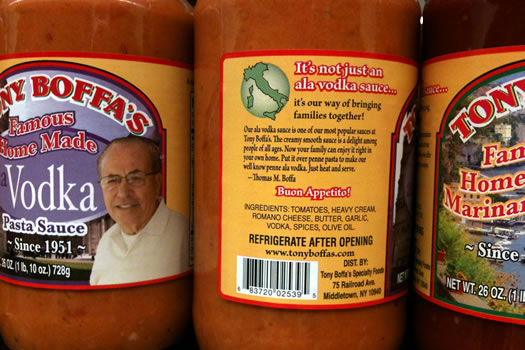 On the occasion of the grand opening, the whole Boffa family was on site sampling Tony Boffa's namesake sauce. He has a restaurant down in Middletown and incredibly his vodka sauce is made from just tomatoes, heavy cream, romano cheese, butter, garlic, vodka, spices and olive oil. The marinara sauce has just five ingredients.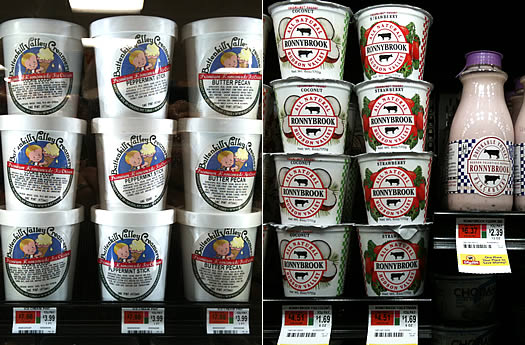 A bit closer to home are the Ronnybrook Farm Dairy and Battenkill Valley Creamery, which are both represented here in many various forms. As is the ever popular Old Chatham Sheepherding Company yogurt. In addition to these are pints of ice cream from The Ice Cream Man and Adirondack Creamery. There are also apple cider donuts from The Cookie Factory in Troy.
National surprises
But the special items aren't limited to those with a local appeal. There are great products from other states that I've either never stumbled across or merely have overlooked. Like Alden's organic ice cream from Oregon, or America's oldest ice cream company, Bassett's from Philadelphia. There is also a wide selection of natural and organic meat products from Applegate Farms, plus fanciful items like fresh quail eggs, Bosco chocolate syrup, and Mary Jane candies.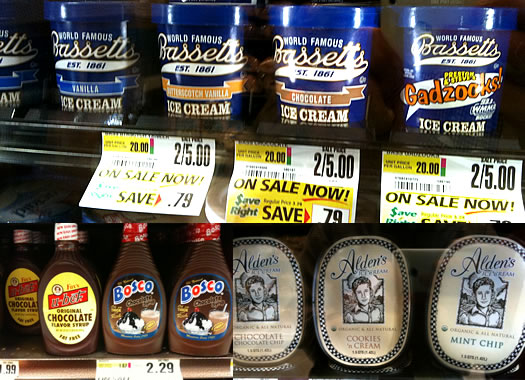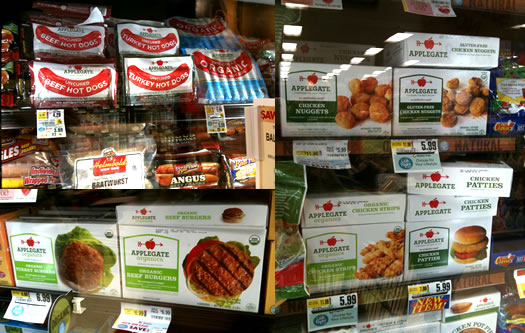 For a supermarket, ShopRite's cheese selection was surprisingly respectable. too. A few highlights include Cypress Grove Humboldt Fog, Fromager d'Affinois, Maytag blue, Taleggio, Raclette, Morbrier and cave aged Gruyere.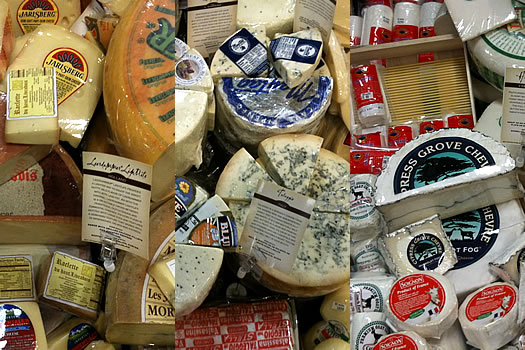 I think about the local love for the Wegmans and the desire for a Trader Joe's, and in my mind those are about a higher level of quality of everything all around and great prices on solid private label gourmet-inspired foods. On the strength of its product mix ShopRite gets the closest to Wegmans of anything we have locally -- and nothing is quite like TJs.
Most people here are dissatisfied with the fish they can get from grocery stores, and I think the overall quality of meat available in local markets could be improved upon. I didn't get close enough to these sections to see if it fulfills the hopes and desires of those in the area who are looking for better. The in-store bakery didn't look special enough from afar to brave the crowd that surrounded it.
The one thing I really wish ShopRite carried that I actively didn't see was a "happy" rotisserie chicken. The specimens they had out for sale were all mass-produced factory-farm Purdue birds.
What ShopRite is...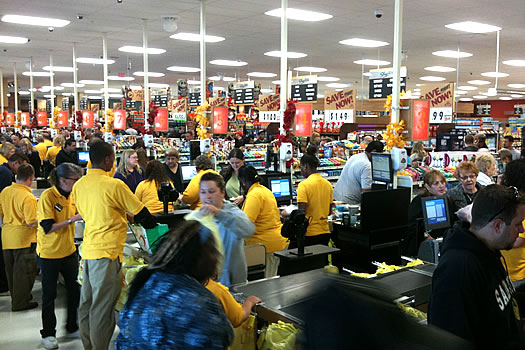 I had decided early on that I would just be making a scouting expedition and not be braving the harrowing lines of frenzied shoppers trying to pay for their lobsters and tenderloins. The people of Schenectady will eat well this week.
But while I left empty handed, I felt like I had a better idea of what ShopRite has brought to the Capital Region. They are a full-service supermarket that has a surprisingly robust selection of gourmet, natural, organic and specialty items along with other regional delights. They aren't as precious as The Fresh Market, and they pride themselves on being price competitive.
It's a smart combination.
I think ShopRite succeeds at filling a hole in the supermarket scene. It's a single place where you can get a mix of products that up until now would have to be gathered from a variety of locations. But the rotisserie chicken alone will keep me going back to Hannaford. And the sheer ubiquity of Price Choppers will keep me in their stores.
While ShopRite was better than expected, it's still a haul for residents who don't live in or around Niskayuna. It will be interesting to see if Price Chopper makes any further improvements to their Albany stores in advance of next summer's anticipated opening of the Central Avenue ShopRite.
I'll still shop around at all our local markets, but I can imagine leaving ShopRite with a heavier basket than I might at Price Chopper, Hannaford, or The Fresh Market.
You know, if I can ever make it to the check out lanes.
Daniel B. is the proprietor of the Fussy Little Blog.
Earlier and elsewhere:
+ TU: Battle lines drawn in supermarket war
+ About the Niskayuna Co-op and ShopRite...
+ Supermarket Showdown IV
+ On being an opportunistic grocery shopper
+ A first look at Fresh Market
Find It
ShopRite Niskayuna
2341 Nott St E
Niskayuna, NY 12309
Hi there. Comments have been closed for this item. Still have something to say? Contact us.