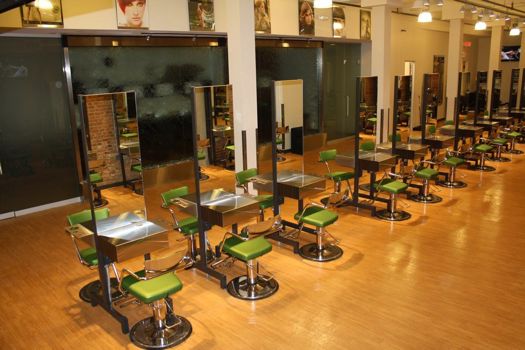 By Wendy Voelker
I have always hated my hair. When I was a kid, it was the wrong color (I was the only red-haired kid), and today, even though redheads are all the rage, it's always the wrong style. Not to mention the fact that I always wait too long to get a trim, and end up with what I call "Pumpkin Head."
I recently decided that finally, as I near the age of 40, it was time to do something about my lackluster locks. I wanted style. I wanted glam.
But where to go? I'm too intimidated and self-conscious to go to a high-end salon, and I'm too much of a cheapskate to spend that kind of money. I just do NOT understand how people can shell out $100 or more for a haircut. I clip coupons for crying out loud!
The answer came to me as I was planning an event in downtown Schenectady.
I had been admiring the Paul Mitchell school's style since the school opened in May 2010 -- the students and staff dress all in black (even their security staff), they seem to be having fun ALL THE TIME, and they all just ooze glamor. I wanted some of that. Plus, it's only a couple blocks from my office.
Also, I'm continually impressed with their eagerness to jump right in and support the Schenectady community. In fact, "Paul Mitchell the School Schenectady" (as it's officially called) has already given about $30,000 to their network-supported charities, and they are constantly holding fun events to bring attention to the school.
Going in, I knew that their salon services are part of their student clinic -- clients basically give students real people to practice on -- and my experience might not be quite as polished and professional as what you would find at a high-end salon. I found this to be mostly true, but absolutely not in a bad way.
My first haircut with PMTSS was back in July, and I had such a great experience that I came back for a trim last week (as always, overdue). Unlike an appointment in my regular salon, I was assigned a different stylist each time, and though the experiences were slightly different, both were very pleasant.
The first time I stepped into the school, I was stunned by the beauty of the space. Lots of exposed brick, bright lights, gleaming chrome counter tops and mirrors, loud funky music, and a green-and-black color scheme that gives the salon a sleek and modern industrial feel.
Did I mention loud music? The music is loud.
After a very short wait in the seating area, my assigned "future professional" (the school's parlance for "student") introduced herself and took me back to the "Wash House" for a shampoo. The Wash House is an enclosed bank of sinks, dimly lit and separated from the rest of the salon by a impressive vertical wall of endlessly falling water. The water wall masks the loud music (have I mentioned that yet?) and creates a serene environment that allows you to relax and enjoy the experience.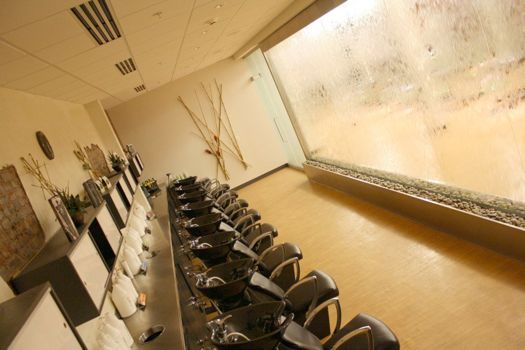 After the wash -- and a gloriously sensual 5-minute relaxing scalp massage -- I was plunged back into the loud salon space for my services. I was here for just a haircut, so things were pretty straightforward -- I told my stylist, Ali, what kind of cut I was looking for, and she pulled out her cutting cards to find the description of it. After reviewing them with me, she called her instructor, Ashley, over to get the go-ahead to begin working on my hair. Throughout the cut, she received guidance from Ashley -- verbal instructions, encouragement, and even demonstrations of the cuts to make. My stylist never expressed any nervousness or hesitation, even though she'd only been cutting hair for a couple of months or so. (The stylist I worked with the first time didn't ask for much help from her instructor; students on the floor are not all at the same point in the program.)
While she was working on my hair, I found myself transfixed by a training video that ran on one of the many high-def televisions hung around the salon. Six Paul Mitchell rock star stylists did photo shoot makeovers, taking each model from plain to Paul Mitchell, explaining every tool, color, and style in explicit detail (I'm guessing, since I couldn't hear the dialogue over the music and I can't read lips). It was like watching an episode of "What Not to Wear" -- I couldn't wait to see the reveal at the end. I was able to watch the entire video almost twice -- I was in the chair for quite a while.
My haircut took a total of two-and-a-half hours, significantly longer than the twenty minutes my regular stylist typically takes. But because I knew ahead of time that this would happen, I didn't get anxious about it. I found that as long as I reminded myself that I was in an educational setting, and that my stylist was a student, I was much more relaxed about the whole thing. I just enjoyed myself, and let myself sink into the whole experience.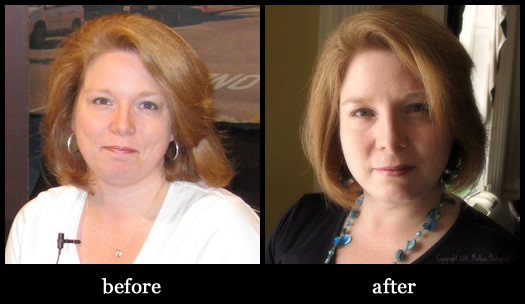 After finishing the cut, Ali applied the recommended products (the entire Paul Mitchell line is available for sale there), and dried and styled my hair. The cut was absolutely a success -- I was (and still am) thrilled with the final result. Exactly what I asked for.
And my inner cheapskate was overjoyed at the value -- I paid $12 for my haircut (my stylist was a Phase I student; Phase II haircuts are $15), plus a $5 tip. All told, less than half what I usually pay for a haircut.
I don't color my hair so I can't speak about the color services, but I can only imagine that they take even longer and require more instructor guidance.
On my first visit, back in July, I also received a pedicure. Nothing extraordinary there: a very basic service, done competently. They don't have special spa pedicure chairs, and I think they only offer manis and pedis because it's expected of them. The focus at Paul Mitchell the School is hair.
My advice to anyone thinking about getting salon services from Paul Mitchell the School: give it a shot, but make sure you block out enough time in your schedule so you are able to enjoy the experience. And for God's sake make sure you get that scalp massage.
Wendy Voelker muses about all things yummy at Wendalicious.
Earlier on AOA:
+ Mirror Images: spa and salon on a budget
+ Barber poll
Find It
Paul Mitchell the School - Schenectady
411 State Street
Schenectady, NY 12305
(518) 370-4590
The school is next to CVS on State Street.
Hi there. Comments have been closed for this item. Still have something to say? Contact us.