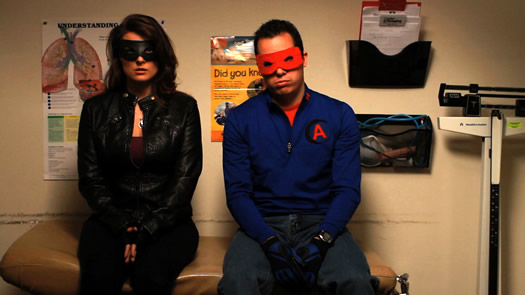 By Emily Rippe
Jeff Burns is a pretty cool guy, for a geek.
Born and raised in the Capital Region, Burns is fairly certain he was born a geek -- though he doesn't recall the exact details -- and proudly embraces the title. Among the indicators:
1. His favorite movies are the original three Star Wars flicks.
2. He has a penchant for Shakespeare, medieval history and musicals (getting geekier...)
3. He just wrapped up the filming portion of his new live action web-series Super Knocked Up.
That last bit screams geek, but since he spends his free time surrounded by gorgeous actresses portraying super-villains, he must be doing something right.
Super Knocked Up is the story of Jessica James a.k.a. Darkstar (played by Natalie Bain), a powerful super-villain who just got knocked up by womanizing superhero Michael Masters/Captain Amazing (portrayed by Mark Pezzula). The cast and crew of the web series boast an impressive resume, especially Bain who's appeared on TV shows such as American Dreams, The Office, The Unite, Privileged and Dirty Sexy Money.

Shot in various locations across the Capital Region -- including the Saratoga Arts Center, the alley next to Aquilonia Comics in Troy, and Jillian's in Albany -- SKU is Burns' dream film project. While it has all the elements of a blockbuster superhero action film, including fight scenes and super powers, SKU is ultimately about two people who think they can't stand each other, thrown into the awkward situation of having to raise a baby together. They just happen to be a super-villain and superhero.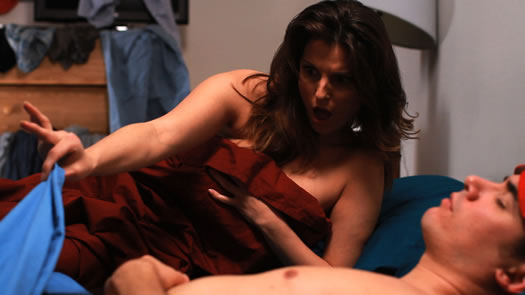 The idea came to Burns during a six-month screenwriting course he took through ScreenwritingU, in which the final project was to write a feature-length screenplay. Burns immediately turned to one of his favorite subjects: superheroes.
"One night while I was doing the assignment for the course, going through the exercises to brainstorm unique concepts, I got the idea: What would happen if a super-villain got pregnant by a superhero? And two thoughts immediately went through my mind: 1. Oh my God, that's a freaking awesome idea. 2. I can't believe no one's done that before."
Taking full control of this creative endeavor, Burns decided to try his own hand at directing the feature screenplay, turning it into a DIY web-series. Who needs a big budget when you have the talent and support of an entire community? Not to mention passion. "When you get down to it," Burns said, "I love telling stories."
None of it would have been possible without the generosity of local business owners and cast members willing to donate their space and time for free. Burns says this wasn't such an impossible mission. "I think I'm able to get actors to travel all the way up here [from NYC, Poughkeepsie, and even as far as LA] to be part of the series because they trust me, and are totally behind what we're trying to do with the series. They know I'm going to treat them with respect, run a really organized and fun shoot, and work my ass off to make this series a success."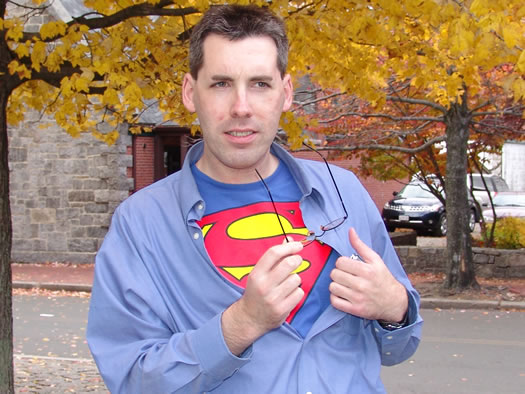 Burns' day is job is as SAT/ACT prep tutor and dyslexia consultant. He says he'd be thrilled if a Hollywood studio or television network decided to someday pick up the script, but more realistically, he hopes to make money through a substantial amount of online views (similar to Felicia Day's popular web series The Guild), and the accompanying comic book, which will be available in print and downloadable on the series site.
The local screenwriter/director says he enjoys developing strong female leads, particularly the super-tough female warrior, and the younger, quirky geek who needs a bit more confidence. Always drawn to the women protagonists in movies, TV, and video games, Burns says he's particularly excited about the character Jessica James. "One thing I really like about having a female lead character is that she can be tough and kick-ass, but I can also show the vulnerable and caring side of her," Burns says. "I think there's a dearth of good female characters, and I'd like to see more cool roles for actresses. Hopefully, Super Knocked Up helps with that."
Filming for season one of Super Knocked Up concluded at the beginning of October, and the first episode will debut online as soon as Burns gets through the final editing.
There's more info on episodes and the development of the SKU comic book (illustrated by Indonesian artist Donny Gandakusuma) at the series site. You can also follow SKU on Facebook and Twitter.
Earlier on AOA: Back in 2009, Jess wrote about The Everything Film show podcast, which is co-hosted by Jeff Burns.
images courtesy of Jeff Burns
Hi there. Comments have been closed for this item. Still have something to say? Contact us.