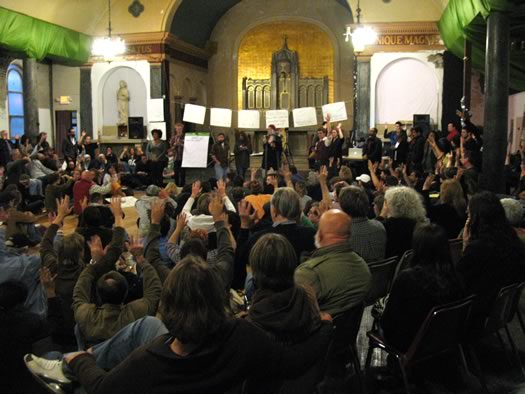 Update: Here are some the people were at the first day of Occupy Albany -- and why they were there.
____
Occupy Albany, the local incarnation of the Occupy movement, has decided to start its occupation this Friday (October 21) at noon in Lafayette/Academy Park (the park across Washington Ave from the Capitol).
The decision came via the group's "general assembly" Sunday night at the Grand Street Community Arts. Curious about the movement, and interested to hear about how it might be manifesting locally, we stopped by the meeting. It was at times remarkable -- and frustrating.
Here are a few observations and thoughts...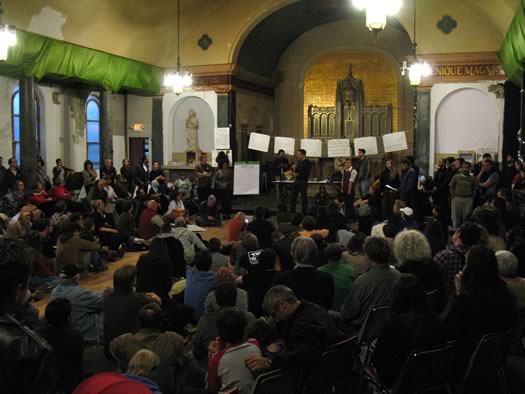 + There were a lot of people at the meeting. We did a rough count and it's probably fair to say the crowd was about 250 people. There were a lot of the characters you might expect -- young people, middle-aged people who looked like this wouldn't be their first protest -- but there were also people you might not necessarily expect. One of the speakers identified himself as a Tea Party member. The guy standing next to us looked like a dad who had come to pick up his kid from a dance.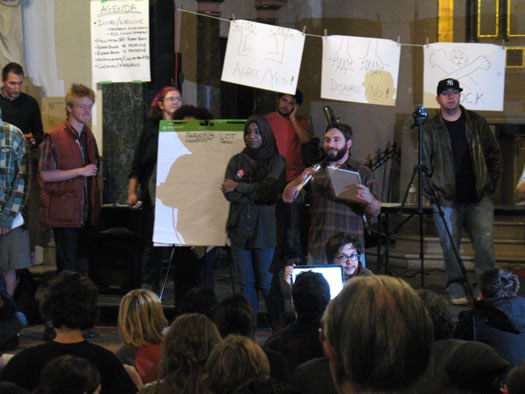 The meeting's two facilitators.
+ The organization (if that's the word) has a strong emphasis on being inclusive and consensus-minded. The people leading the meeting were "facilitators." Working groups weren't approved so much as "recognized." And the representatives of working groups emphasized that they weren't necessarily making decisions so much as organizing options. (Some have argued this structure is mirroring non-hierachical structures online.)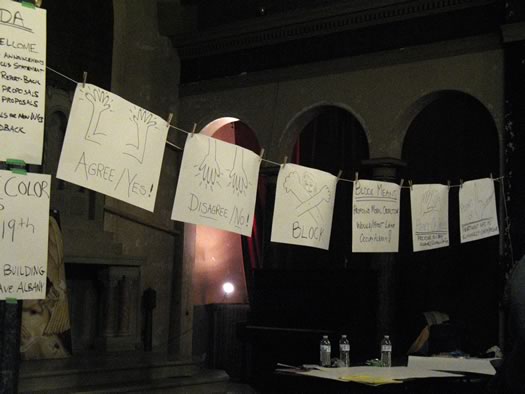 + In an attempt to run the meeting through consensus, there were a series of hand signals people could use to to express support, disagreement, call a point of order, add information, or signal extreme opposition.
+ This approach made the meeting very participatory -- but also slow, and at times, tedious. The conversation often got stuck not on what to do, but rather how to talk about or vote about what to do. It may partly explain why, more than a month after the beginning of Occupy Wall Street, and after multiple local meetings, there has yet to be an occupation in Albany. The process moves slowly.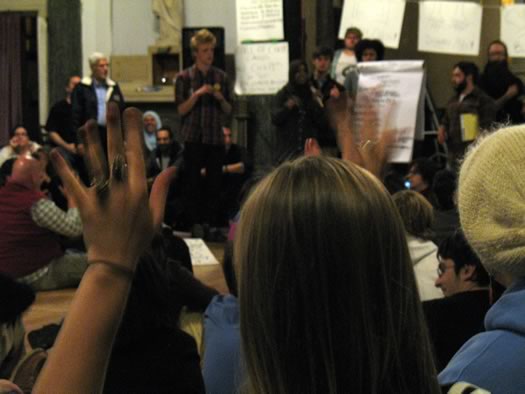 A sign of support.
+ But consensus did emerge. A straw poll about where to hold the occupation showed strong support for Lafayette Park (with West Capitol Park as a second option). And when the question of which day to start came up, few days this week got much support in a straw poll -- until Friday was proposed and hands all over the crowd shot up.
+ If you're uncertain about what exactly the Occupy movement stands for -- it seemed that so too were many people at the meeting. When a person from the PR working group proposed that the group approve speaking in Occupy Wall Street's voice and supporting its statements, a person in the crowd asked a question that was basically: "What is Occupy Wall Street's message?"
+ And that highlights one of the side effects of the inclusive, consensus-minded approach: if you're trying to get as many people as possible on board, it's going to be hard to narrow the focus. At the beginning of the meeting, one of the facilitators stated that the goal of the discussion was to take action, and turn the group into a movement. With leaders that don't want to be leaders, and an emphasis on letting everyone be heard, it seems unlikely the path toward that goal will be a straight one -- or short. And at some point you can't be everything to everyone.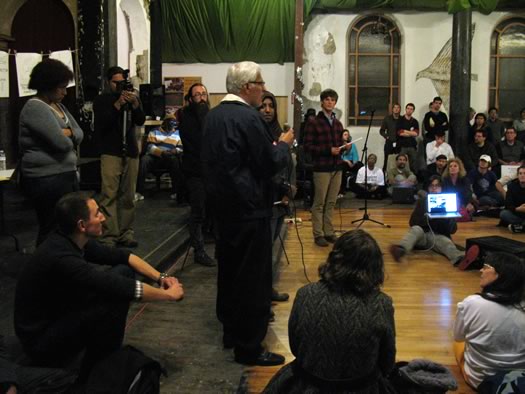 + That said, you can see the appeal of this approach to people involved. If you've become disaffected because you feel that unaccountable economic actors have changed the rules of the game -- and government leaders are unresponsive to your concerns -- a group that emphasizes the influence of each individual is going to be very attractive.
+ There's been a lot of talk about the Occupy movement finding focus, pointing to clear goals, and making demands. There's probably something to that -- rarely in life do we get things that we don't ask for. But seeing the general assembly in action made us think that the best way to read this situation is not necessarily by looking at specifics -- but rather zooming out and taking the group as a whole. And in this case, that means recognizing that a whole bunch of people are unsatisfied enough with the current situation to sit on the floor for three hours on a Sunday night for a meeting that was at times tedious and frustrating. There's the signal in all this.
That alone won't change anything. But it could get things started.
A few more photos from the meeting: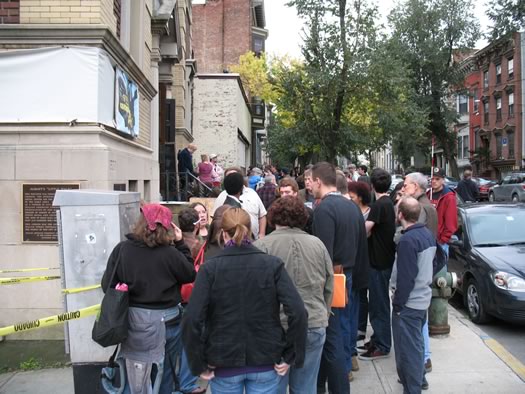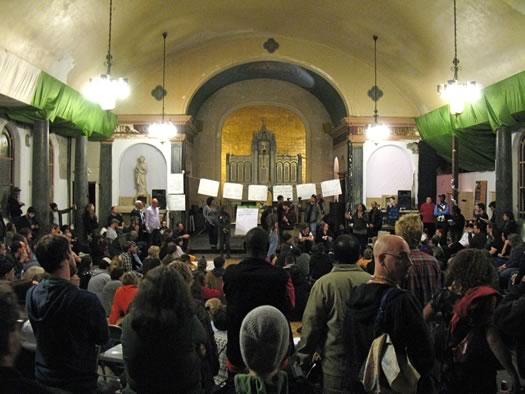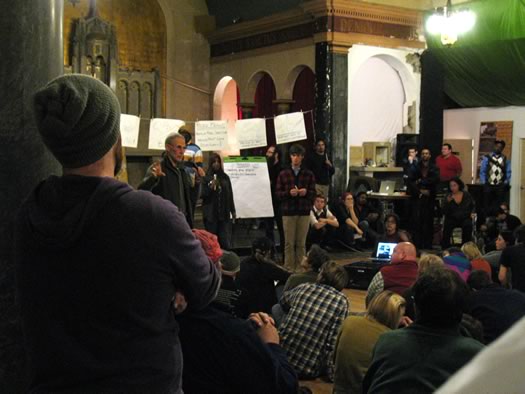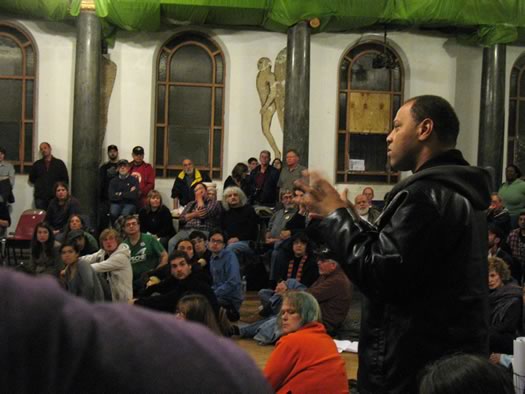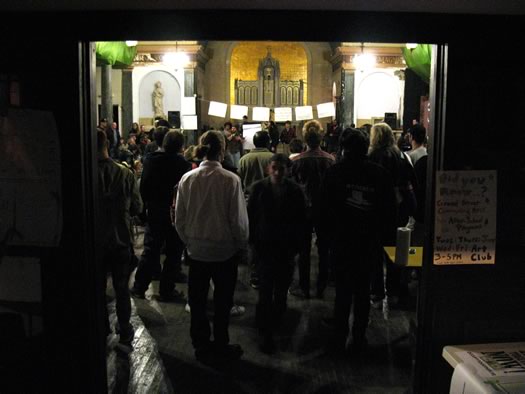 Hi there. Comments have been closed for this item. Still have something to say? Contact us.