The Occupy Albany protest began Friday afternoon. Protestors gathered with signs at Lafayette Park, right across from the state Capitol.
So, who's down there? And what are they hoping they'll achieve?
Here are some of the faces of Occupy Albany and why they were there...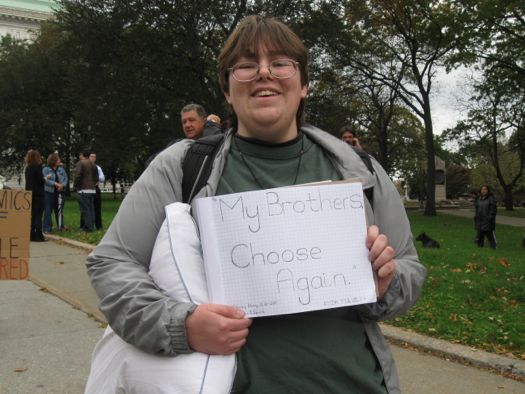 Who?
Erica, a math student from Schenectady County Community College.
Why Occupy Albany?
We need to make another choice. We need to make another system that works for everybody and I want to be a part of the process. I would like to see myself when I graduate from college not having to live from hand to mouth as I've seen my friends do -- not having to live from paycheck to paycheck.
I just want to be here, be supportive and be part of this and see where it takes it.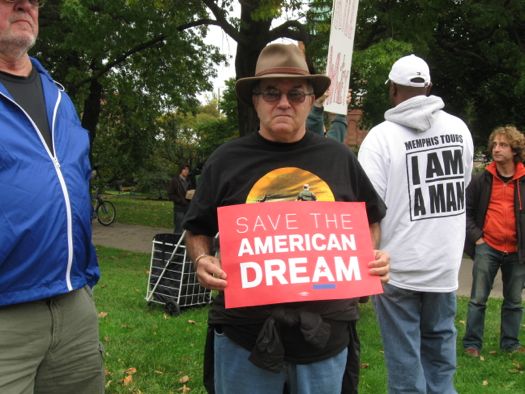 Who?
Joe from Stillwater. Vietnam vet, retired from Verizon.
Why Occupy Albany?
Part of the reason I'm here is that I'm against the war in Afghanistan and the war that went on in Iraq.
I want to open up the consciousness of Americans -- the ordinary people driving by and beeping their horns -- they're the ones you see in Price Chopper, they're not in the corporate boardrooms. I think it's possible that this could make things happen.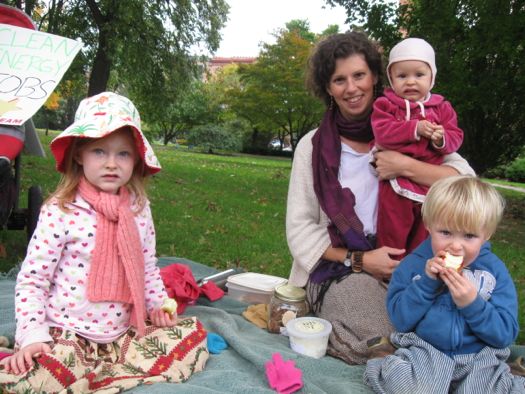 Who?
Megan, homeschooling mom from Clarksville. Green party.
Why Occupy Albany?
I very much care about the voice of the people being heard. That voice of money and power and greed can no longer be the dominant voice. I just hope to stand in solidarity with the people who have been working hard for this movement. I have three small children and I'm homeschooling and I'd like them to see that we can have a voice in our country and we have the power to speak.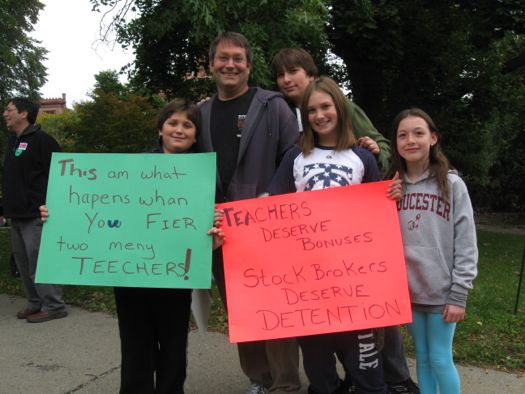 Who?
Ron, director of a not-for-profit. Independent.
Why Occupy Albany?
We're part of the 99% and we're lending our voice and support to the movement.
I think everybody is here to raise consciousness and get people to pay attention to what's going on in our society rather than continue down the same road. I'm just an independent that wants to see some change and is tired of the top 1% controlling much of the wealth in our society.
I think there's multiple messages coming out of Occupy Wall Street and the Occupy movement, but I also think we shouldn't try to define a movement. I don't think here has to be one specific message or one specific ask. That may frustrate some people but the reality is there's many things that need to be addressed and that's what people are frustrated about and that's what people are organizing around. It's no easy fix, but I think that what would make people happy is the recognition of what's going on and that things need to change and having our elected officials stand up and take notice. Governor Cuomo isn't paying attention to 72% of people who support the millionaires tax, and I think he should.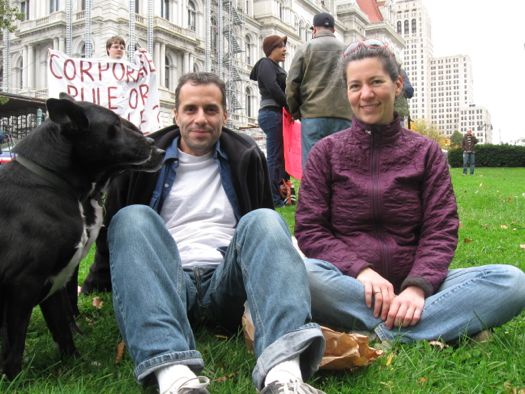 Who?
Tom & Linda
Tom: Owner of Sunspot Cafe in Albany.
Why Occupy Albany?
I started protesting on Wall Street and it got to critical mass and we're looking to get Albany to critical mass as well.
This movement happens and suddenly people are aware. There are so many things that are wrong but we can finally talk about it and more people are just aware. At the shop for example I can finally talk with people about not using their credit card and why they shouldn't -- why they should support local business instead of the big corporations.
I do want the revolution and really nothing less than it. It's very difficult to know what that looks like but there are so many things that need to change -- it looks like something radically different from what we see today.
Linda: Schenectady resident.
Why Occupy Albany?
What's important to me is that people are informed and that we don't follow blindly. So I think it's good to make people think about what small steps can I make to change this. How am I participating in a system... not everyone is really aware of maybe part of how we got here. I'm going to practice barely using my credit card for a few months. I need to think... "where is my money going?"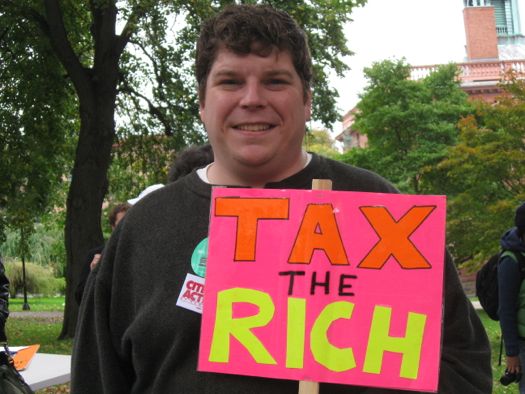 Who?
Chet from Albany. Alliance for Quality Education.
Why Occupy Albany?
This is a movement that is akin to the civil rights movement. Their aim wasn't to get the front seat of the bus, their aim was to get equal. And I think that's what we're out here for, we want to have the same power as the corporate people in the world.
I'm out here personally for myself not for work because I'm part of the 99%. I'm trying to scrape by trying to pay my bills, can't get by on what I'm being paid.
I'm looking for a fundamental change in the way the government works. I think we're now looking at a government that responds better to the corporate world, to the top 1% of people who line their pockets with money. And the rest of us can't do that. We have a lot of families that need to pay their heat and their rent. We are the 99%. We should have a lot more say in our government.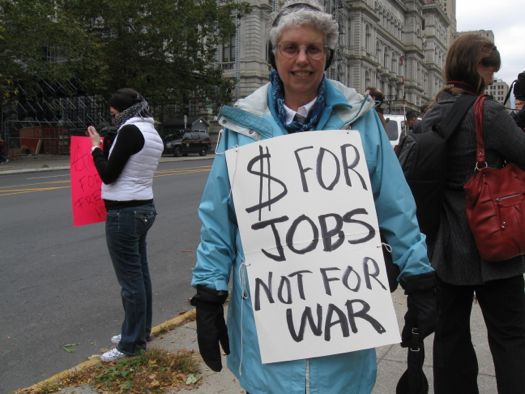 Who?
Maude Easter, Albany. Activist with Women Against War.
Why Occupy Albany?
Our economy has become distorted. Global warming is a bigger threat to us than anything happening in Afghanistan. I love the idea that people are seeing the connections of some of these issues ... that people are seeing that if the wealthy are not taxed in proportion to the privelidge they enjoy in society from their wealth then it limits programs and opportunites for all of us. I think this whole movement has drawn people together who are suffering from the disparity of the very few at the top and the 99%. Today is an encouraging time for everyone.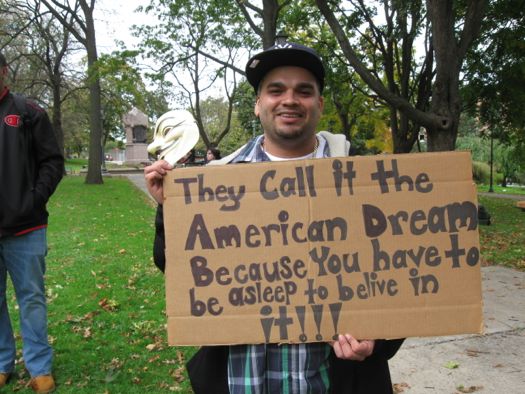 Who?
Justo Berrenguer, Troy. Barber shop owner.
Why Occupy Albany?
I'm sick and tired of being sick and tired. I'm a business owner, I'm not broke, I'm not poor. I work hard for my money but I have a daughter and I have to do this for her because I remember growing up I had so many opportunities and I see every year those opportunities get smaller and smaller for these young kids, and eventually my daughter won't have opportunities. I'd like for the banks to stop chokin' us so much, you know? These bankers have been piling up money -- they should be building businesses and creating jobs.
Who?
Jasmine from Albany. Food service. Democrat.
Why Occupy Albany?
I'm one of the 99%. I work two jobs still trying to pay off student loans and health bills because I can't afford health insurance. The rich need to start paying their fair share to help out. The 99% can't support America anymore with the little bit of money that we have. My aunt's job was sent overseas. Governor Cuomo needs to pay attention 'cause we're the ones that make his coffee. we're the ones that clean all of this up, we're the ones that make the food -- we make Albany better and we need help. We need jobs here . We need to make sure teachers aren't taken out of classrooms and first responders are coming to save our communities. Each town does their own and eventually it will go to Washington and make them notice. I have patience. I'm a Mets fan, I know what patience is.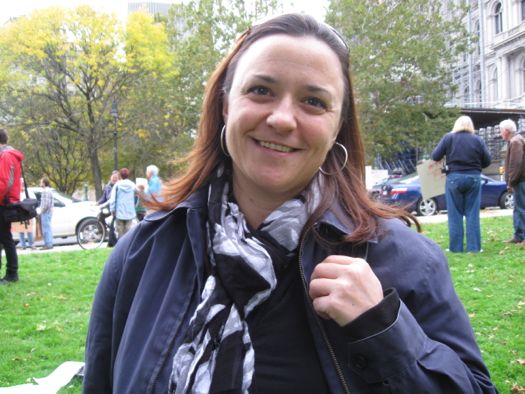 Who?
Nadine, Albany. Social worker.
Why Occupy Albany?
I work with foster children so I see firsthand the results of poverty and inequality. And I see kids that don't really have a forseeable future. I have friends that work in the field with me that have thousands and thousands of dollars in debt -- social workers -- that don't get paid well and they'll be in debt the rest of their lives. Racism and inequality are some of my reasons. It's a vicious cycle -- you don't know if the racism is causing the inequality or the inequality is causing the racism. And just corporations that dominate and rule everything that we do. Our politicians are no longer serving us, they're serving the corporations. There are so many different reasons.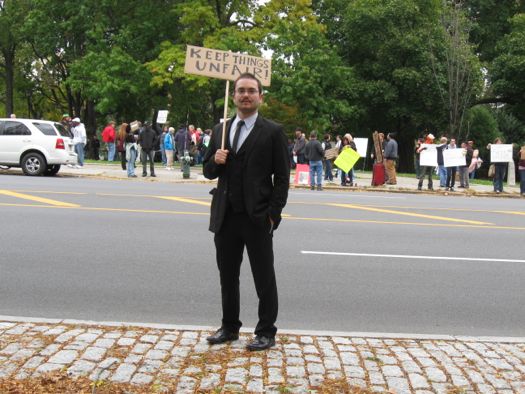 Who?
John, UAlbany student and entrepreneur.
Why Occupy Albany?
The way the system is structured is indefensible from an economic or moral or any standard, really. My take on Occupy Wall Street or Occupy Albany or any of these is to draw attention to the fact that things aren't working. If I say I'm anti-war or against fracking, that might alienate anyone who doesn't agree with me. So I think the power of this movement, or whatever you want to call it, is that it embraces everything. We're not trying to get anything accomplished, we're not making demands of anyone to legitimize that entity. The point is to call attention to the fact that things need to change.
____
Elsewhere: Here's a good photoset from day 1 by Timothy Raab.
Later/earlier on AOA:
+ Photos from Day 1 of the protest
+ Toward occupying Albany, via consensus
Hi there. Comments have been closed for this item. Still have something to say? Contact us.