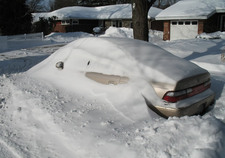 Yep, there's snow in the forecast for Thursday. From the National Weather Service:
Thursday Night: Rain and snow showers, becoming all snow after 11pm. Low around 29. North wind between 6 and 10 mph. Chance of precipitation is 80%. New precipitation amounts between a quarter and half of an inch possible.
Thursday sounds generally unpleasant. Highs in the 40s. Rain. Then snow. So it goes.
Anyway, the question came up the other day about what's the average day for the snow of the season around here. Here's the first, last, most, and least...
Dates from the National Weather Service, since 1885. Averages for 1885-2000.
Average first snow: October 31
Average last snow: April 20
Earliest first snow: October 1 (1895, 1946)
That 1946 snow didn't make the front page of the Schenectady Gazette, though it did make the front of the local section. The Capital Region only got about a 1/4 inch -- but parts of the North Country got 13 inches.
Latest first snow: November 27 (1889)
Latest last snow: May 28 (1951)
Earliest last snow: March 21 (1987)
Snowiest winter: 1970-71 (112.5 inches) (list)
Least snowy winter: 1912-13 (13.5 inches) (list)
Most snow in a single day: 30.4 inches on March 12, 1888. (list)
Most snow in a storm: 46.7 inches on March 11-14, 1888.
Both those records are part of the The Great Blizzard of 1888. It was also known as the Great White Hurricane. (Apparently no one had invented the term "snowicane" by that point.) Odd local bonus fact: the blizzard prompted the creation of the Christman Bird and Wildlife Sanctuary in Delanson.
____
Last winter's first snow: November 8
Last winter's last snow: April 21
Last winter's snowfall total: 87.2 (#14 in the rankings)

Earlier on AOA: The Capital Region's snowiest winters

Hi there. Comments have been closed for this item. Still have something to say? Contact us.