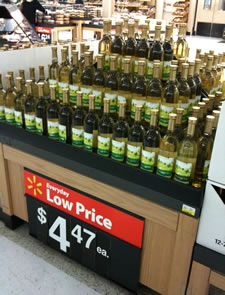 After stumbling across what looked like a wine display in the World's Largest Walmart, Emily emailed with what we can only imagine was some distress:
Walmart wine? Did some law get passed that I missed?
The short answer: no.
The longer answer is... uh... tacky.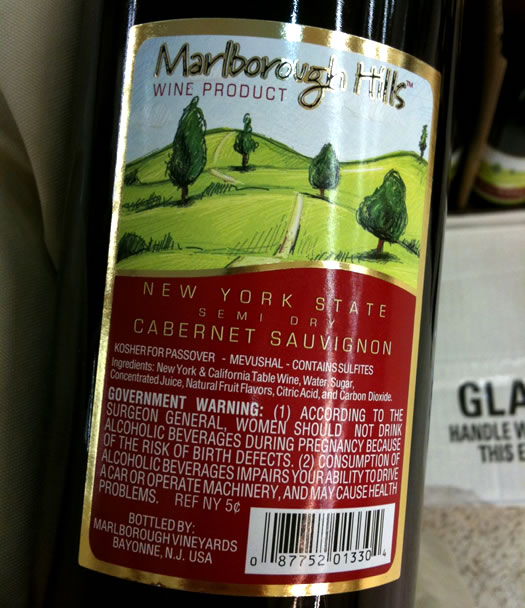 As you well know, New York State prohibits the sale of wine in supermarkets. There have been a few pushes during the last few years to change the law, but they haven't gotten very far. And it doesn't appear to be a priority for the Cuomo admin (he seems like more of beer drinker, anyway). Yes, this law is rather absurd. But it is the law. [State of Politics]
OK, then what the hell is Walmart selling?
The "Marlborough Hills Chardonnay" on sale there is a "wine product" -- and it's pretty much as bad as it sounds. Here's how the NYS Liquor Authority defines the category:
[A] "wine product" is defined as a beverage containing wine with added juice, flavoring, water, citric acid, sugar and carbon dioxide, not containing more than six percent alcohol by volume (typically referred to as "wine coolers").
So, a "wine product" is sort of like the "cheese food" of the alcohol world. And under New York State law, this concoction is allowed to be sold in supermarkets. (There are a bunch of products registered as "wine products" with the SLA.)
Bad, right? CNN's Eatocracy, which called wine products "indefensible," described the version it tried as "cheap table wine diluted with water, sugar, juice concentrate and desperation."
Another tip-off this stuff is not what it first appears to be: the stuff at Walmart is "Bottled by Marlborough Vineyards Bayonne, N.J. USA." What? You didn't know Bayonne is renowned for its vineyards?
The whole situation is made worse by the fact that this stuff is allowed to be sold with names most people would only associate with actual wine. In fact, the Washington Ave Ext Walmart currently has "Chardonnay," "Cabernet Sauvignon," and "Rose." There's a campaign to make it illegal for wine product to be sold with a wine variety designation.
In other states, Walmart does sell (actual) wine. It's even experimented with an automated, breathalyzer-equipped wine kiosk that it could use to sell wine in states where it's not allowed. [Engadget]
Earlier on AOA: The biggest Wal-Mart EVER... is in Albany?
Hi there. Comments have been closed for this item. Still have something to say? Contact us.