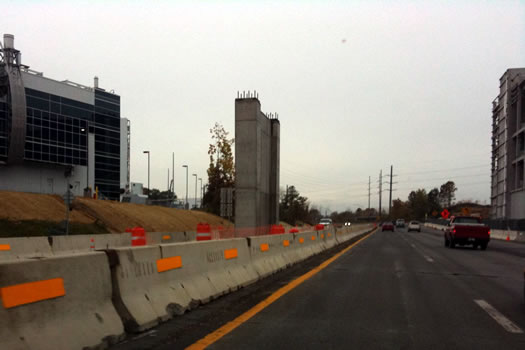 Update: Albany police say Washington Ave Ext will closed from 10 pm Friday (November 4) to 6 am Monday (November 7).
Washington Ave Extension will be closed from Fuller Road to the Crossgates Mall entrance November 5-6 (a Saturday and Sunday), according to an electronic sign posted along the road (map). The mall entrance off Washington Ave Ext will remain open those days.
We have heard, unofficially, that the road will be closed for the construction of the bridge connecting the new Albany NanoTech building with the existing building to the south of the road. There's already what looks like a support standing in the road's median, and there are pre-assembled structures for what looks like a bridge sitting behind Albany NanoTech. (We have a call in to confirm this. If we hear back, we'll update.)
It looks like the new NanoTech building is coming along quickly. Its structure now stands tall against Washington, and forms a sort of short corridor with the other College of Nanoscale Science and Engineering building. Washington Ave will eventually be moved north of the new building as part of the Washington/Fuller re-alignment, opening more space for Albany NanoTech.
The new building will house facilities that are part of the $4.4 billion chip-manufacturing research project the state recently announced. It will also reportedly provide space for a solar energy research consortium.
Earlier on AOA: What's up at Washington and Fuller?
Hi there. Comments have been closed for this item. Still have something to say? Contact us.