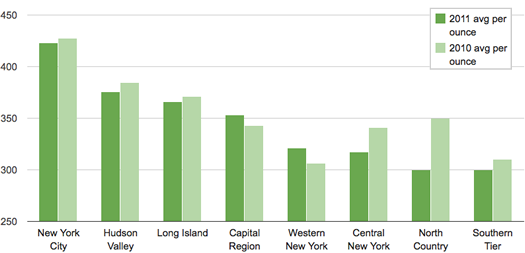 About a year ago we pulled data on marijuana prices in New York State from a site called Price of Weed. Yep, it's pretty much what it sounds like -- it's a crowdsourced database of pot prices.
We came across some research recently on these prices, so we figured it was a good time to light this topic back up.
Let's roll the numbers. Here are pot prices from around New York State, broken out by region...
A shaker of salt: Caveats? You better believe it. We pulled the data listed for New York State for the past three months (August, September, November). We kicked out a few reports at the high and low ends that appeared to be obvious outliers -- the creators of the site do something similar for their calculations (they use standard deviation to identify outliers, which is better). We also didn't break the numbers down by quality (the site creators do this, also better). We prorated the prices, so this probably skews things a bit (do you save when you buy in bulk?). The sample sizes in some cases are very small. We coded the regions ourselves, not by some established definition. Also, all this is based on anonymous crowdsourced data. So who knows if it's actually correct. Also, marijuana is illegal.
We also broke out Capital Region prices by quality:
(You know, most people can't really tell good wine from just OK wine. Does the same go for pot?)
And here are the statewide averages Price of Weed was reporting this week:
High Quality: $425.22 (1315 reports)
Medium Quality: $307.93 (773 reports)
Low Quality: $174.82 (127 reports)
As you can see, some of the sample sizes for the regions are really small. So it's probably not wise to draw any sort of strong conclusion. That said, the price order for regions more or less stayed the same from last year, except for some shuffling toward the bottom.
We were prompted come back to all this after seeing the work of the Floating Sheep geography group (yep, really the name, and yep, it's really great). They analyzed Price of Weed data and created a map of prices across the nation: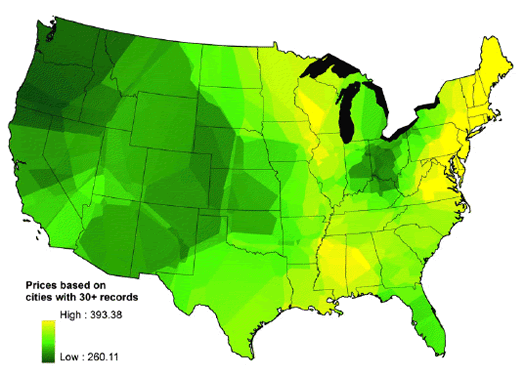 One of their conclusions: the price of pot is linked to how far away it's grown, with prices being lower the closer you are to the source. Floating Sheep also "zoomed in" on Northeast prices -- and our quick survey above sort of matches up with their results.
The Floating Sheep work led Richard Florida and a colleague to look for factors that correlate with the price of pot. He writes over at The Atlantic: Cities:
Of the roughly two dozen variables in our analysis, weed prices are correlated with just three. Many have noted that minority populations tend to pay more for certain goods, from groceries to mortgages and auto loans. Sure enough, this holds for weed: the price of marijuana is higher in states with larger shares of African-Americans (the correlation is a sizable .5). Weed prices are negatively affected by two other variables: illegal drug use (-.5) and the share of voters who identify as Republicans (-.3).
Whatever factors drive price, the numbers give you a sense of how much money is involved in the marijuana market. And, as we mentioned last year, it speaks to why it's so hard to shut the market down. When the product sells for $350 an ounce, there's always going to be somebody willing to sell it.
Earlier on AOA: In 2009, we did some hazy math and figured the state could generate about $230 million per year by taxing pot.
map: Floating Sheep, "Data Shadows of an Underground Economy"
Hi there. Comments have been closed for this item. Still have something to say? Contact us.