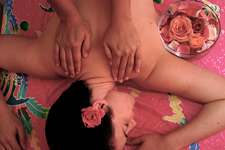 Mindy asked via Twitter over the weekend:
Where's the best place for a first-timer to get a massage (preferably not too far/hard to find from Clifton Park)?
We re-tweeted her question and got a handful of responses -- they're after the jump.
And, of course, if you have a suggestion for Mindy, please share!
@GMCannistraro: @Complexions_Spa is my fave! Heated bed, very comfy, free use of sauna & steam room...so great. tinyurl.com/7vrm4bq
@spiffstress: I like White Sands in Troy. In CP I have been to a day spa on Rt 146 @ Rt 9, across the street from Lowes.
@nicorreia: Kimberly's - sooo nice.
@jengonroff: Sanctuary Spa in Saratoga is the best I've found (but more $ too), hated Kimberly's, Medbury Spa in Ballston Spa OK.
Earlier and elsewhere:
+ Kristi asked about finding a massage therapist over on her site last year
+ Akum spent some relaxing time at the Roosevelt Baths in Saratoga earlier this year. Katelyn got a massage there and said it was "blissful."
Totally non-local: We found this photo on Flickr of someone getting a massage from a baby elephant. Someone obviously needs to bring that to the Capital Region.
photo: Flickr user thomaswanhoff
Hi there. Comments have been closed for this item. Still have something to say? Contact us.