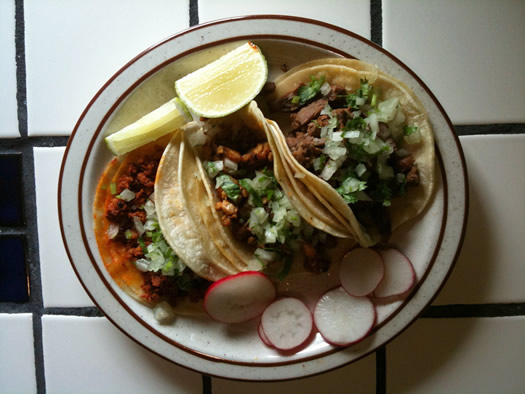 By Daniel B.
Arriving at Oakland International Airport, the first thing I used to do was head to one of the taco trucks near International Boulevard. There are a lot of things I miss about living in Northern California, and the humble street taco tops the list.
Up until recently it's been unrealistic to expect a decent taco in the Capital Region. I know some people like Bros, and when the only choices were Bombers and Bros, Bros won handily. But the texture of their soft corn tortilla is just off, and you can't have a good taco when the tortilla is wrong.
After all, a taco is merely two small corn tortillas, with a little bit of well-seasoned meat, topped with onions and cilantro. Salsa verde or salsa rojo can be squeezed on top. On the side should be a wedge of lime and a few slices of radish, but ideally there will be pickled carrots and jalapeno peppers as well. From a taco truck out West, this could set you back a whopping $1.50.
The tacos at La Mexicana Grocery in Schenectady will cost you an extra fifty cents, but you get to eat them inside, on a real plate, with table service, all while watching Mexican TV or listening the jukebox filled with Mexican tunes.
There are six different tacos to choose from, including the one that stole my heart.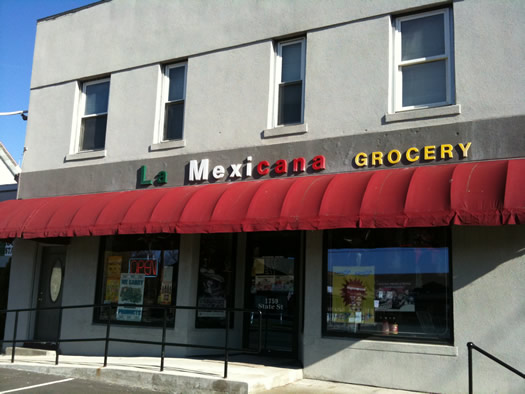 It's only been a few months since La Mexicana Grocery expanded into the space next door to provide a place to sit down and eat their food. You could enter through the restaurant door, but then you would miss all the sights and smells of the market. Plus you wouldn't pass the window to the kitchen where they are making the food, or see the simmering pot of menudo.
You might even notice the two large vessels that contain their house-made beverages. Last time I was there it was a pineapple agua fresca and a classic horchata. Their horchata ($1.50) was sweet, light and clean with a dusting of sweet spices on the top. It's a great way to cut the fat and heat of a taco snack.
Speaking of tacos, the menu board lists chorizo, pollo, carnitas, al pastor, lengua, asada. For those without a working knowledge of Spanish food, that roughly translates to sausage, chicken, pork, spiced pork, tongue and grilled beef. I still have yet to try the lengua, but try it I shall. Here's how they stack up, from the bottom to the top.
#5 Asada: I like mine beefy, juicy, charred and free of gristle. This didn't deliver.
#4 Al Pastor: If I hadn't had good Al Pastor in the past year, this might have been fine, but it lacked a certain depth of flavor I associate with the best versions of the filling.
#3 Pollo: This was good. It was well seasoned and tender.
#2 Chorizo: I love fatty sausage, and this tender, spiced ground meat was a highlight.
#1 Carnitas: A squeeze of lime, on rich, fatty tender chunks of pork shoulder, sandwiched between warm corn tortillas, and splashed with a zesty tomatillo-based salsa verde is what tacos are all about. The raw onions bring a bit of texture and cilantro brightens it up.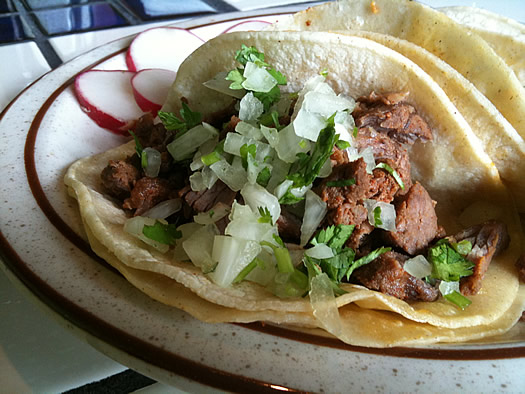 Ideally, I'd prefer my carnitas a bit crustier and fried in lard*, but never did I expect to find a satisfying carnitas taco in the area. And I've kissed a lot of frogs. I'm even willing to overlook the absence of pickled carrots and peppers. Now I'm looking forward to even more visits so I can try everything on their menu. Here's my short list.
+ Tamales de Elote are a plain corn tamale and a traditional breakfast food.
+ Tlayuda have been described as a Mexican pizza, and I'm more curious than anything.
+ Tortas are Mexican sandwiches: imagine a burrito without rice on a roll
+ Tacos Dorados are tortillas stuffed with meat and then deep-fried for a crispy exterior.
+ Tres Leches takes cake and soaks it in sweetened condensed milk.
There are no two ways about it, the Capital Region actually has a bona fide taqueria. I have no idea where our Mexican population is coming from, or what is bringing them up to our area, but I couldn't be more excited.
Now when I get off the plane in Oakland, I'm going to head straight for dim sum.
(* Actually I have no direct knowledge of the cooking process used at La Mexicana, but the texture and flavor would indicate that these delicate morsels of meat were not simmered in their own fat.)
Daniel B. is the proprietor of the Fussy Little Blog.
Earlier on AOA:
+ Where to find horchata
+ The Bros pork taco
Find It
La Mexicana Grocery
1759 State Street
Schenectady, NY 12304
Hi there. Comments have been closed for this item. Still have something to say? Contact us.