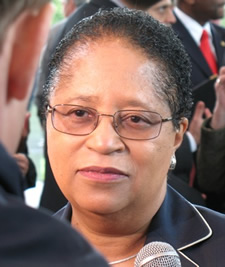 RPI president Shirley Ann Jackson's salary is the 7th highest in the nation among private college presidents, according to the Chronicle of Higher Education's annual salary rankings. The Chronicle reports Jackson's 2009 total compensation was $1,771,877, up 7 percent from the year before.
The average professor at RPI gets almost $154k/year in compensation, according to the Chronicle -- giving RPI an 11.5/1 president to professor pay ratio. (A few quick comparisons: the ratio is 4.7/1 at MIT, and 3.7/1 at Cal Tech.)
Said RPI's VP of strategic communications and external relations to the TU about Jackson's salary: "[it is] a reflection of her extraordinary accomplishments, and of the desire of the Board of Trustees to have her continue the comprehensive transformation at Rensselaer."
Jackson topped the Chronicle's chart for the 2007-2008 academic year with reported total compensation of $1,598,247. In March 2009, the school announced she was giving 5 percent of her salary to a student scholarship fund.
There have been a lot of impressive developments at RPI during Jackson's tenure. But there also has been what seems like a not insignificant amount of discontent. The most recent sign was a student senate resolution calling for Jackson's removal if "significant changes" aren't made at the school. And a group calling itself the "Alliance for Responsible Governance" has also been pushing for change. [RPI] [Reddit RPI]
The Chronicle also lists compensation for other local private colleges. Those are after the jump.
Figures for 2009. All from this Chronicle of Higher Education graph, which is definitely worth a look.
Union College: Stephen Ainley - $471,538 (3.3/1 president to professor ratio)
Skidmore College: Philip Glotzbach - $468,056 (3.4/1 president to professor)
College of St. Rose: Mark Sullivan - $324,615 (3.1/1 president to professor)
Siena College: Rev. Kevin Mullen - $127,600 (ratio not listed)
Earlier on AOA: Capital Region colleges still expensive, but less so (relatively)
Hi there. Comments have been closed for this item. Still have something to say? Contact us.