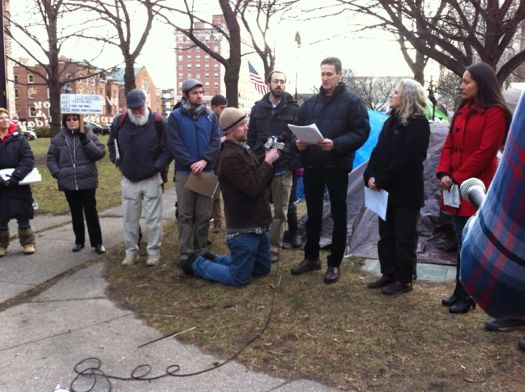 After two months camped out in Albany's Academy Park -- and two days before they face potential eviction by the city -- Occupy Albany protestors made their first public demand today.
At a press conference amid the tents they announced they've decided to focus on separating politics from money. In a prepared statement occupiers argued "the voice of the people is drowned out by the corrupting influence that concentrated economic power exerts on the government."
How would they go about separating the two? And what would it look like? Well, they're still working that part out, but they've mentioned campaign finance reform, overturning corporate personhood, and changing the incentive structures of government representatives.
Several occupiers from different backgrounds spoke out about how they say money and corporate interest influences government to act against the interest of the people, citing examples from fracking to medical costs to war.
The occupiers' permit for Academy Park expires on Thursday. They say they are working to meet the city's demands in order to stay in the park, but today several said that if need be, they'll stand their ground and risk arrest on Thursday. Later some qualified that statement, saying they'd risk arrest depending on how things progress in the next couple of days, but that their plan was to stay in the park "until the voice of the people is heard."
Even if they're forced to leave the park, the people we spoke with today say the movement will go on. Occupy Albany has leased office space at 306 Hudson Ave in Albany and plans to continue its work no matter what happens this week.
Why did they wait until two days before the permit expired to make an official statement of demands? Occupiers we spoke with said it wasn't a media driven or political move. They say they've been working for months on narrowing down the specific issue, polling people and discussing in depth.
A few more photos and the full Occupy Albany statement: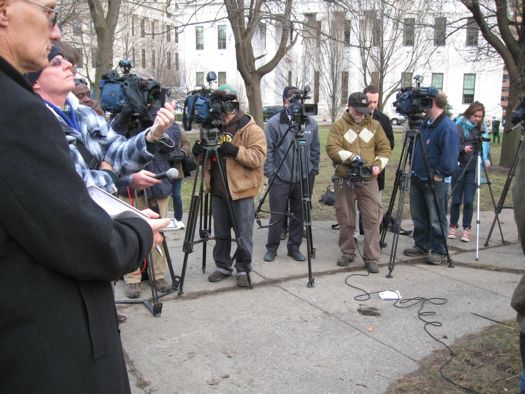 There were almost as many members of the media at the event as there were occupiers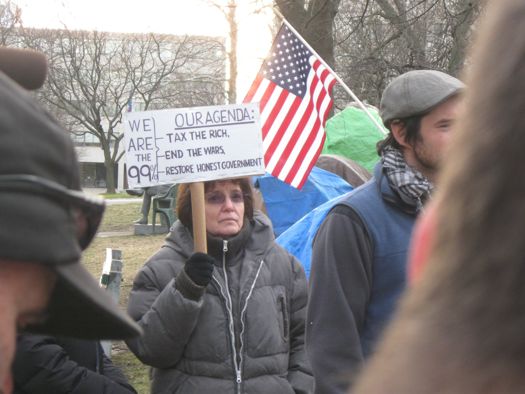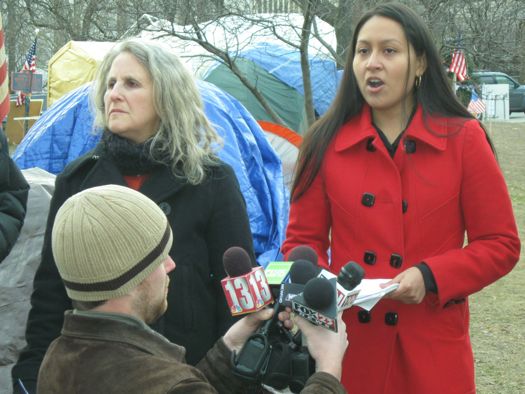 Adriana Lima came up from Brooklyn to speak out about how money in politics affects community development.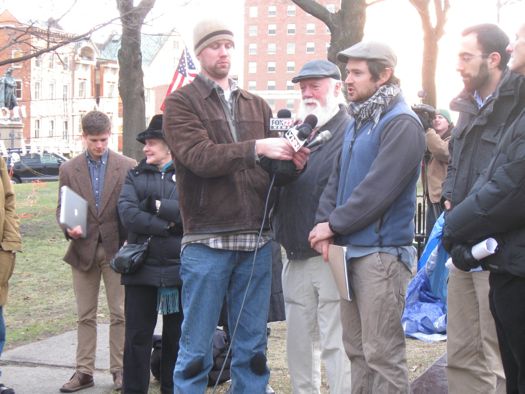 Matthew Edge has been actively advocating for campaign finance reform for about seven years.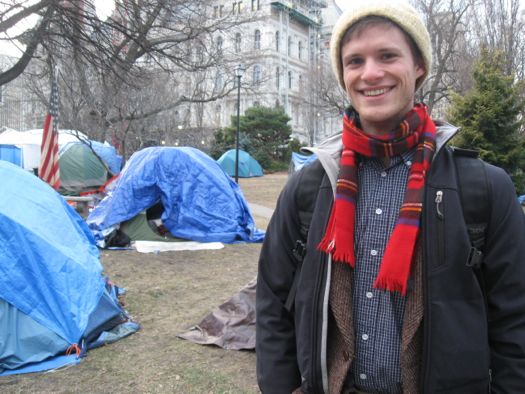 Albany's Daniel Morrissey is with the group Water Equality. He's been with the Occupy Albany Movement from day on and announced today that he's organizing an Occupy DEC day on January 10th at the DEC building on Broadway, a march to the Capitol and a call for DEC employees to take a furlough day to engage in discussion with activists.
STATEMENT:
We have joined together to Occupy as an affirmation of the virtue of democracy, where each person has an equal voice in shaping our common future. While we come from diverse backgrounds and worldviews, we stand united in the recognition that our current system of governance is failing us- the voice of the People is drowned out by the corrupting influence that concentrated economic power exerts on the government. The interests of those who purchase influence are rewarded at the expense of the People, from whom the government's just power is derived. We believe that this failure in our system is at the core of many interconnected issues we face as a society, and its resolution is key to a just future. We therefore demand true democracy, unshackled from the corrosive influence of concentrated economic power, and call all who share in this common goal to stand with us and take action toward this end.
Earlier on AOA:
+ Arrests at Occupy Albany
+ Why they're occupying Albany
Hi there. Comments have been closed for this item. Still have something to say? Contact us.