The ice skating rink at the ESP re-opened this past Saturday for the first time since 2008. So, of course, we had to take a few turns.
Here are a few details if you decide to go. (And you totally should.)

Hours and rentals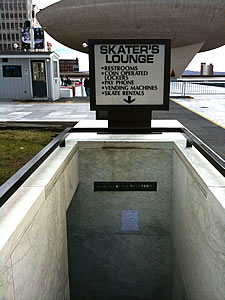 Location: The rink is on the Capitol end of the plaza, near The Egg. If you're going in the evening or a weekend, you'll probably be able to park right on State Street.
Hours: The rink is open every day from 11 am - 8 pm. (It's closed from 3-4 pm for maintenance.) So, yep, there's definitely time to get some post-work skating in during the week.
Price: It's free to skate.
Rentals: Skates are available for rental, downstairs in the "lounge" (look for the steps near the west corner of the rink). Rentals are $4 for adults, $3 for kids 12 and under.
There's also a snack bar in the "lounge" (actually a somewhat claustrophobic room). And there are lockers for your stuff. But when we we were there most people just piled their coats and shoes on the benches next to the rink.
A few other things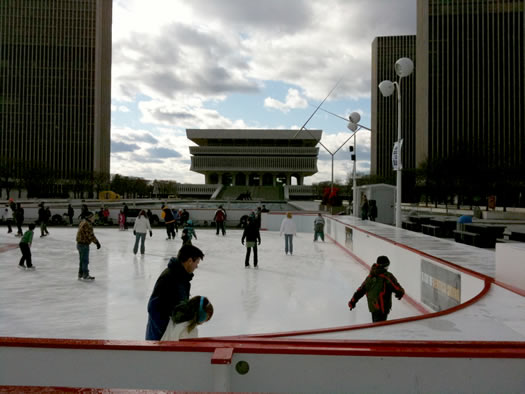 + We were there on Monday, right when it opened. The ice was in reasonably good shape -- but this isn't some perfect indoor surface. There were a few rough spots. But, still, it's a heck of a lot smoother than most frozen ponds.
+ The rink is not huge, so it does get a bit crowded during popular times. If you're concerned about that, go early. Or later. Or when you think a lot of people won't be there.
+ As a wide open space, the ESP does get a bit windy. Layer accordingly.
+ It was great to see a bunch of people out on the plaza, smiling, having fun in a public space.
+ The fun-to-cost ratio here is very high.
+ It is excellent to ice skate outside. You should go, at least once.
Earlier on AOA: Ice skating rink returning to ESP
Hi there. Comments have been closed for this item. Still have something to say? Contact us.