By Danielle Sanzone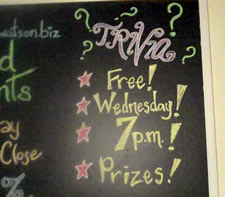 Trivia, by definition, is a bit trivial. Yet, with trivia championships, tournaments, and more than four dozen weekly offerings of trivia nights throughout the Capital District, we trivia types take it pretty seriously.
But with so many options out there, it may be hard to decide which ones would be your best fit: more sports questions, or maybe fewer sports questions, good ambiance, good prizes, a funny host, and/or trivia nights with audio and visual rounds, among other factors.
I've been researching this topic for the past several months -- well, technically, for the past several years, if you include the time I've spent on various trivia teams.
After the jump, you'll find some of my picks for the best trivia nights Sunday through Friday in the Albany area, along with what makes the trivia night different and entertaining.
People love being asked trivia questions. Mainly because there is always an answer. It's like a way of going back into our memories and pretending we are in school again -- only with a beer in hand, while yelling "Social!" when a particularly easy question is posed.
This is a weekly tradition for many friends and co-workers. This is a reason to frequent a local business once or so a week. This is a fun activity with the possibility of cool prizes like free drinks, food, and cash.
This is trivia.
Sunday
Circus Café
392 Broadway, Saratoga Springs (map)
8-10 pm
The Circus Café is hosted by Catch the Mania. They host a number of trivia nights in the area, including my Monday pick below (though Circus is a slightly classier venue).
It includes six rounds of 10 questions with breaks in between.
There are some unique prizes at Circus as well, including Magic Hat beer, shirts, deserts, and cotton candy.
This is hosted by DJ Hot Fries, who hosts a couple other Catch the Mania events during the week.
Good to know: It's popular, so get there a bit early.
Monday
The Ruck
104 3rd St., Troy (map)
7-9 pm
The trivia at the 3rd Street pub in the Collar City is everything you want it to be -- it's interactive, popular (but not too popular -- yet, anyway), has a good variety of questions posed in different mediums, like on big screen TVs throughout the bar and an audio round, and there are decent food specials on Mondays with 40-cent tasty wings.
The one thing lacking, compared with other trivia nights, are the prizes. It's usually glassware from a brewery, or clothes like hats. Though, free beer and hot wings is still nothing to sneeze at.
There are some interesting rules in this trivia which also set it apart, including the ability for a majority vote to get a hint if a question is particularly difficult. A trivia team leader shouts that they want a hint and a vote is taken of all the teams.
The audio and visual rounds are also entertaining. The audio varies from recognizing voices to naming songs and artists. The visual can be watching a movie scene, then answering questions about it or trying to determine a celebrity from a baby photo.
This trivia night, not even a year old, is run by Catch the Mania, which also organizes trivia at various other locations (like my pick for Sunday above). It includes seven rounds of 10 questions with breaks in between.
Good to know: This trivia night is starting to become popular so I'd recommend getting there early if you want a seat. Or you can just sit on the shuffle board in the back.
Tuesday
Bombers
258 Lark St., Albany (map)
10 pm - midnight
This trivia night has been around for nearly a decade. As far as I'm concerned, it set the bar for local trivia. There were times that you would have to get to Bombers two hours ahead of time to get a table for a small group. Now, host Joe Bellacosa says it's not quite that busy but it's still a lively activity for a weeknight.
Similar to The Ruck, there is always an audio round featuring songs, with the intention of naming the artist.
There are six rounds of 10 questions and the cumulative winner gets a $50 gift card to Bombers. Other prizes include a pitcher of margaritas, tequila wings, Heineken products, a round of beers, and a round of tequila shots.
There are four main rules in this game: don't yell out the answer; no cell phones; no whining or complaining; and, if a question is too easy, yell "Social!" and take a drink.
Topics include movies, history, geography, science, TV, etc. Bellacosa says he has written 40 to 50 questions per week over the past several years and estimates he's written a total of 20,000 questions written total.
Good to know: Parking can be somewhat annoying, but be vigilant. More than likely someone will be leaving as you get there for the 10 pm start.
Wednesday
Holmes and Watson
450 Broadway, Troy (map)
7-9 pm
Due to its odd yet mentally-stimulating array of questions, this trivia night has been compared to the New York Times crossword puzzle. Challenging? Yes. But rewarding. And if you conquer this trivia, I think you are basically ready for the big time -- Jeopardy (which is what one Holmes and Watson regular, Richard Vehlow, actually has done).
It's been nearly five years since this trivia night was started by the original host, Joe Renzi. But it was soon after that Paul Boyer of Schenectady, who has one of the coolest announcer voices I've heard, started hosting.
There are five rounds with six questions per round and the points increase with the difficulty of the questions, with the first questions in the round usually being easier than the last. You also get trivia points if it is your birthday.
At one point, the host was deducting points for wrong answers, but now, due to popular demand, this has been done away with.
There's also a rumor that you get points for drinking (an academic drinking game?), but the host and players vehemently deny this since, after all, it is likely illegal or at least very frowned upon to encourage drinking through a game like this.
Since Paul is aware that his questions are different than most places (think the exact opposite of pop culture and questions like: "What was the population of Canada during the last census?" If you're lucky, there will be multiple choice answers), he gives hints when the crowd is severely stumped.
At halftime, the leading team gets a round of drinks and the overall winner at the end of the night gets a $25 gift card.
Good to know: Parking in downtown is not difficult around this time of night and it's not likely that you will have to get there too early for a table unless it's a large group.
Thursday
Elbo Room
170 Delaware Ave, Albany (map)
7:30-9:30 pm
My two picks for the two last days of the work week are both run by Trivia Nights Live (former Albany Team Trivia).
I had heard a lot about the Elbo Room trivia night -- all very good -- but, until recently, I had never gone. But I'm happy to report it lives up to the hype and it's just as entertaining as most of the other Trivia Nights Live offerings.
I think what sets the Elbo Room slightly apart is the location. There's something about going to a clean, yet hole-in-the-wall-esque establishment -- especially when trying to remember something like what year the French Revolution started.
The two popular trivia hosts for Trivia Nights Live are General James, who hosts the Elbo Room, and Kevin Baker, who has been hosting trivia since 1996 when the first Hooters opened in Albany (he started the trivia company in 2007). Baker, as he's usually known, said his most popular nights are Brown's in Troy on Monday, Buffalo Wild Wings on Tuesday in Clifton Park, the Recovery Sports Bar in Troy on Wednesday, and the 10 pm game at Juniors that he also hosts on Thursday.
While there is a broad spectrum of questions, all written by Baker, I personally feel there are too many sports questions. It averages out to be about one sports category every fifth question. But, for sports savvy folks, that is probably a sufficient amount.
There are 20 questions, asked one at a time instead of in a rounds format. There are questions that are worth double, triple, and quadruple points. You also get chances to skip questions and a chance to write two answers in case you are debating.
As with most trivia nights, it's set up in a Final Jeopardy-like format where you wager your points for the final question. At this trivia night, you at least know the category before wagering which is nice.
Prizes usually include alcohol at halftime and gift cards to use at the next trivia night. One other incentive to go to the Elbo Room? There is an ongoing $2,500 trivia challenge. You can check out Trivia Nights Live for all the details on that.
If you go: The Elbo Room is on Delaware in Albany, you can't miss the big pink neon sign. Trivia is held in the back of the bar, in a dining area. You sign up with the General, who is the guy at the bar with the laptop.
Friday
Stone Crow
492 Yates St., Albany (map)
10 pm - midnight
This is another Trivia Nights Live trivia night. I heard this one was a bit easier, but Baker explained that hosts may vary questions based on the age of the crowd, so there is no particular level of difficulty at the varying locations.
Still, it'd be nice to go to a place with slightly easier trivia at the end of the work week.
The General also hosts this night. The same rules apply here as explained at The Elbo Room above.
The ambiance is similar to The Ruck or The Elbo Room.
Good to know: Parking might be an issue. Expect to walk a bit.
____
Earlier on AOA: Good spots for trivia night?
Hi there. Comments have been closed for this item. Still have something to say? Contact us.